Thirsting to Stay at Rumboat Retreat, Grenada: Uncommon Envy
Our thirst for traveling to Grenada could never fully be quenched, of course, though recently it's become more acute than ever for me.
The reason: Rumboat Retreat.
A cozy B&B hideaway nestled high atop Mount Nesbit near Gouyave, this place embodies authentic Grenada charm and style in its bright and airy rooms cooled solely by island breezes and ceiling fans (a/c can be added per-request).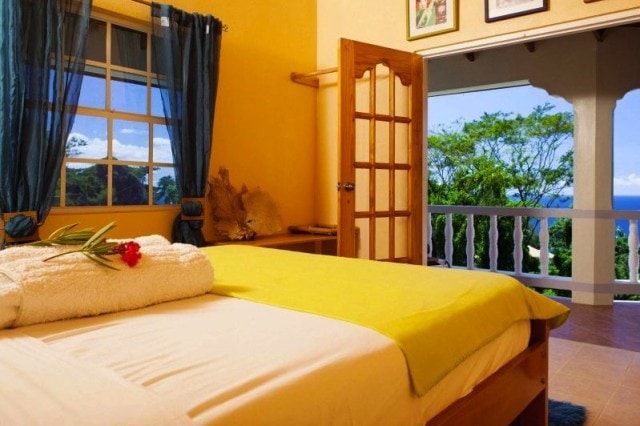 No TV's only add to the allure, ensuring guests fully appreciate the natural surroundings – singing birds, tropical greens, and sweeping views to the sea below.
Then, of course, there's the extra added appeal of that special word, RUM.
As my friend, rum expert and Rumboat proprietor, Lisette Davis, makes clear, rum is not only central to the the hotel's name, but to the entire guest experience.
Our amenities are infused with rum; from Malin and Goetz rum tonic soap and handwashes, to dark rum candles you'll find burning throughout the retreat.
Lisette further shared that her menu is always packed with a range of rum infused delights. Mango and coriander salsa with rum dressing and tempura snapper, a rummed up jerk pork, a decadent rum baba cake and homemade rum gelatos are but a few of the treats she's got me dying to try!
The coup de gras for me, though, is, Rumboat's inspired rum collection.
We have a rum-only bar of over 100 worldwide rums available, and make rum cocktails using only natural ingredients available with the seasons.
If you're new to rum or want to enhance your already established rum knowledge, Rumboat also offers rum masterclasses, seminars on rum and food pairings, rum and cigar pairings (selected by Chilean cigar sommelier Phillip Ili Barake), culinary rum tours, and distillery excursions exploring the history of rum production, different types of sugarcane, and old plantations like Douglaston Estate.
A most uncommon rum experience in a very special place with rates starting at just US$99 per-night – yeah, Rumboat is one retreat we can't make soon enough!
For reservations and more information, visit Rumboat Retreat online.
Related Posts