Even Visitors to Mustique Get the Blues at Basil's Annual Blues Festival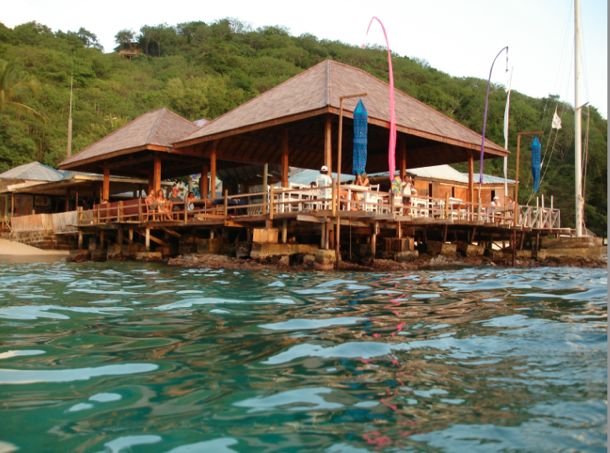 The blues and Mustique would appear, at face value, to be one of those classic oil and water combos. Just watch that enticing promo video we shared a couple weeks ago again and ask yourself: What good man (or woman) with the good fortune to find themselves here could ever be feeling that bad?
Turns out, though, that Mustique has played home to one of the region's more legendary blues festivals for nearly 20 years! It's officially known as the Mustique Blues Festival, but as it was spawned at, and continues to be hosted by Basil's Bar, many also know it as Basil's Blues Festival.
It all started with a dare, of sorts, made by UK blues singer Dana Gillespie, an old friend of Basil's who wowed the crowd at the bar with an impromptu performance during a visit to Mustique in January 1994. It's said that during her final encore, Dana promised Basil she'd arrange for a true blues festival at the bar if he would only get a proper piano.
This, he did just a few months later, and the following January the Mustique Blues Festival was born with Dana bringing a bunch of her musician friends to the island to kick things off. Since then, the festival has grown a bit, though seemingly not so much that it's beyond Basil's typically laid back, familial vibe.
Oh, you might see Mick Jagger rock the mike, a not too uncommon treat for festival-goers over the years, as you can see in this footage from 2005…
I'm goin' Down Mick Jagger
Big stars are nice, of course, but even they don't outshine the special charitable benefits of the event. Each year, CD recordings of live festival performances are made available for sale on the Basil's Bar website. Proceeds benefit the Basil Charles Educational Trust, a charity founded by Basil in 1996 providing scholarship assistance to deserving school children in St. Vincent & the Grenadines.
Indeed, this is one great Caribbean party with an even greater purpose!
The 2013 Mustique Blues Festival will be held January 23 to February 6. Scheduled performers include Veronica Darling, Lewis Cohen, Zach Prather, Paddy Milner, and Dana Gillespie and The London Blues Band with Julien Brunetaud, among others.
As an added enticement, Cotton House, Mustique's only luxury resort, is offering a "Stay 7 Nights Pay 6" package to coincide with the Blues Festival. Starting rates (not including taxes) for B&B at Cotton House begin at $850/night for Cottage accommodations and $1,580/night for Duplex Suites.
For more information or to book a stay, click here or call + 1 784 456 4777. For general information, visit Cotton House online.
To support the Basil Charles Educational Trust with the purchase of a Mustique Blues Festival CD, visit the Basil's Bar Online Store.
Related Posts