Sailing The Grenadines Part 3: Bequia to the Tobago Cays… And Lobster!
Don't forget to start with Parts 1 and 2 or to visit Sail Oasis for more info on Caribbean charters.
There are special times you always look back on as being defining moments in the life stories we're all writing. The moments that make you happy when you're sad, or tug at your heart when you find yourself in one of life's ruts.
I can assure you, for practically every lucky traveler whoever made the journey, the minutes, hours, and hopefully, days spent visiting the Tobago Cays by sailboat constitute a good many of those moments.
We awoke at dawn on day 3 of our sailing adventure aboard Trust Me. The three of us trudged groggily out from below deck, past a softly snoring captain Kevin asleep on the aft of the ship, and around to the trampoline at the bow to take in the morning. This morning we found ourselves nestled safely in Admirality Bay just offshore from the sister sandy shores of Princess Margaret Beach and Lower Bay Beach on Bequia.
After a quick breakfast of eggs, tofu and toast cooked up by captain Nixon, and grabbing some last-minute provisions, we were off and sailing to the west, around the southern tip of Bequia. It was during this portion of the journey that I made a slight (and rather unsafe) detour to explore the incredible pirate hideout Moonhole structures carved into the very cliffs of the island.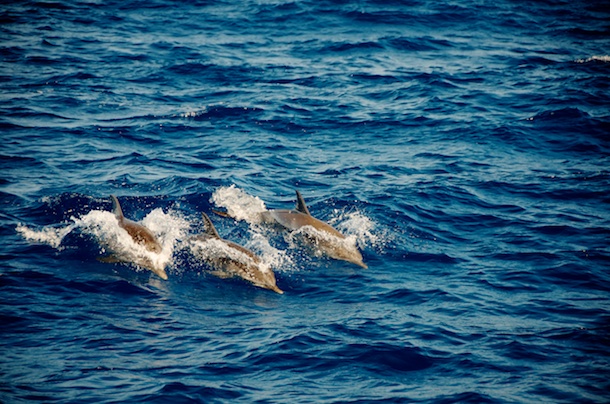 Once clear of the point, we picked up some company. A pod of dolphins decided to accompany us on our journey south, past such pleasantly named islands as Petit Nevis, Isle A Quatre, Pigeon Island, Mustique, Petit Mustique and Savan Island. For a large part of the distance, the dolphins raced, jumped, splashed, and (at least in my mind) begged me to jump in and join them. When I mentioned to Nixon my desire to join these fellow mammals in the sea, he replied:
"I wouldn't do that."
"Why not?"
"Well, if these were St. Lucia dolphins, from home, I would swim with them, but these guys… Nah, they're strangers."
Regardless of Nixon's dolphin xenophobia, I was tempted, but in the end, decided against leaping overboard so soon after my pirate hideout adventure… Just in case.
Before long, they were gone anyway and we were motoring into Charlestown Bay off Canouan to spend the rest of the day and night. As I've mentioned previously, Canouan is a beautiful little island with an amazing variety of experiences to be had—the very definition of an uncommon Caribbean island. I'd highly recommend spending some time there at the Tamarind Beach Hotel and eating some local fare at the nearby Mangrove Restaurant, but for this cruise, Canouan was unfortunately just a quick stopping point.
The following morning, we were once again up at the crack of dawn. This time, we propped our ceiling window open with one of the many cans of Piton beer laying around which had recently been relieved of its contents and spent some time just playing with our little sailor below deck. With the cool breeze blowing into the tiny cabin, and the sounds of the water just outside, it was quite a pleasant way to start the day.
When we decided to head above deck, there was already wheeling and dealing underway.
Tied to Trust Me was a smaller boat carrying two large, black tanks. Some tubes snaked out of the containers and a small car battery appeared to be powering an unseen pump. Tied to that small boat was an even smaller dinghy with an outboard motor. The whole contraption was manned by a cool businessman making runs for visitors delivering provisions, ice, and in this case, water. Some price had been arranged and some deal had been struck, so we were now taking on more drinking water.
Also, doing business alongside Trust Me was an ancient fisherman in a snorkel and flippers pulling a lumpy sack. He generally mumbled and cursed something about great prices and people having to eat and why he would never cheat anyone. We barely inquired as to the quality of his catch before he was dumping the contents of his sack all over the back of our boat. A bunch of little, nondescript fish piled out… And a whole mess of spiny Caribbean lobsters! I doubt we could have contained our sheer delight at the sight of these tasty little morsels, but despite our clear desire, an incredibly fair price was offered and a deal was made.
It wasn't even 11 am on our 4th day, and it was already shaping up to be the best so far!
Around noon we got down to business, the mainsail was raised and the lobsters went in a pot. Progress was being made! As the crustaceans boiled, we sailed south… And something magical started to happen. The water, a dark navy color, began getting lighter and lighter and lighter until we were skimming breathlessly over the most idyllic turquoise seas you've ever seen.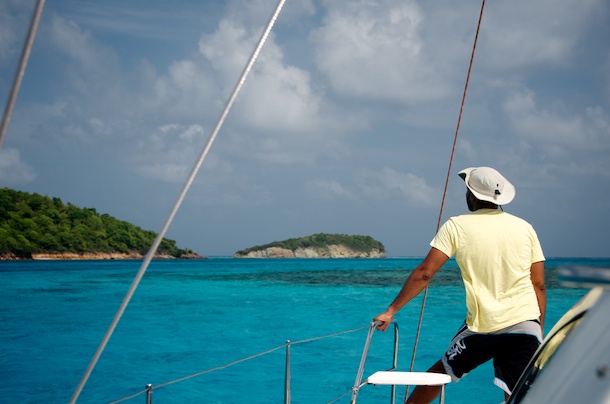 We were here: The Tobago Cays.
Listen, I've been around the Caribbean—a lot. And I've seen beautiful waters and immaculate islets before, but there's something about the approach into the Tobago Cays that's so otherworldly as to leave an indelible impression upon your very soul. I remember my wife and me just staring—staring ahead at the unreal spectacle unfolding before us in all its gloriously bright colors, pristine silence, and crisp, clean air.
I've mentioned before that the Tobago Cays are like heaven on earth and they really are. This collection of five tiny, uninhabited islets (Petit Rameau, Petit Bateau, Baradol, Petit Tabac, and Jamesby) are actually part of a larger national park and wildlife preserve run by the St.Vincent and the Grenadines government. The entire park, roughly 1,400 acres, extends beyond the tight confines of the islets to also include the entire sand-bottom lagoon they reside in and the 4km Horseshoe Reef.
Literally the second we were anchored smack in the middle of the lagoon, I leaped overboard into the impossibly clear waters. Beneath the surface, and sometimes poking their heads just above, were scores of sea turtles. Small and medium-sized fish of assorted colors darted about and the outside world – filthy cities, noisy cars, horrible airports, work struggles, monetary concerns, political turmoil, everything – was just… Gone.
Nothing else existed other than the perfectness of my immediate surroundings.
That's when I heard Nixon call out that the lobsters were done… And I think I nearly passed out with joy.
Related Posts