Sailing The Grenadines Part 4: Paradise is Not For Sale, But it Can Be Rented
I meant to wrap up the recap in this installment, but some memories got in the way… Don't forget to start with Parts 1, 2 and 3 or to visit Sail Oasis for more info on Caribbean charters.
It happens on practically every great journey: after traveling for days, weeks, or months, you wake up to find yourself somewhere you never, ever want to leave.
Know the feeling I'm talking about?
You feel so tremendously at ease in your surroundings, so pleasant like you couldn't be further from the trivial preoccupation of "real life."
Unfortunately, it's a double-edged sword.
Because you know, but would never admit, that it also means your journey is nearing its end and that the rest of your time on the trip will be spent going back… Towards your "real life."
So it was on Day 5 of our Grenadines sailing adventure that I found myself in this fleeting emotional state surrounded by some of the most beautiful environs the Caribbean has to offer: The Tobago Cays.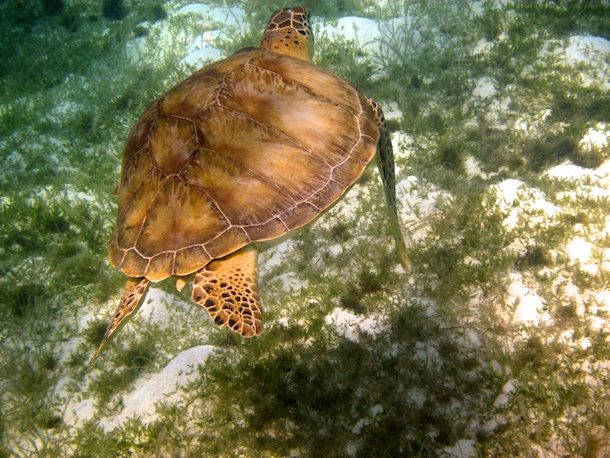 It was morning and we were sitting in the aft of Trust Me just taking in the tropical glory of the secluded islets surrounding the turquoise lagoon. Nixon had mixed the left-over lobster in with our morning eggs. Captain Kevin could be heard softly snoring nearby. Our 6 month old sailor sat on my wife's lap playing with a spoon. Sea birds glided overhead. Occasionally turtles poked their relaxed heads out of the water to say hello.
It was the very definition of paradise. Plain and simple.
I never wanted to leave.
Just then, a small, brightly colored skiff propelled by two slowly chugging outboard motors pulled up alongside Trust Me. Captain Kevin appeared (somewhat dressed) rubbing the sleep from his eyes to do a little business with the two men aboard who turned out to be park rangers. Some small bills were exchanged plus a couple ice-cold beers as a tip and just like that, we'd bought more time in paradise.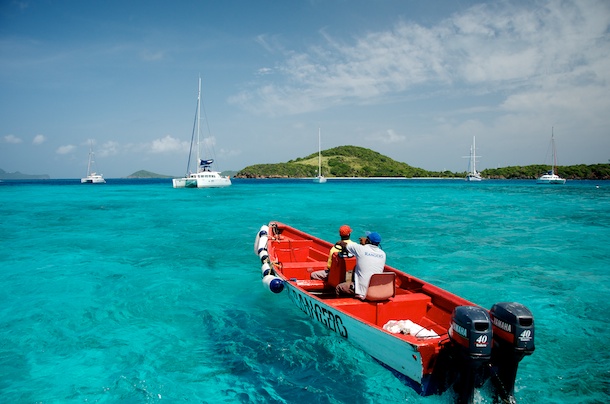 To make the most of it, we hopped in the dinghy to do a little exploring. First it was over to tiny Jamesby. What this islet lacks in quantity, it more than makes up for in quality. Probably, the most photographed of the five islets of the Tobago Cays, the beach on Jamesby is a spec of sheltered beauty with a few palm trees lightly sprinkled along its edge.
As we dinghied up to the beach, we were met by a bizarre sight: a sole person, who looked like a shipwrecked hotel worker, diligently raking the already gorgeous beach to even greater heights of perfection. Seeing us setting foot on his apparent labor of love, he quickly sauntered over.
"How long you staying?"
"Not long. I just want to climb the hill for a photo… Uhh… What are you doing?"
"Well, that's why I ask. We're getting the beach ready for a wedding. Someone has rented the island."
I must have done a quadruple take. You can rent the islands?!
"Yeah, but it's not for a couple hours, so you're good."
You can rent the islands?!
Yes, you can rent the islands. And it's cheap! For just over $300 you can use the Tobago Cays as the backdrop to the happiest day of your life. All you married people out there, how much did you pay for your venue? Did it look like this?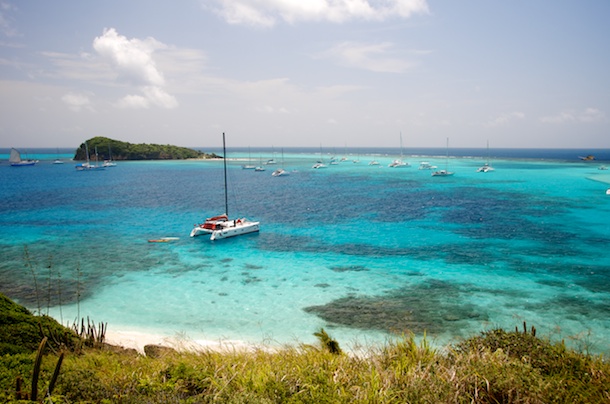 It could have. Visit the Tobago Cays Park official page for more information.
With this revelation percolating in my mind, I climbed the minuscule peak of Jamesby for my photo… Then lingered. The Caribbean sun shone brightly above, sea birds nested nearby calling to their friends in the sky, iguanas sunned themselves on the rocks and my new family played in the sand below—baby giggles drifting up to me on cooling trade winds.
I never, ever wanted to leave.
A few moments later, I made my way back down and we explored the rest of the islets, stopping here and there, but before long it was time to head back to Trust Me and do the inevitable: leave. With a potent mixture of joy at having had the immense pleasure to even be here in the first place and a slow sadness—we fired up the motors and puttered out of the lagoon, passing the boat carrying the wedding party on the way.
With fond memories of the Tobago Cays behind us, we sailed for Salt Whistle Bay, on the island of Mayreau. The beauty of the bay was only matched by the heat of the day. That is to say, it was excruciatingly hot! By 1pm, it became unbearable. The bay was simply too sheltered from the sea breezes, so we had to move on or risk baking our little sailor.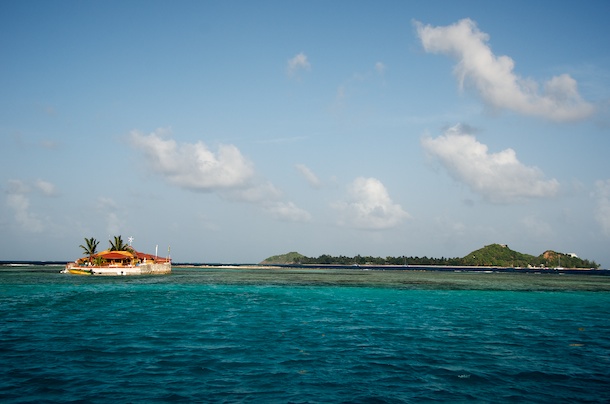 So, from there we sailed on to Union Island and my new favorite beach bar in the Caribbean: Happy Island.
Read the thrilling conclusion in Part 5!
Related Posts