Win a Week Sailing in The Grenadines And Help Children Grow up Reading at the Same Time
Through some work and more than a little bit of luck, I've managed to experience not one, not two, but three sailing adventures on the waters of the Caribbean within the past year—twice in the Grenadines and once in The Bahamas. The unfortunate thing about luck, though, is that it's not equally distributed. So while some go sailing, others go without.
But what if you could have both?
What if you could be lucky enough to go on a dream sailing adventure while also helping the dreams of children all across the West Indies come true?
I can tell you unequivocally, that sailing throughout the Caribbean is one of the most spectacular means of exploring the region.
Mornings are pure bliss. Weighing anchor and getting under sail brings fresh, salty breezes as you skim over brilliant Caribbean seas. Afternoons can bring new destinations everyday. (If you so desire.) Then there's the sunsets. Oh, the sunsets! And once you find yourself on deck after hours bathed in moonlight with nothing but the sound of ice tinkling in your rum glass and water lapping against your hull… Well, nothing much compares.
Except the limitless imagination of a child. And nothing primes children's minds to grow, dream, and develop quite like reading.
Unfortunately, many thousands of children in the Eastern Caribbean grow up not reading.
Fighting the good fight to make positive change in our islands is Hands Across the Sea, a top-rated nonprofit. Their mission:
We seek nothing less than the transformation of the child literacy landscape in the Eastern Caribbean. Every year, we send thousands of great new books—over 173,000 since we started in 2007—that have been requested by educators via our Hands Wish Lists. We help schools (from pre-school to high school), reading programs, and community libraries—that's 268 projects to date—create or rejuvenate lending libraries. And we work hands-on with our projects year after year—we're with them for as long as they need our help
Just look at some of the work they recently contributed to on the ground in Dominica after Tropical Storm Erika:
How can you help? Go sailing!
Right now, you could win a one-week, four-person catamaran charter in Grenada courtesy of our friends at Sunsail Yacht Charters complete with ASA-certified sailing instruction and provisioning by our other good friends at LTD Sailing "Living The Dream!"—all in partnership with the American Sailing Association!
You may remember Sunsail Yacht Charters as the company behind that magnificent catamaran we recently sailed through The Bahamas. And you should definitely remember LTD Sailing as the exceptional outfit that taught me the ropes of sailing in the Caribbean last year.
You couldn't be in better hands for a once-in-a-lifetime sail through one of the most magical places in the entire Caribbean.
I mean have you seen the Tobago Cays!?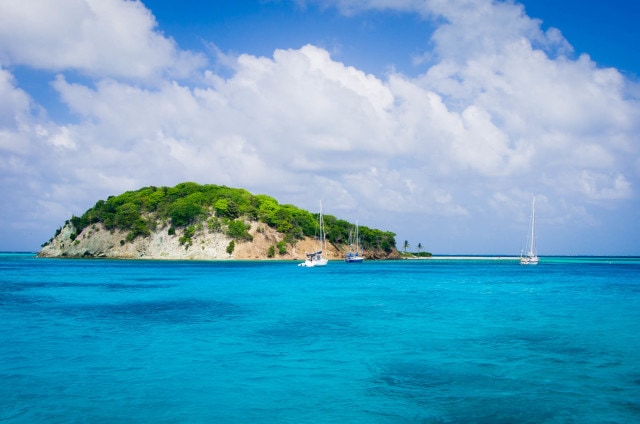 Entering to win is easy!
Do not pass go! Click here, donate as little or as much as you can to a solid organization doing vital work, and sit back to reap the rewards—the knowledge that you've contributed to the futures of the Caribbean's next generation and quite possibly a dream sailing trip with some of our favorite sailors.
Go ahead and share some of that luck around.
(If, for some unfathomable reason, sailing isn't your thing, you could alternatively win a luxurious seven-night stay for four (two rooms) at The Verandah Resort & Spa in Antigua, courtesy of Elite Island Resorts!)
Related Posts