Friday Happy Hour: Biere Corsaire, the Beer of Guadeloupe (sort of)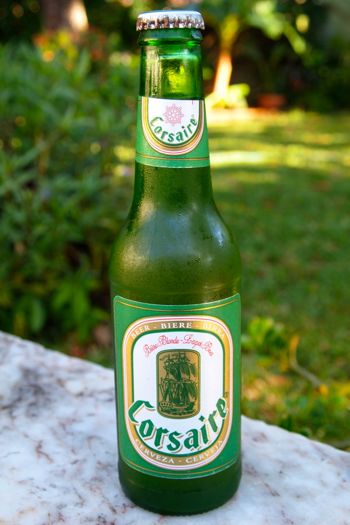 When you travel to the Caribbean as often as I do, leaving a wife at home to care for two young kids on her own, it's always a good idea to return bearing gifts. Jewelry, dresses, scented candles and island spices are always high on my wife's list, but on my last trip I decided to give her a true-brew taste of a very uncommon destination.
That's right, I brought her back a beer. Or better said, a biere. And not just any biere, either. This is Biere Corsaire, the somewhat local beer in Guadeloupe. (I'll clarify that somewhat in a moment).
As noted here, my wife is no fan of rum. She's not into rhum either. She does like beer, though, so this gift is not as crazy as some of you may be thinking.
When did I go to Guadeloupe?
Well, actually I was lucky enough to find Corsaire in Martinique, thus dispelling the notion that it's only available two stops up the island chain.
Okay, so what's the deal with these suds?
Let's start with the name. Corsaire, the beer, is named after the Corsaire, a style of French ship, like the one featured prominently on the Biere Corsaire label. A Corsaire (the ship) was the preferred vessel of many a pirate in the 18th century, owing to their quickness and agility on the high seas.
Like its namesake ship, Biere Corsaire goes pretty quick as well.
Basically, Corsaire is your typical light, blonde and refreshing Caribbean lager – the perfect antidote for those steamy Caribbean temps. More so than just about any typical Caribbean lager I can remember, though, this stuff is really crisp, with a really clean, satisfying flavor that is sensationally refreshing. SENSATIONALLY! There's no lingering aftertaste whatsoever either.
All of this, of course, gives Biere Corsaire some serious drinkability, but you'd be wrong to think of it as a wimpy, lightweight lager.
Corsaire actually checks in at an abv of 5.4%. With its ultra-light flavor, I was thinking that it'd be closer to something like Coors Light (4.2%), but it's even higher than regular Budweiser (5%)!
Not sure how they pull off that neat trick, but you can bet I'll be looking to conduct more hands-on "research" on this tasty brew during my next trip to Martinique in a few months.
Better yet, I can make my first trip in 20+ years back to Guadeloupe.
Or, I could also just go visit my dad, grandmother, aunts, uncles, cousins and other family in my (and Patrick's) ancestral home – the real source of this fine French Caribbean brew – Trinidad & Tobago.
Indeed, Guadeloupe's quintessential local biere has actually been produced in Trinidad at the Carib Brewery since 1995 following the closing of the local brewery in Guadeloupe due to labor issues. Some even say Corsaire is just watered down Carib, which I suppose could make sense.
Still, Corsaire seemed different to me… more crisp, more refined, and without Carib's tell-tale aftertaste.
What did my wife think?
Well, I wouldn't say that she's willing to give up the jewelry and other fancy stuff entirely just yet… but she is more anxious to experience the French Caribbean islands (or more of Trinidad) now…
À votre santé!
Related Posts