Falling for Grande Anse Beach Guadeloupe… Maybe Forever
Editor's note: When you fall head over heels for someplace special, a one-week visit is simply not enough, as our friend and fellow uncommon traveler, Laura Albritton shows us in her latest guest post…
When not one, but three friends – all of them well-traveled within the French Caribbean – extolled to me the virtues of traveling to Guadeloupe completely unsolicited and on completely separate occasions in the space of just a few recent months, it became inevitable to me that I'd find myself there before too long.
And so it was, following a petit épisode of "Haranguing The Husband," that we three – my husband Zickie, our daughter, and I – jetted off for some family fun, French Caribbean-style, in Guadeloupe just a few weeks ago.
Were my three friends right? Well, long story short, our planned one-week vacation ended up stretching into two! A big reason why: one very special beach that we all fell deeply in love with.
Guadeloupe isn't a single island, but a collection of isles, the largest of which are Grande-Terre, which tends to be flat with more tourist developments, and Basse-Terre, hillier and known for its authentic fishing villages. Obviously, since we're always in search of the uncommon along our Caribbean travels, we headquartered in Basse-Terre, at a gîte (or rental cottage) for one week, and then in an apartment overlooking the tiny town of Deshaies and its idyllic harbor.
Of all the dazzling beaches, Grande Anse Beach Guadeloupe (meaning "large cove") on Basse-Terre's northwest coast is considered by both locals and visitors alike to be one of, if not the most beautiful. The first day we arrived, beach mats, and sunscreen in hand, I understood why.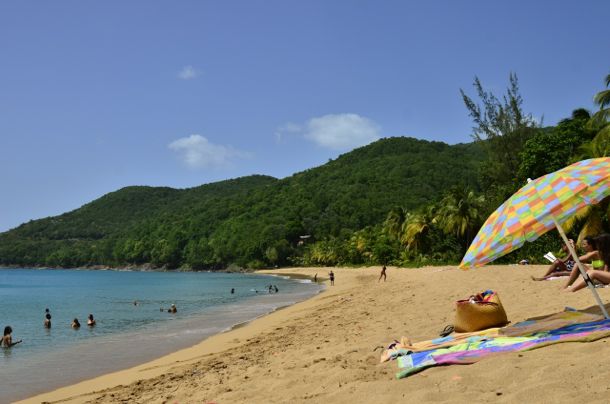 Sand the color of desert dunes curves along in a seductive crescent, framed on either side by two vibrantly green hills. Coconut palms, sea grapes, and almond trees ring the shore like a jade-colored tropical forest.
You've got to give the local government credit: generous swaths of the shorefront remain preserved for public use, which means that one of the destination's most spectacular beaches hasn't been roped off for any sort of exclusive tourist enjoyment, perceived or otherwise.
Locals lime in the shade with a little Ti Punch (the addictive concoction of white rum, cane sugar, and fresh lime juice), while zouk, the exuberant soundtrack of the French Antilles, flows from an old boombox. Then it falls silent, and there's only the luscious sound of the surf. French tourists, beautiful Guadeloupean children wearing water-wings, and us…all savoring the alizés (trade winds) that sweep across our skin as we amble down toward the sea, as pure as a carafe of cool mineral water.
When hunger starts to stir around noon, we head back to the collection of modest, open-air restaurants to look over the menu boards, chalked in that distinctively curly French handwriting. The welcomes are friendly, the prices low, and the flavors – well, astoundingly good, whether it's whole fried snapper, poulet boucané, similar to jerk chicken, or ouassous fricassee, crayfish simmered in a tangy sauce with hints of allspice. Seasoned Creole rice and fried, sliced bananas make the perfect side dishes. For dessert, it's fun to wander over to a little food truck that sells hot crepes, or buy homemade coconut sorbet from two nice Guadeloupean ladies.
Each subsequent visit to Grande Anse Beach Guadeloupe, the vista slightly changes: one day gentle waves make body-boarding a must for our child. The next, the sea looks so clear with its delicate aqua tint that you want to float for hours. Jogging along the shore in the sand, you forget it's exercise, the view is so distractingly gorgeous.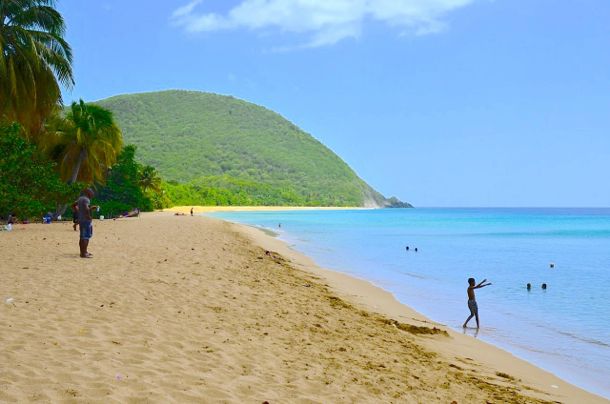 So, after two weeks of discovering this slice of the French Caribbean, let's just say we were very tempted to buy a small property we saw for sale. It seemed – and maybe still seems – like a wise investment, at least in terms of life happiness. With a once-a-week direct American Airlines flight from Miami, reaching this enchanting place from the States has gotten a whole lot easier, too.
I now understand where my friends were coming from… and where I'll certainly be returning, maybe forever, someday soon.
Thanks for that colorful account on what surely must be one of the best beaches in the entire Caribbean. You certainly have me anxious to experience Grande Anse right now!
Related Posts