Uncommon Beauty: Sexy Surfer Girls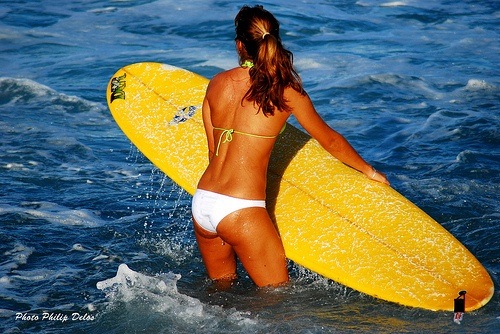 To surf is to be sexy.
Really, you have to have some seriously strong abs and athletic agility just to stand up on the board, much less shred a wave and ride it all the way to the beach.
I learned this the hard way when after 25 years of non-surfing activity I tried the sport again a few weeks ago in Tobago. How'd I do? Well, let's just say that if I had been along for my brother's recent surfing adventure in Barbados I would've made him look like Kelly Slater. Indeed, I would've flunked Boosy's Surf School.
Someday I hope to muster enough courage to share all the gory details with you, but not today.
Nope, today we're looking ahead to the 2010 Rip Curl Pro Search, which we first mentioned in Patrick's story. Back then, the location for the event was a mystery. All we knew was that it was going to be held somewhere in the Caribbean.
Well, the secret has been revealed, and the answer is Puerto Rico.
Top men and women on the ASP (Association of Surfing Professionals) World Tour will be competing during the event, and by all accounts they are really excited about it. Check out this quote from the real Kelly Slater:
"Having an event in Puerto Rico is almost a draw to keep me on Tour all year, because I couldn't imagine having an event in my backyard and not being able to be there. I have a lot of great memories of Puerto Rico – all the first wins I had internationally as a kid were there and I surfed a lot of contests there when I was younger. I'm looking forward to getting there."
Or how about this one from Australia's Steph Gilmore, reigning women's three-time word champion:
"The Caribbean has always been a dream holiday destination for me and now it's clear they've got incredible waves there. Clear water, sunshine, bikinis, palm trees, beautiful beaches – it's exactly where the Rip Curl Pro Search should be!"
The 2010 Rip Curl Pro Search will be held October 30 to November 10, 2010. Organizers haven't said where exactly in Puerto Rico the event will be held, but we'll sure to post another pretty picture with the news once we have it.
Related Posts