Friday Happy Hour: Ron Zacapa Centenario Sistema Solera 23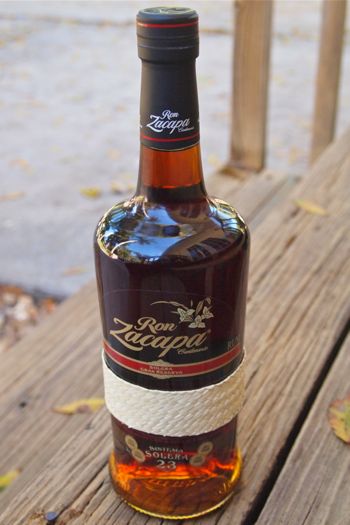 In the no rules world of rum, imitation is not only the sincerest form of flattery, it's also quite often a recipe for something very, very special. Ron Zacapa Centenario 23 is a prime example.
Like Dos Maderas P.X. from Spain, which we told you about last summer, Zacapa borrows heavily from the winemaker's art to achieve its uniquely sweet, refined flavor. Sherry is once again the wine in question, though its role in crafting this premium rum is expanded beyond what we've enjoyed with Dos Maderas.
Initially crafted in 1976 to mark the centennial founding of the town of Zacapa, located in eastern Guatemala, Ron Zacapa is a premium blend comprised of rums aged between six and 23 years with a few unique characteristics that separate it from the the rest.
Number 1: This Spanish ron has a bit of a French accent.
Like French Caribbean rhums from Guadeloupe, Haiti and Martinique, Zacapa is made from the virgin first pressing of sugar cane juice, not the molasses by-product of sugar production used in producing the vast majority of the world's rums.
Number 2: It's aged in the clouds.
Ron Zacapa's aging facilities are located a good 7,500+ feet above sea level in the mountains of Guatemala. Temps up there average in the 60's, limiting the Angel's Share (ironic considering the lofty heights) and, according to Zacapa, adding a special quality.
Number 3: Solera Blending (here's where the sherry comes in).
Zacapa's six- to 23-year-old rums are blended using a solera method common to sherry production in Spain. Solera, as described by our friends at Wikipedia, is…
fractional blending in such a way that the finished product is a mixture of ages, with the average age gradually increasing as the process continues over many years. A solera is literally the set of barrels or other containers used in the process.
Alright, I don't really like that definition either. There's a much better one on Scottie's Rum Pages right here.
The result of all this special blending, high altitude and cane purity is a sweet, dark and rich rum that goes down beautifully neat, or with one or two ice cubes. Zacapa doesn't go quite as far down the dessert rum path as Dos Maderas, but it's plenty dulce, almost a little chocolatey with hints of other nice tropical spices as well.
In short, Ron Zacapa Centenario 23 es fantastico, and certainly has me anxious to try additional solera rums in the near future.
¡Salud!
Related Posts