Friday Happy Hour: All I Want for Christmas is El Dorado 15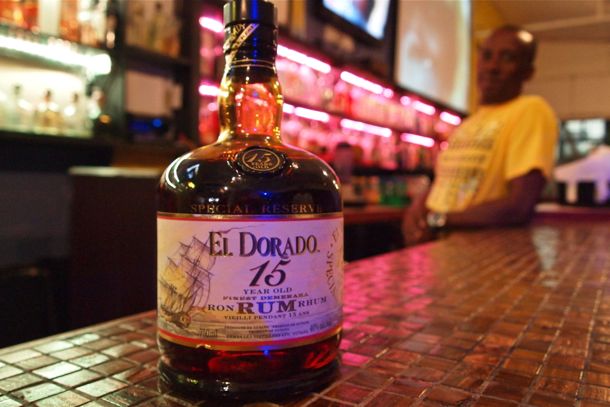 Dear Santa,
I was a very good boy this year. I worked hard, traveled frequently and, together with my brother, published fresh new content each and every day for all the good readers of this blog. I did so without forgetting my anniversary. I even took my wife and kids along on an adventure to St. Croix, befriended a pound puppy in Grand Cayman, and graciously donated my time (and liver) in Barbados toward ranking the region's top rums.
In short, I think I deserve something special this Christmas. No, make that something EXTRA special like El Dorado 15.
Now, in the off-chance you're unfamiliar with this celebrated goody from Guyana (I know you're partial to milk), let me tell you that El Dorado 15 is about as fine a rum as rum can get! In fact, for my taste, I dare say it flirts with perfection.
In the finest tradition of Demerara rums, El Dorado 15 is dark in color and exceptional in quality. To savor it is to be instantly, magically transported to the most exotic corners of the Caribbean. I'm talking warm and sultry places – pure, unspoiled and completely devoid of sprawling resorts, mammoth cruise ships, Margaritaville and other manifestations of mass market tourism.
A little taste of this can warm the coldest winter nights, even for a North Pole resident like you.
It might also help you get a bit more creative with your gifts so you stop getting dissed in those disgraceful Best Buy commercials.
Not that there's anything particularly wrong with your stuff. We all know that quality is job 1 at your workshop, just as it is at El Dorado. Rums used to make El Dorado 15 range in age from 15 to 25 years, so there's a bit of the fabulousness that comprises the elusive, ultra-top shelf El Dorado 25 in every sip. All the rums are aged in oak casks. Then, just as you put the finishing touches on every toy, El Dorado's Master Blender expertly combines the various aged rums to achieve the trademark amazing flavor of El Dorado 15.
Believe me, this is way beyond milk and cookies.
Enjoyed neat, El Dorado 15 bears a smokey, yet extraordinarily smooth flavor, with just the right balance of understated tropical fruits and sublime sweetness. To me, there's a bit of cocoa swimming around in there, so perhaps a chocolate chip cookie-lover like you would be a fan. There's very little spice and not much burn at all either. Just pleasant, rich and velvety-smooth flavor befitting the finest things in life.
So please, Santa, check your list one last time and do consider my humble request. All I really want is El Dorado 15. Give it a try and I'm sure you'll feel the same way too.
Cheers!
Sincerely, SteveB.
Related Posts