Friday Happy Hour: El Dorado 12 – The Connoisseur's Choice
Variety is the spice of life.
The old saying holds true and carries profound meaning in many aspects of our lives, especially if you're a rum-lover with a true appreciation for the exceptional lineup of Demerara Rums from Guayana.
There, one company, Demerara Distillers Limited (DDL), produces more than 20 distinctive rums, employing a whopping nine different types of stills in the process! The sheer number and variety of rums and stills for one country, much less one company, is unusual today, providing the master blenders at DDL with the world's widest array of blends from which to choose in crafting their award-winning finished products.
El Dorado's masterful 25, a rum that redefines Top Shelf, its 21 and 15 are rightfully the most celebrated, but you shouldn't sleep on the 12 either. In fact, among my rum aficionado friends, I'd say it's the most popular of the El Dorado portfolio.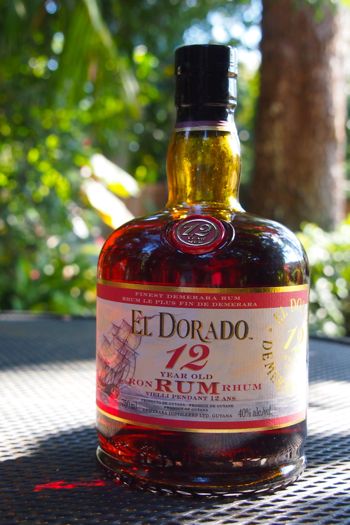 The specially-selected aged rums blended to craft El Dorado 12 (all of them at least 12 years old) are culled from DDL's Enmore and Diamond Coffey stills and its Port Mourant Double Wooden Pot Still. These are rare and revered pieces of ancient distilling equipment that have been producing fine rums for hundreds of years!
The Enmore Coffey Still, in particular, is unique in every way. Boxy, blood-red in color, and bearing the appearance of a giant Lego tower, the Enmore Still was originally put into service way back in 1880! It is the last fully-functioning wooden Coffey still of its kind anywhere in the world! Think of all the character and complexity contained in the Enmore Coffey Still's exceptionally durable wood. The rum it yields carries a singular quality that only comes from tried and tested experience.
My rum connoisseur friends certainly appreciate the heritage behind El Dorado 12, but it's the sophisticated flavor that really keeps 'em coming back.
In line with all the dark Demerara Rums, El Dorado 12 is sweet and sexy, with that absolutely alluring amber hue I simply can't resist. It's a bit more brash and bold than its closest sibling, El Dorado 15, offering more of a bite that heralds itself on your tongue as a RUM – in all-caps – worthy of your respect.
I personally love the charred wood and chocolate notes in every sip of the 12, both of which are wonderfully balanced with molasses, tropical fruit flavors, spices, and a rich heritage of excellent rum-making 200+ years in the making.
El Dorado 15 is still my #1 among Demerara Rums, but in line with the old saying above, I'm always good with the 12 as well.
El Dorado 12 retails for just under US$30 at my local liquor store, another big reason why its a favorite among my connoisseur friends.
Cheers!
Related Posts