Friday Happy Hour: XM Royal Gold 10 Year Old is Tops to Me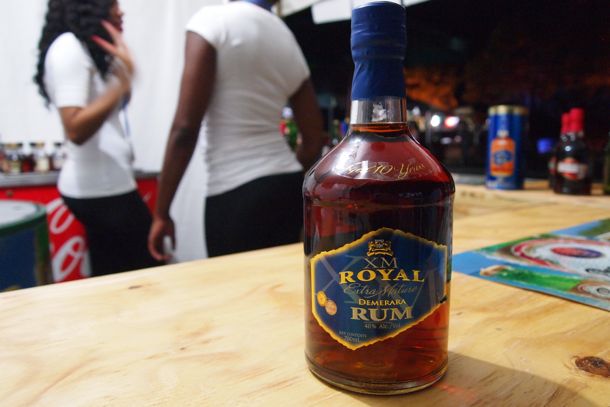 Yesterday, we gave you some behind the scenes insight into what it's like, or rather what it takes to judge a big time rum competition. If you read it, I imagine most of you thinking:
Sounds like fun… too bad I'll never get to do that!
Granted, the experience I had in Barbados last week is not the kind of thing you can buy through your local travel agent, but you don't have to be a judge to enjoy the Caribbean Rum & Beer Festival. All you really need is a healthy appreciation for great rum, like the beauty pictured here.
Ladies and gentlemen, allow me to present XM Royal Gold 10 Year Old from Guyana, the rum I scored highest in the blind judging competition. (It officially placed second in the Aged 10-14 Years category. Full results here.) If I was just a regular Festival-goer, I'd like to think I would've spent a lot of quality time at the bar serving samples of this stuff, and not just because of the sultry, shapely bartenders either…
XM Royal Gold is produced by Banks DIH Ltd., one of the largest, longest running and most storied enterprises in the entire Caribbean. This incredibly diverse company is involved in everything from soft drinks, beer, wine and rum, to restaurants, snacks, baked goods and even banking.
It's rare to find a company with as large and assorted a portfolio as Banks DIH's truly excelling at producing a high quality anything, much less a fine rum. XM Royal Gold, though, is definitely an exception.
Lauded in certain circles as The Cognac of Rums, XM Royal Gold is crafted in the finest traditions of aged Demerara Rum.
What's that?
Demerara Rums are named for the Demerara River, a primary north-south waterway connecting Guyana's capital city of Georgetown on the coast with towns and settlements 215 miles into the country's jungle interior. Banks Beer was founded here in 1955, and actually takes its name for the "banks" of the Demerara River. The area's rum traditions go back much further, of course…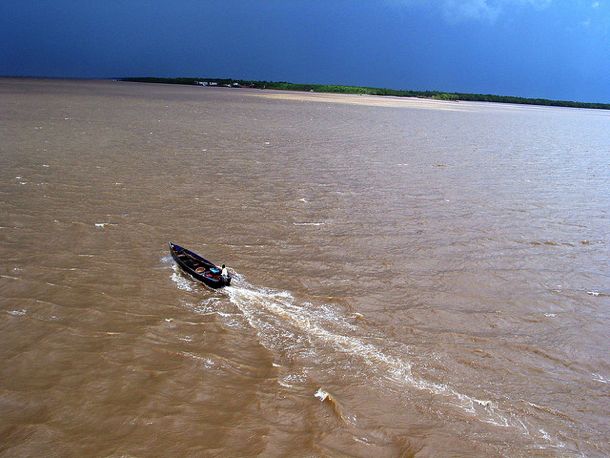 The Dutch founded a colony, which they also called Demerara, along the river in 1611. It was here that Guyana's sugar industry, and in turn its rum concerns, were first established, eventually blossoming to 300+ distilleries. Demerara Rums are noted for their rich and heavy flavor, dark coloring and exceptional quality. They also age really, really well. (Remember this?)
XM Royal Gold 10 Year Old meets the legendary Demerara criteria in every way, easily qualifying it for a spot on any discerning rum drinker's top shelf.
Part of the secret to this rum's fantastic quality is the two-stage aging process employed in its production. The first step involves aging in bourbon casks for 10 years. A very demanding selection process follows, weeding out any/all imperfections prior to blending. Finally, a second aging period utilizing Sherry wine casks takes place. This lasts for six months.
What do you get at the end of all that time and effort? Pure sweetness!
XM Royal Gold looks sweet, smells sweet and tastes like heaven. The aroma is mostly about toffee and caramel. It's not overly woodsy or harsh, so the sweet smells draw you in nicely. Once the rum meets your lips, the sweet soiree continues. Enjoyed neat, XM Royal Gold greets your palate with warmth and smoothness, which lasts well through the finish. It's refined, mellow and "extra mature," just as it states right on the label.
XM Royal Gold stood out as being so exceptionally well-crafted and new to me that I was 100% positive I had never tried it before. A rumor going around the festival that it hadn't been widely available in Barbados since last year seemed to further confirm this.
Imagine my surprise, then, upon returning home from Barbados last weekend when I found a bottle of this stuff hiding in my rum collection!
As you can see, the presentation is night and day different (this bottle is PLASTIC!), but unless I'm sorely mistaken, the liquid inside is the same as that which topped my scorecard in Barbados.
Finding this at home was a truly wonderful surprise courtesy of my friend, Adriana, who visits her friends and family here in South Florida frequently from her home in Guyana. It's fantastic having great friends like Adri who always remember to bring a bottle of something nice when they're coming up from the Caribbean, but I'm guessing that long-desired trip to Guyana would be even better. Who knows what other treasures like XM Royal Gold I might find along the banks of the Demerara…
While Guyana remains just out of my reach, you can bet I'll be back in Barbados for the next Caribbean Rum & Beer Festival in 2012. Hopefully I'll get to judge again. If not, spending time at the XM Royal Gold bar will be a fine consolation for me…
Cheers!
Save
Related Posts