Casting Off From Bananier Beach, Haiti
A salty liquid clouded my eyes. If anyone had asked, I'd have said it was just residue from the alluring azure seas we'd spent the day splashing about.
The expression on my face would've no doubt betrayed my lies, though.
We were leaving Bananier Beach, as sweet a secret beach as I'd ever come across on my Caribbean travels.
Accessible solely by boat and completely inaccessible to cell phone reception, this secluded slice of beach heaven in southern Haiti is not the kind of place you leave easily.
The struggle is both figurative and literal, as evidenced by the young man pictured here.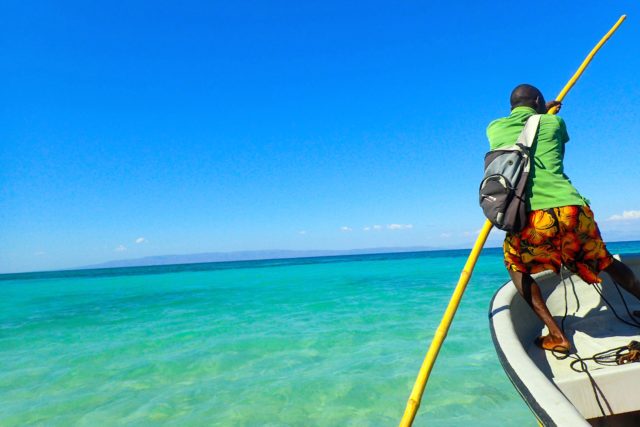 The excessive strains he endured repeatedly thrusting that big stalk of bamboo into the sandy shallows in an effort to get us underway provided faint hope that perhaps we could, in fact, end up merrily marooned here.
Alas, the man's strength won out over the tide in the end, sending us back to port in Petit-Goave and the return trek to the modern comforts of the new Marriott in Port-au-Prince.
We encountered a decent amount of traffic on our nearly two-hour drive back to Port-au-Prince, never a surprise on the roads in and around Haiti's capital. Still, no one seemed to be stressed about it, our strains nothing compared to the great effort put forth by the new friends who'd just shared their hidden Haitian treasure with us.
Related Posts