Checking Into La Colline Enchantée in Southern Haiti
Anywhere you might happen to check-in in Haiti would qualify as off-the-beaten-path for most travelers. But even here, La Colline Enchantée stands out among the other uncommon hotel options I've come across on my travels through Haiti in recent years.
You'll find La Colline Enchantée on a hillside facing the sea just outside the small town of Marigot in southern Haiti. I arrived here just about a year ago during a whirlwind tour of the windswept coastal areas around Jacmel, Port-Salut, and Les Cayes and was immediately taken by the calm and natural remoteness of the place.
In the hills all around the property – a few small farms and lots of green. To the south – the vibrant blues of the Caribbean Sea. The primary sounds – birds singing, sea breezes rustling through the trees, cocks crowing, the odd passing vehicle on the main road below, and the steady surf crashing against a sweeping shoreline of smooth rocks.
The gritty city tumult of Port-au-Prince seemed a thousand worlds away here; the entire place positively oozing pure relaxation, while also encouraging you to get out an explore.
I jogged down the hill and along the main road into town, creating a nice show for the locals who, by the sounds of their cheering and clapping, hadn't seen too many foreigners exercising in their neighborhood before.
Later, I walked along the rocky shore and watched as birds and fishermen plied the waves for their respective dinners. A spot of rain began to fall with the setting sun as I made my way back up to my cottage. I couldn't imagine feeling more at peace.
La Colline Enchantée encourages such feelings with the grace of a much swankier boutique hotel.
The property is comprised of roomy thatched-roofed cottages, each furnished with two double beds and various other pieces of wood furniture custom-made by local Haitian artisans. Spartan, but sweet.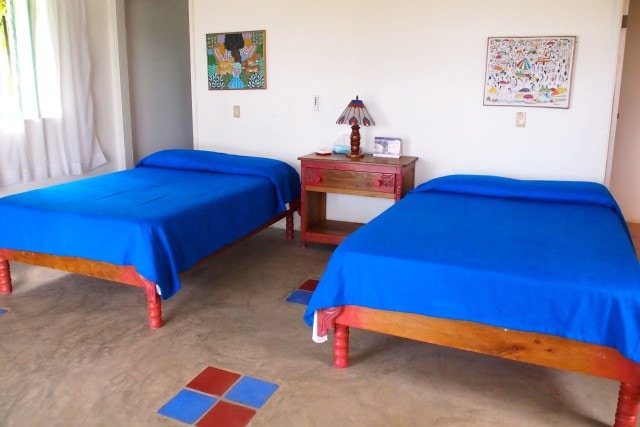 Service is more akin to visiting with beloved members of your extended family or old friends than the impersonal guest-staff interplay we've all endured at less-welcoming hotels more times than we'd care to recall.
Cocktails and cuisine too far exceed the humble nature of the property. All meals are served communal style in the alfresco restaurant centrally located steps from the reception area, further carrying forward the family feel. An inviting pool, seemingly ideal for lap swimming, lay ensconced among various tropical fruit trees just below the restaurant. Truly, this place did not lack for much.
That is, of course, unless you need a TV, telephone, or radio in your room. Air conditioning isn't an option either (the cool breeze off the sea and powerful ceiling fans make a/c unnecessary), and all your showers will be enjoyed outdoors, though certainly not wide open to the elements and/or prying eyes.
In short, La Colline Enchantée is rustic and real in all the best ways possible… Enchanting, to say the least.
Nightly rates start at just US$77 per-night based on single accommodation, and US$99 for double occupancy.
For more information, visit La Colline Enchantée online and on Facebook.
Related Posts