Checking Into The Marriott Port-au-Prince, Haiti
You notice it the minute you walk through the front doors – front doors held open for you with a stately grace more common of private mansions, "ritzy" hotels, or "saintly" resorts. The handsome bellman's ready smile melts the stress of modern travel from your mind at an instant. Light earth tones, clean lines, and sophisticated Caribbean-chic art decor make it clear:
This is no ordinary hotel.
And not just by Haiti standards either.
Yes, this is Haiti…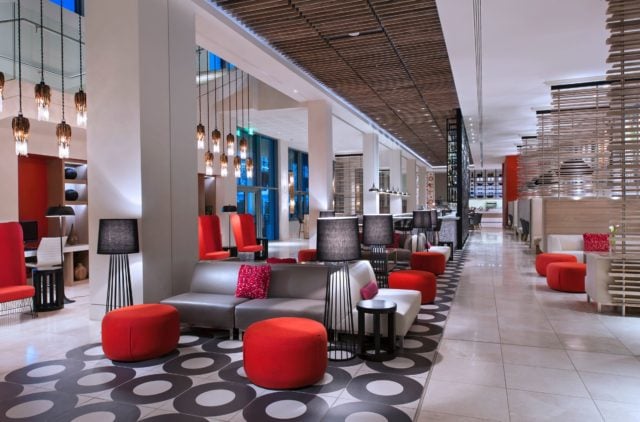 Specifically, this is the Marriott Port-au-Prince, Haiti's newest hotel, an enclave of style and serenity in the heart of the region's most bustling city, and a triumph of sustainable hotel development on the World Stage.
The all-new 175-room property that opened in February 2015 has recently become my home away from home on the frequent business trips I've been lucky enough to make to Haiti in recent years. I've got day job business reasons for that, sure, but even if I didn't, you'd regularly find me here whenever I was in PAP.
Modern, super-comfy, and well-appointed rooms like this are one reason why…
(If I'm ever late for a morning meeting in Haiti, it's because of this bed. It literally envelopes and pampers every part of my being, soothing whatever muscles or nerves that may have been stressed throughout the day.)
Inventive and exclusive cocktails from new friends like Oldy help too.
More than anything else, though, I'm always struck by the great lengths that the Marriott Port-au-Prince goes to bring the best aspects of the authentic Haitian experience in through those same magical front doors for guests to enjoy.
You taste it in the cuisine at the fabulous on-site La Sirene Restaurant. Chefs here go beyond the few cursory local dishes you might find on restaurant menus in similarly styled U.S.-flagged city hotels in other parts of the Caribbean. Soup Joumou, Beef Kibby, Griot, Lambi Creole – the local culinary delights at La Sirene are worth stopping in and savoring, whether you're staying here or not.
You also see and experience the best of authentic Haiti in the expansive and exceptional art collection at the Marriott Port-au-Prince. Expertly curated by Philippe Dodard, a renowned Haitian artisan whose work inspired Donna Karan's Spring 2012 collection, the hotel's treasure trove of art celebrates the works of 22 different local artists.
The works are moving, inventive, and uniquely Haitian, oftentimes employing upcycled materials (like the metal used here) to create indelible representations of Haitian history, culture, daily life, and national pride. I routinely spend a portion of each stay here simply strolling around and enjoying the art, always seeing and discovering something new; sometimes about the property, sometimes about myself, always about how special Haiti really is.
Not content to simply showcase the wonders of Haiti, the Marriott Port-au-Prince was also specially designed to help preserve the country's natural resources.
Fully 60% of the hotel's hot water demands are met by thermo solar panels stretching across the roof. A one-megawatt solar farm located nearby further minimizes the hotel's carbon footprint, a big deal in a burgeoning city largely choked most afternoons by excessive auto emissions and the smoke that comes from cooking with coal (the most common cooking fuel in Haiti).
You'd never know of the smoke or the general chaos in the surrounding streets while sitting poolside at the Marriott Port-au-Prince, though…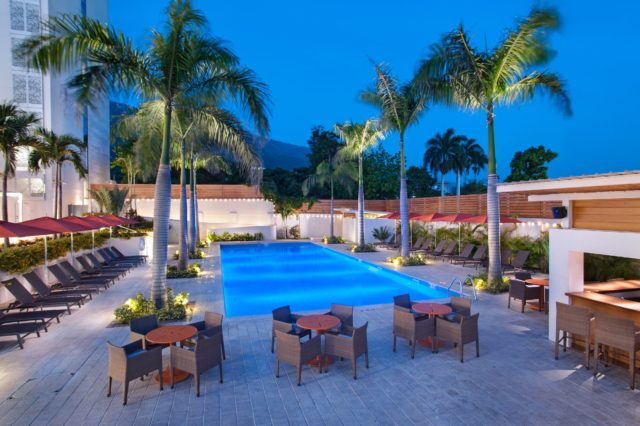 Peace, calm, and sweet serenity in sophisticated surroundings that speak to the magic of Haiti's past and the great potential of her future – indeed, the Marriott Port-au-Prince is anything but ordinary.
For reservations and more information, visit the Marriott Port-au-Prince online.
Save
Save
Save
Save
Save
Related Posts