Citadelle Laferrière Haiti: An Uncommon Mountaintop Fortress
Looks straight out of Transylvania, doesn't it? A grim and imposing stone fortress topping a sheer mountain peak shrouded in part by ominous clouds, the image embodies so many familiar Halloween themes. Before we get to the blood, let's properly introduce The Citadelle Laferrière.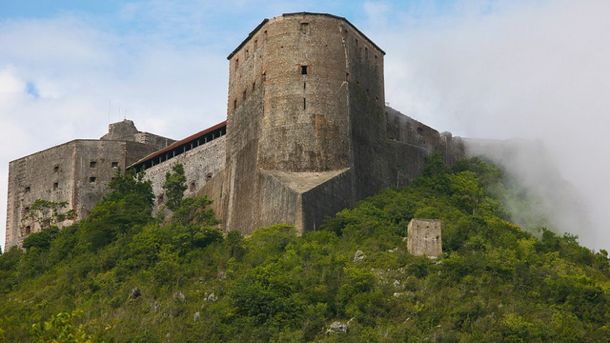 This, however, is in the Caribbean. Haiti, to be exact. And though there's nothing particularly scary about this spot, fright fans may be interested to know of the blood that's helped to keep the foundation solid for close to 200 years.
The massive mountaintop fortress was built in the early 1800s as part of a network of fortifications designed to safeguard what was then the newly independent Republic of Haiti from French attack—its former colonial masters. It sits atop Bonnet a L'Eveque mountain (elevation: 3,000 feet), about 17 miles south of Cap-Haïtien and five miles uphill from the town of Milot.
Names a UNESCO World Heritage site in 1982, Citadelle Laferrière is distinguished as the largest fortress in all of the Americas, which of course, makes it one of the more popular tourist attractions in Haiti.
Eighth Wonder of the World
At the top of the mountain, it was built by Henri Christophe just like the also spectacular Sans-Souci Palace during the reign of the Caribbean's first and only black king. It took some 20,000 Haitians close to 20 years to build this place, and no wonder – it's HUGE!
Those walls soar a good 130 feet up from the top of Bonnet a L'Eveque, while the whole complex stretches over 180,000 square feet! Back in the day The Citadelle Laferrière had a system of fortifications with 365 cannons of varying sizes, and despite its inland location, sightlines extending as far as the eastern coast of Cuba (approximately 90 miles away), ensured that the Haitians would easily be able to detect and prepare for any French Army invaders long before they hit the coast.
Making your way to Milot is one thing, but once there it's recommended you hook up with a local guide as the seven mile trail from the town to the fortress is sometimes compromised by landslides or construction. A 4WD vehicle will get you most of the way, but the last 1/4 of the way you should be ready to hoof it, either with your hoofs or aboard a horse, which you can rent back in Milot.
From Wikipedia:
The large foundation stones of the fortress were laid directly into the stone of the mountaintop and fastened with a mortar mixture that included quicklime, molasses, and the blood of local cows and goats. Cows feet were also cook [sic] to a goo and added to the mortar mix which gave the mortar added strength and bonding power.
Who knows what else is in those walls, or buried behind them (this guy's there).
Related Posts