New Haitian-Egyptian Culinary Treats at Marriott Port-au-Prince
There's a new executive chef at The Marriott Port-au-Prince, news that in and of itself is not necessarily a huge deal. I mean, lots of amazing hotels all over Haiti and the rest of the Caribbean sign on new chefs all the time.
I'm particularly excited about this new chef hire, though. In fact, there are 10,208 reasons for my excitement.
That's the number of miles separating Chef Karem Khater's hometown, Cairo, with his new home in Haiti.
While Haiti and Egypt might seem an odd match to those unfamiliar with Haitian history, culture, and cuisine, the pairing actually makes a lot of sense to those of us in the know.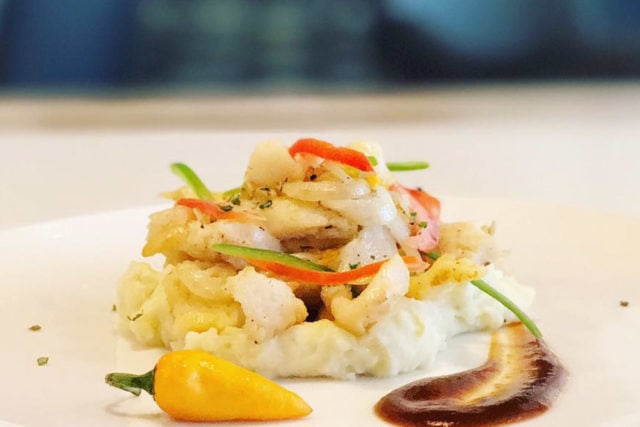 Haitian people of Arabic descent are actually quite prevalent in Haiti, something that I must admit I found a bit surprising myself when I first began my frequent visits to the country a few years ago. Many of them trace their ancestry to Lebanon and Syria, though lots of other areas of the Middle East are also represented.
Arab immigrants began arriving in Haiti way back in the mid-1800s, sowing the seeds of a community that would blossom dramatically with the advent of World War I, and later, the Arab-Israeli War.
Having established such a solid foundation in Haitian society for so protracted a period of time, Arab Haitians have, naturally, had a strong impact on the local culture and food.
Take kibbeh, for instance. A staple of Middle Eastern cuisine, the fried spicy meat-filled treats are EVERYWHERE in Haiti, where I've normally seen it spelled kibby.
So yeah, Chef Khater's arrival at The Marriott Port-au-Prince isn't necessarily all that uncommon to me, but that doesn't make it any less exciting.
You see, Chef Khater has worked his culinary magic at some of Egypt's finest hotels, including the five-star Sharm El Sheikh Marriott Red Sea Resort.
I can't wait to see what he's doing to combine/elevate the tastes of Egypt and Haiti, adding an altogether new and different dimension to the already dynamic gastronomy on offer in Haiti.
*Photos courtesy of The Marriott Port-au-Prince.
Related Posts