Haiti's Grotte Marie Jeanne, The Caribbean's Wildest Cave Adventure
The king of all cave attractions in the Caribbean – the Rio Camuy Caves in Puerto Rico – have long ranked as my favorite underground adventure. The place is so amazing, so awe-inspiring that I never would've believed there could be anything in the region to match it.
Then I went to Haiti. Specifically, to the small southern enclave of Port-à-Piment. There, I experienced the raw wonder of La Grotte Marie Jeanne.
An expansive tri-level cave system extending over two-and-a-half miles, Marie Jeanne is the largest cave discovered in Haiti thus far. I say thus far as just like at Rio Camuy, new caves are still being discovered here.
Unlike Rio Camuy, though, just getting to Marie Jeanne is an adventure. We were already staying in Haiti's Sud Department, exploring the many virgin beaches in Port-Salut and Cotes-de-Fer, as well as the vibrant art and culture scene in Jacmel. Still, our drive from Les Cayes took a good two hours to Port-à-Piment. Our initial destination, this rather nondescript side street…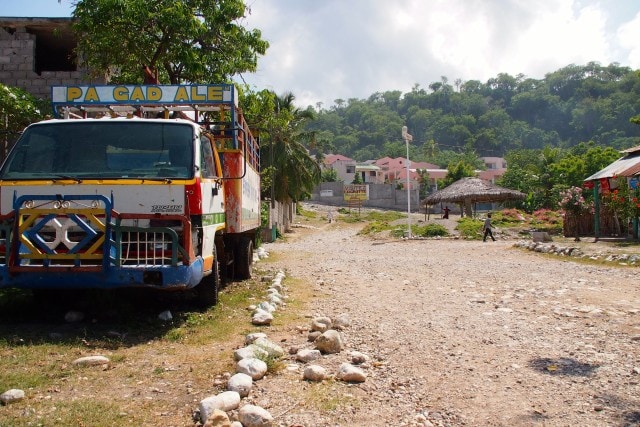 Here, we were met by friendly English-speaking local guides from the nearby Port-à-Piment City Hall. After some brief pleasantries, we started up the hill just to the left of the Marie Jeanne welcome sign.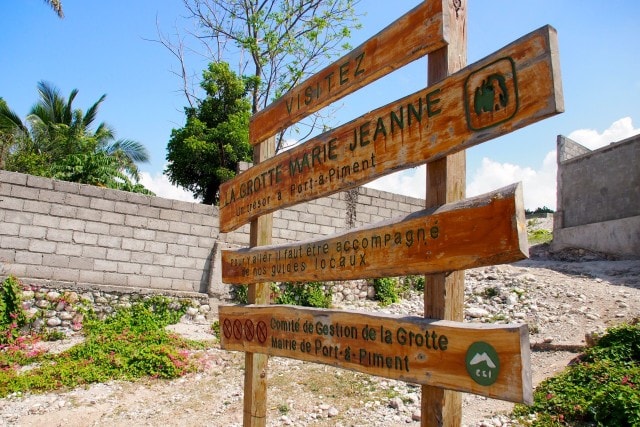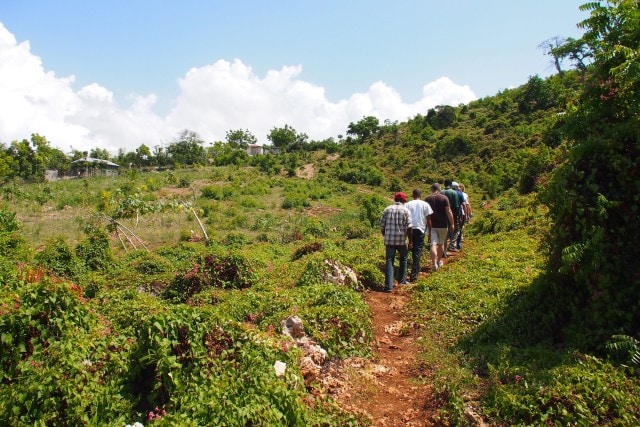 The trek takes at most 15 minutes. It's not a particularly taxing hike, though on a hot day (everyday) you'll definitely want to bring along plenty of water.
You'll also want to stop and turn around periodically to enjoy the view…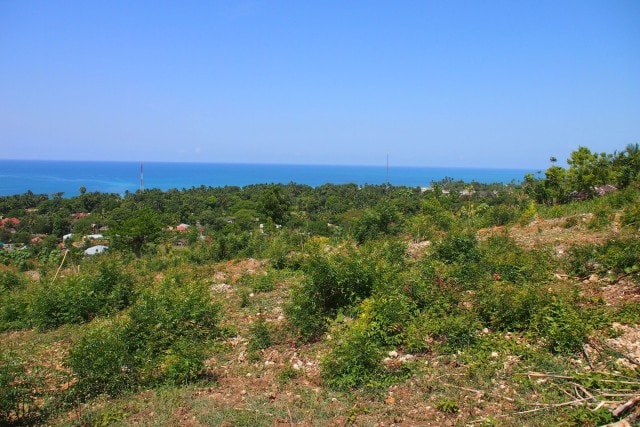 Eventually, the dirt and gravel path gives way to a short elevated wooden walkway…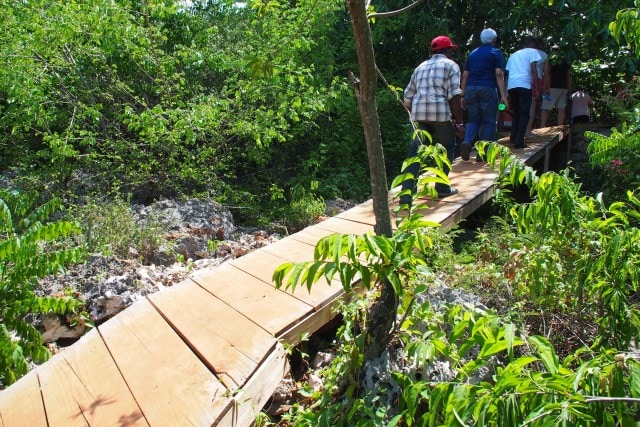 …and this gate.
It may not look like much, but this simple pad-locked gate is the only thing keeping people out of the massive Marie Jeanne cave system. Arrive here without a guide to unlock the gate, and you're out of luck.
All around the platform, you'll also find informative signs in English, Spanish, French, and Creole detailing the history of the caves and all that you're liable to encounter therein. Our guides broke it down as well, only fueling our excitement for what was to come.
Our adventure began with a steep climb down stairs that had surely seen better days.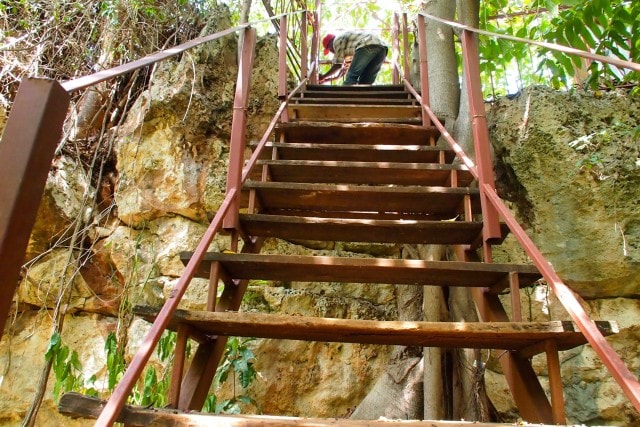 Some of the wooden boards were loose; others, broken. But, with a little extra care, most any even remotely able-bodied person could make it.
The next trial, though, requires a little more doing…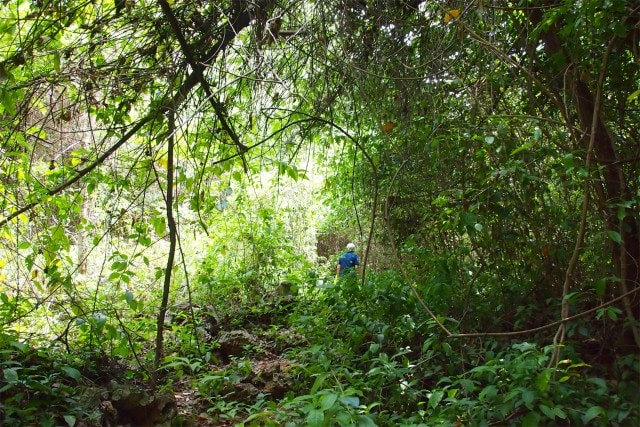 From the stairs, our guides led us through this thick jungle. If you can't see the path in the photo it's because there's barely any path to speak of. This, of course, speaks to the virgin nature of the place – a welcome trait for true adventurers, though even the most intrepid among us will want to be careful of the footing. It's dicey in spots over tree roots and sharp ironshore rock, with vines and encroaching shrubbery adding their own special challenges.
Stick with it, follow your guides closely, and you'll soon find yourself here…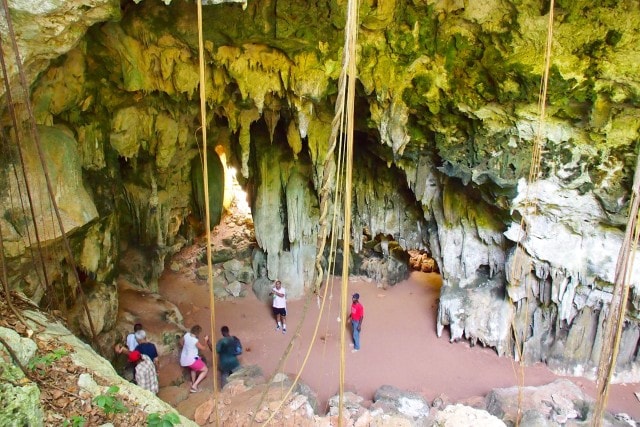 The first cave entrance we got to explore, this wide opening allowed for the greatest light of all the caves we explored, the stalactites, rose-colored floor, and hanging vines making for a dramatic setting worthy of a superhero's secret lair.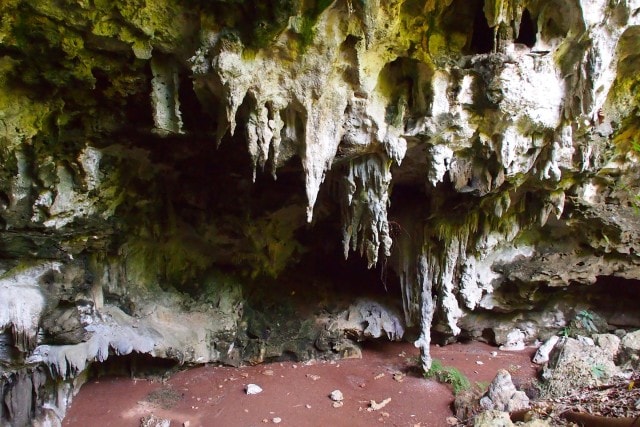 From here, we made our way back through the jungle to the cave pictured at the head of this post. This one was much darker, with sections extending several meters underground. At one point, our guides asked us to stand still, turn off all our lights and just listen.
The silence so deep underground in such absolutely pitch-black surroundings was simply amazing.
With our lights illuminated once more, our guides spoke of the archaeological treasures found in the caves in recent years. Pictographs, pottery shards, and tools dating back to the Tainos were discovered in many of the 36 known chambers at Marie Jeanne. Who knows how much more still remained hidden away in Marie Jeanne's undiscovered caves?!
Our experience was so untethered that I half expected we'd uncover a few more ancient treasures ourselves.
Guardrails to help you descend into the caves are scarce at Marie Jeanne. Hardhats weren't doled out at the onset of our visit either. In the darker caves our best light was the flashlight button on our smartphones.
Here, you really get the chance to explore in the raw, though under the alert and watchful care of the local guides.
It's not for kids or the tourism masses just yet – plans are in-motion to make the caves as accessible as Rio Camuy – which makes it perfect for truly adventurous uncommon travelers right now.
The entrance fee for La Grotte Marie Jeanne will run you about 100 Haitian Gourdes, which roughly works out to about US$2.
For more information on cave attractions in Haiti click here.
Related Posts