Let's Help UC Fan, Jenna Emmons, Build Homes in Haiti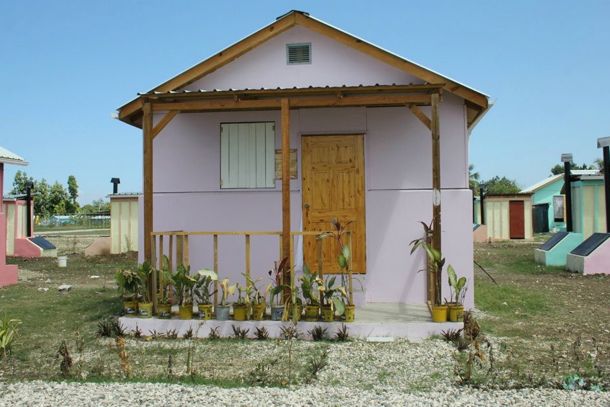 You are not normal.
Oh, you enjoy traveling to the Caribbean for a good time as much as the normal, run-of-the-mill tourist. Rum, limin', beach parties – they're all good for you.
The difference, though, is that you also care – about the region, its people, their culture and their future. The difference is that you're just like our friend, Jenna Emmons.
I met Jenna during an Uncommon Caribbean "Meet Up" on my last trip back to St. Croix earlier this year. A part-time resident of USVI, Jenna's been a UC fan virtually from the day we started, so it was a thrill to get to know her over a few inventive cocktails at Salud! Bistro, all expertly crafted by our erstwhile mixologist, Jesse Card.
During our brief meeting, I came to learn that Jenna's love for the Caribbean is not only expressed in words but in deeds as well. I'm talking mighty deeds, like joining with about 400 other volunteers last fall to build homes like the one pictured above in Haiti. Working tirelessly over just five days, the group built 100 homes in the Santo Community of Léogâne, a small yet important step toward helping the nearly half a million Haitians still living in non-permanent housing stemming from the devastating earthquake of January 2010.
The work was done as part of the Jimmy and Rosalyn Carter Work Project, an annual home-building program for Habitat for Humanity designed to help low-income families around the world have decent homes. The program usually alternates between deserving communities in the U.S. and overseas from year to year, but as you can see in this video, the need in Haiti remains too great to ignore…
Jimmy & Rosalynn Carter Work Project in Haiti
Indeed, the Jimmy and Rosalyn Carter Work Project will return once more to Léogâne this coming November, a rare second consecutive year benefiting the same community. With our help, Jenna can be there again too, putting her uncommon love for the Caribbean to good use once more.
Each volunteer is tasked with raising $5,000 to participate in the home building project. Donations are tax-deductible, of course, and could hardly go to a better cause being championed by a better friend.
Related Posts