Ogier-Fombrun Museum – Stirring History by the Sea in Haiti
Old sugar plantations turned museums are prevalent throughout the Caribbean. They help to paint a picture of the slave era, albeit from a decidedly colonial point of view. This is problematic in many instances as grand estates espousing the opulence of plantation society tend to obscure the inhuman savagery of slavery. Not so at Ogier-Fombrun.
A Slice of History in La Côte
The 18th century sugar estate sits along the sea in La Côte des Arcadins. This is Haiti's resort playground; home to a collection of five beachfront properties 90 minutes drive time from Port-au-Prince.
(Editor's note: La Côte des Arcadins is a prime spot for boating and scuba diving adventures in Haiti. Sunrises and sunsets there are pretty amazing too.)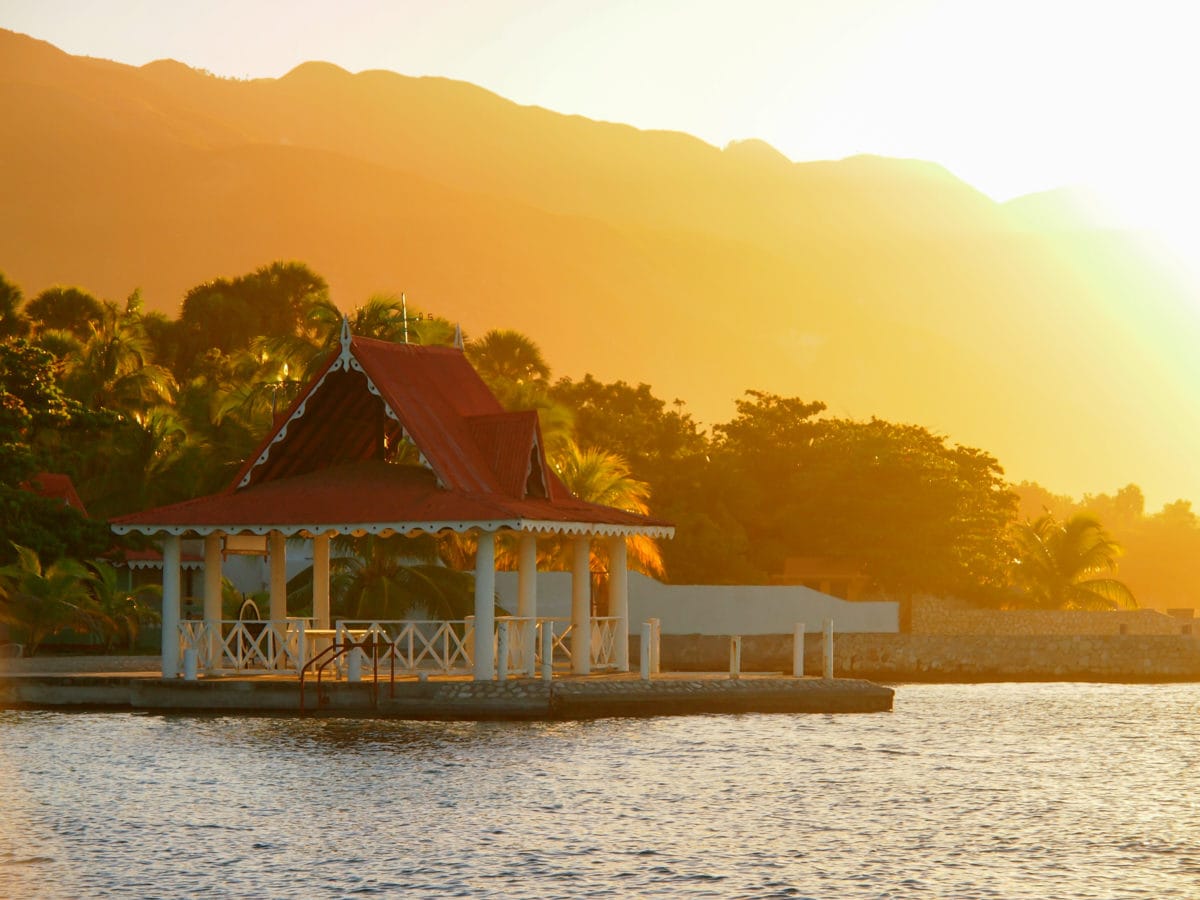 Ogier-Fombrun is technically part of the Moulin Sur Mer resort, though you'll want to stop in here no matter where you're staying in La Côte.
Afro-Conscious Inside and Out
The grand colonial curb appeal of the great house at Ogier-Fombrun belies the poignant and powerfully moving of Afro-conscious museum collection inside.
Here you can see shackles and chains actually used to hold slaves in bondage on the estate. An axe employed in barbaric amputations also hangs nearby. A spring-loaded steel trap is also displayed. It resembles a bear trap. This one, though, was used to catch escaped slaves.
Nothing is sugar-coated here.
The theme carries forward to the gardens that surround the great house. Out here, a dramatic recreation of a carriage pulling slaves is at once difficult to watch and impossible to ignore.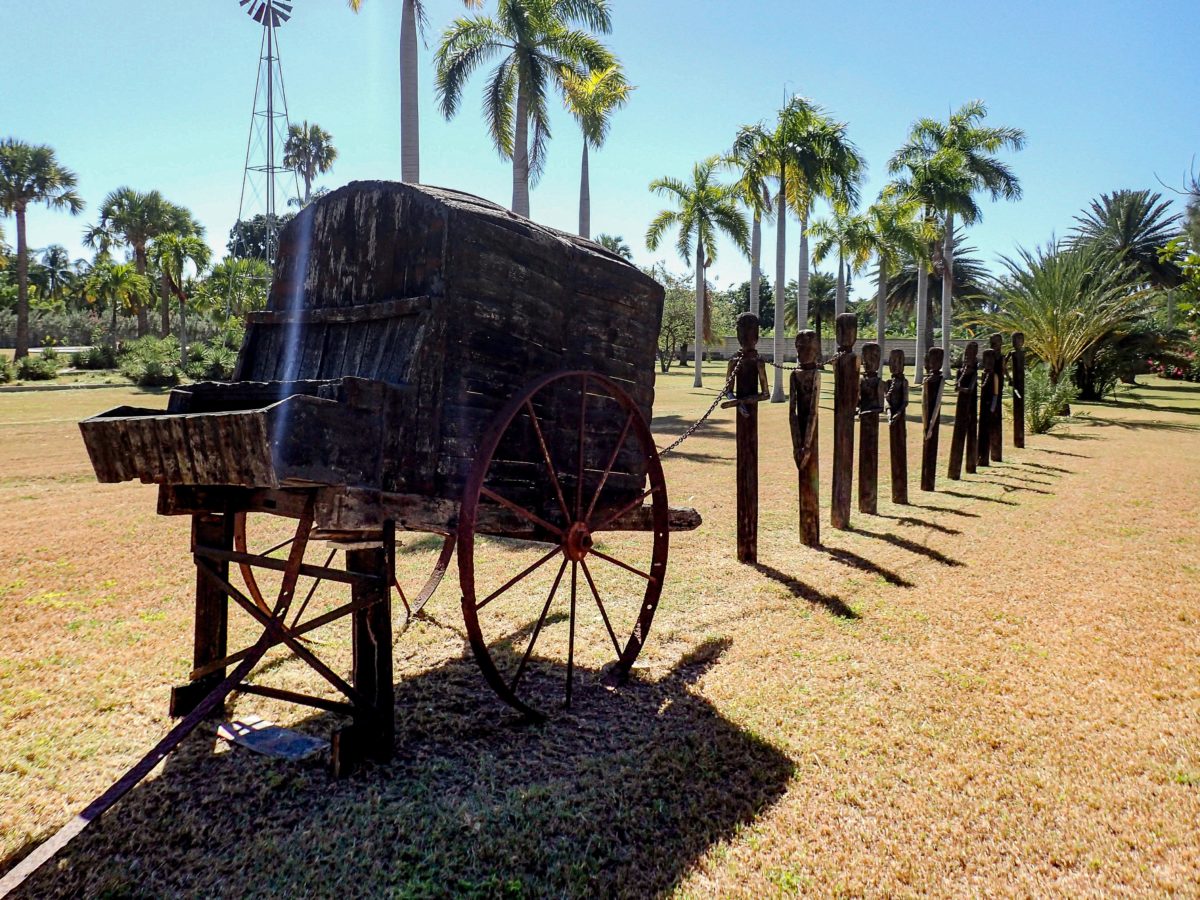 The carved wooden figures each bear pained expressions. Iron shackles ring their collars.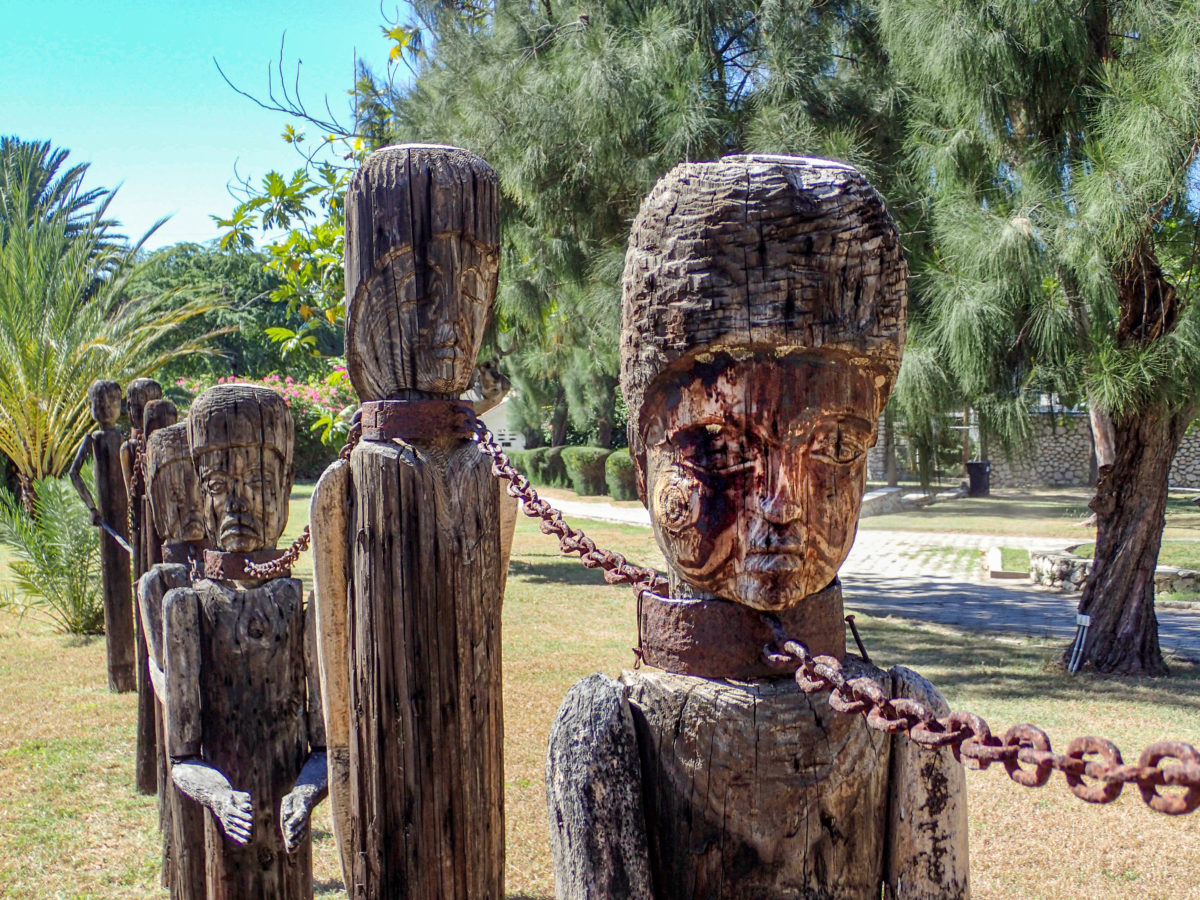 Chained together neck-to-neck; a procession to purgatory… It's impossible to avoid getting a little emotional at the sight.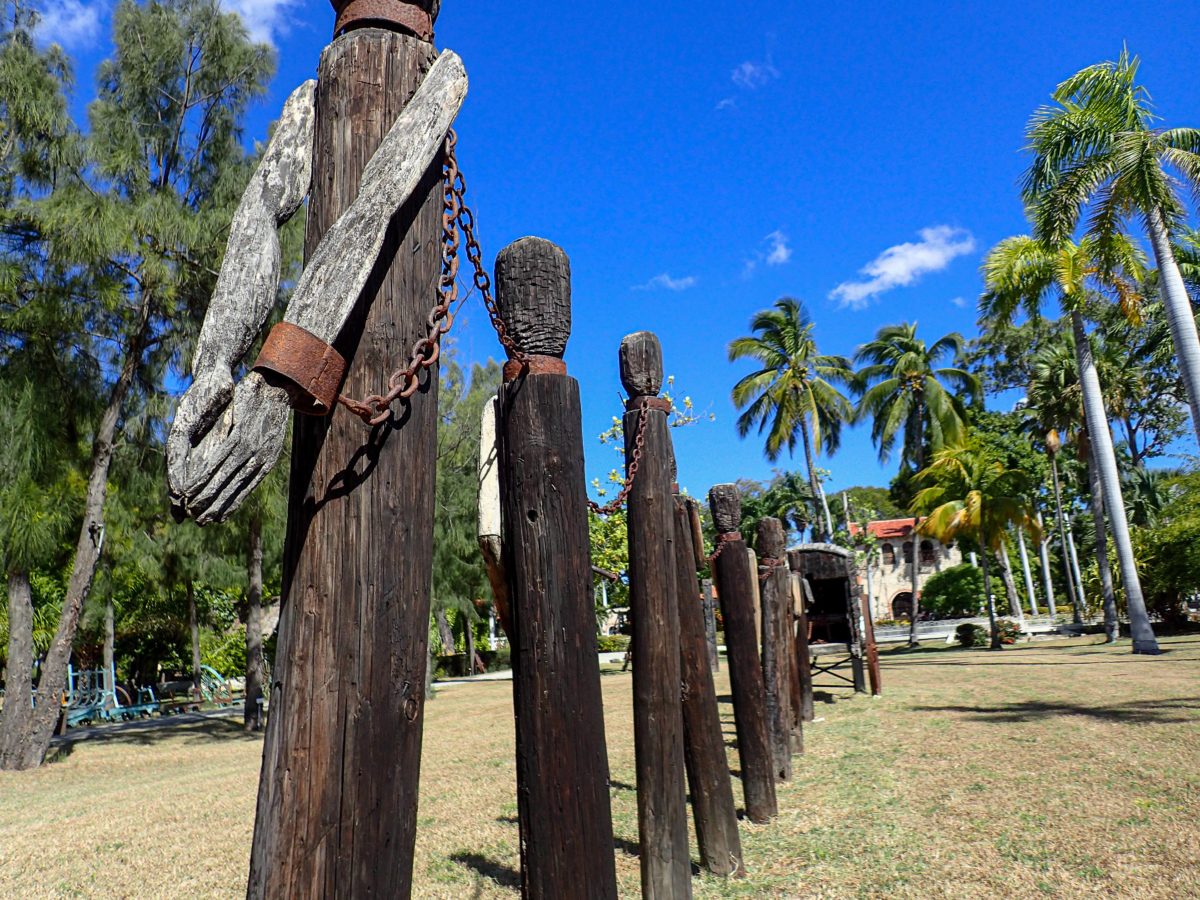 Before and Beyond Slavery
Ogier-Fombrun doesn't stop at reminding visitors of the horrors of slavery either. The museum covers the full known history of Haiti. Exhibits start at the pre-Columbian era, showcasing Amerindian artifacts and farming traditions.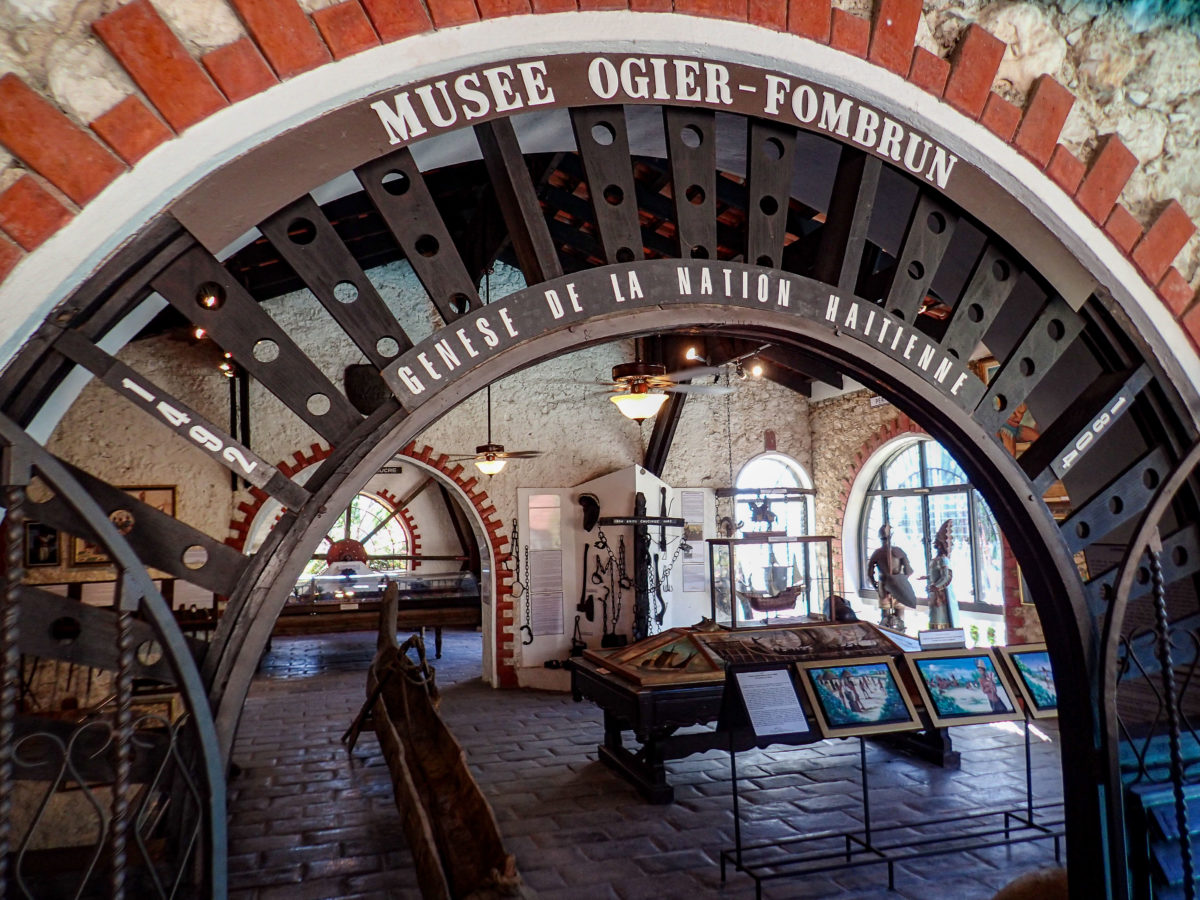 The Haitian Revolution is also featured, of course.
Heroic depictions of Touissant Louverture and Henri Christophe adorn the walls. So too does a collection of swords and rifles used by the Africans to win their freedom in 1804.
It is the haunting memories of slavery, though, that struck me most upon visiting here. The stark juxtaposition of echoes of pain and suffering in what was a lavish colonial estate is provocative on a level you just don't usually see at old plantation attractions.
It's stirring, disturbing, and a must-experience for conscious travelers keen on exploring the full depth and breadth of the Caribbean.
How To Visit Ogier-Fombrun
As we've noted before, Haiti is not the easiest destination to experience. The right guides and connections really matter here. Over the course of my many travels to Haiti in recent years, I've come to rely on two men in particular: Cyril Pressoir at Tour Haiti or Pierre "Bobby" Chauvet at Agence Citadelle. Both operate their own tour companies, each with many years of experience showcasing the best of Haiti.
No matter where you want to go in Haiti, or what you want to do, you can't go wrong with either Cyril or Bobby.
If you need a personal introduction, please feel free to email me and I'll be happy to put you in touch.
Related Posts