On-Site Haiti: Bright, Colorful Signs of Progress in the Slums Above Pétionville
First impressions upon arriving in Port-au-Prince, Haiti's sprawling capital city, will likely surprise most typical travelers.
Generations of political instability combined with the tragic scenes from the January 2010 earthquake and the mainstream media's predisposition toward focusing almost exclusively on the negatives that have come to define the poorest country in our part of the world (never mind that Haiti barely breaks the top 30 in such a ranking when considered on a global basis) have left most of us with a decidedly negative perception of what it must be like there.
So, what's the reality?
Well, I think if you were visiting on business (as I was) or pleasure (yes, I did run into a few tourists), you might find the situation a bit brighter than popular perception.
That's not to say that everything's rosy, of course. If anything, everything in Haiti is extreme. The bad things are extremely bad, but there are also a lot of great things that are extremely great on a level comparable or better than just about anywhere else you might roam in the region.
In my view, the challenge for Haiti (Port-au-Prince in particular) is developing a viable middle ground – a nice level of "good" that makes the destination more welcoming and palatable in a general sense for the general traveler.
That's why I really like the Jalousie in Colors program.
Jalousie is a slum; an endlessly rambling expanse of cinderblock homes and hovels carved into the hills above Pétionville, an upscale suburb of Port-au-Prince that in its style and modernity is the antithesis of the capital just a few minutes drive away.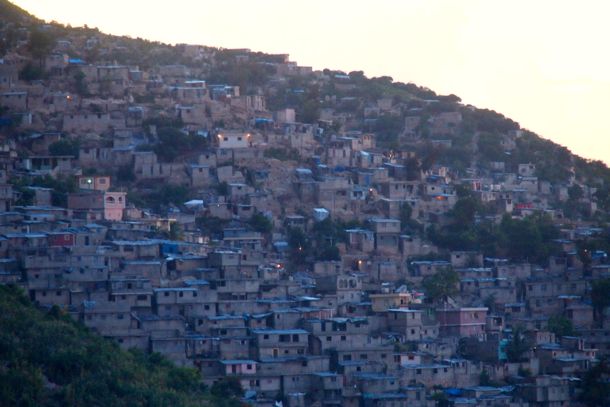 For years, Jalousie's stark and dreary facade has stood in stark contrast to its burgeoning neighbor below. Then, in March of this year, a new program launched by the Haitian government began adding a vibrant splash of color to Jalousie.
The impact of the change is readily apparent when you see the line separating homes already painted with those next up on the list…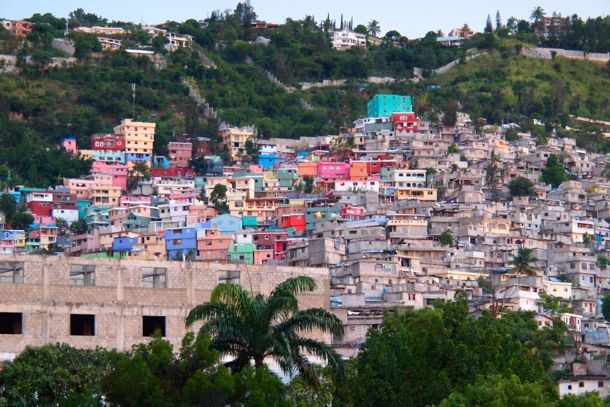 The program, dubbed Beauty Versus Poverty: Jalousie in Colors, draws inspiration from the "Cities in the Skies" painting created by the celebrated late Haitian artist, Préfète Duffaut, who died last year. Jalousie in Colors is being implemented at a cost of US$1.4 million, though not all the cash is going toward paint and paint supplies…
By prettying up the neighborhood, the government hopes to attract people still living in displacement tent camps set up in the aftermath of the 2010 earthquake to Jalousie. They're even going so far as to pay subsidies equal to a year's worth of rent to residents agreeing to leave the tents for a colorful new home in the hills.
Might sound like a pretty good deal to you and me, but the program does have some fairly staunch critics who point to the fact that the Jalousie neighborhood, despite its facelift, is still without basic water, sewage and electric utilities.
They have a point, but to me the program still shows progress – bright, shiny progress, bursting with the type of vibrant color that speaks of hope and a better tomorrow. Like a lot of the good things happening in Haiti right now, it's a start, which to me is a very good thing.
Related Posts