On-Site Haiti: Discovering Bamboo Beach Bar in Le Nord
"Beach Bars" and "Haiti" don't go together too well in the minds of most people, but on my latest visit here just this past weekend, I discovered that they should.
I made my discovery while entering the bay pictured above. I was on a charter boat with a group of other journalists exploring the lush, untamed northern coast of the country. Conditions were calm, though overcast and intermittently drizzly adding the type of exotic, sub-tropically sleepy and alluring feel you might sooner expect to find in Tahiti, or some other such Southeast Asia paradise.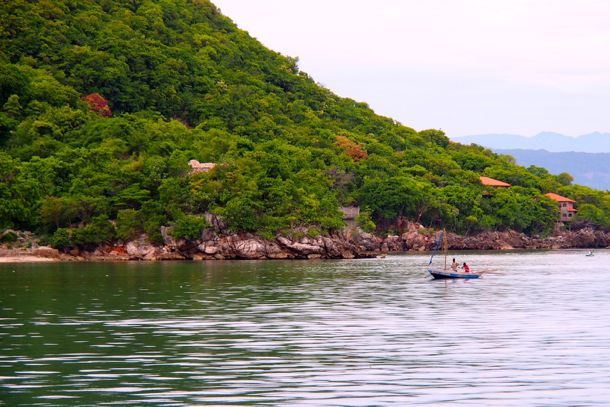 This, however, is Haiti.
So is this…
You come to expect surprises adventuring around Haiti, but this beach, and more to the point, the tiny little beach bar on it, were right out of the blue for me.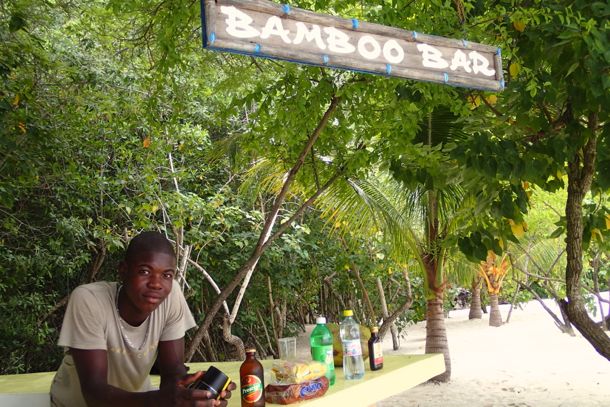 Bamboo Bar is located right in the sand on Cadrasse Beach in the heart of the pristine and secluded bay pictured in the lead photo. Fringed by tall peaks tumbling straight down to the sea, the area is solely accessible by boat, so you're not apt to find too many folks… usually…
You see, Bamboo Bar is not so uncommon to the more than 600,000 Royal Caribbean cruise passengers who stop off in nearby Labadee each year. One of the more popular shore excursions ferries cruisers over to Cadrasse (They're told the name is Paradise Beach) for some fun at Bamboo.
No doubt, the uncommon traveler will better enjoy this place without the cruise crowds, as I was lucky enough to do during my visit. Our bartender, No-No, was friendly and happy to have a few stray visitors on a slow and dreary day. Prestige Beers were less than US$1 each, and the rum/fresh coconut water combo wasn't much more than that, leaving us in no mood to leave anytime soon.
There were only us four visitors and No-No, liming, laughing, dancing, and drinking. The whole visit lasted less than 30 minutes, but it felt much longer… for all the right reasons.
Best way to get to Bamboo Bar is through our friends at Sandbar Island Tours. They can accommodate groups large and small in one of two boats, and are a lot of fun to hang out with. There are also local taxi boats that leave from Labadee to areas all along the north coast, though those overladen vessels appear to have more of a Tap-Tap feel that you'll likely want to avoid…
Related Posts