Support Haiti, Drink Rhum Barbancourt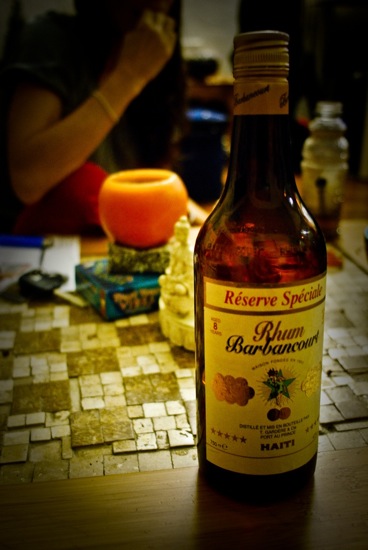 Today's Friday Happy Hour drink of choice was inspired by faithful Uncommon Caribbean reader, Mike Moore.
Like us, Mike loves rum. He's particularly keen on the sweet, sweet nectar found in the bottle pictured at left, Haiti's Rhum Barbancourt.
Mike's got good taste.
Barbancourt is made directly from sugar cane juice rather than the sugar cane by-product of molasses, a method similar to that employed in the production of the rhums agricole of Martinique. The result is a richer, more flavorful spirit more akin to a fine cognac.
Last week, when Mike went to his local South Florida liquor store, the check-out guy told him that the Barbancourt distillery was destroyed in January's tragic earthquake and no one has an idea if or when it'll come back.
Mike, that store clerk is not your friend.
I mean, it's nice that he entertained you with a good story (likely designed to get you to buy up all the Barbancourt in stock), but the rumors of the demise of Rhum Barbancourt are greatly exaggerated.
So says Robert Burr, South Florida-based publisher of the Gifted Rums Guide. I spoke to him earlier today to get an update on Barbancourt.
"They're back to crushing cane and fermenting right now. The disruption was only about 4-5 weeks. It's also fortuitous that a rather large shipment just happened to be sent to the U.S. the day before the quake."
Bottom line: Barbancourt should be in good supply now, and will continue to be well into the future.
Still, the quake did exact a toll on the company. Some product was lost and the distillery, located about 10 miles outside the capital of Port-au-Prince, sustained a bit of damage. More importantly, two Barbancourt employees died, while the homes of 25% of the company's workforce were destroyed.
Haiti still needs our help, a point underscored by First Lady Michelle Obama's visit to the country last week. On this particular Friday, we're doing our small part by joining our friend Mike in partaking of some 15-year Barbancourt Reserve du Domain.
A votre sante!
Related Posts