UC Reader, Beth Santos, Works to Build a Better Haiti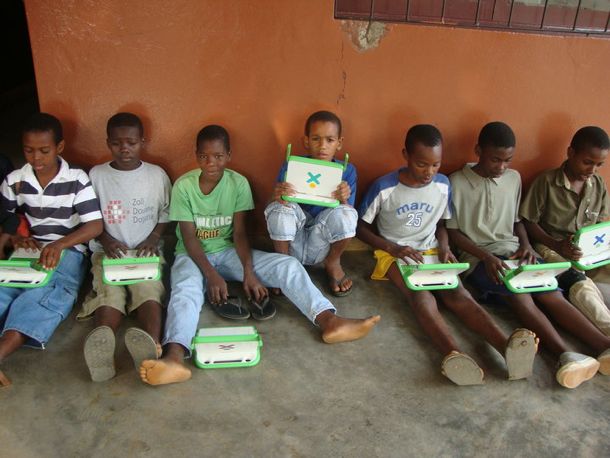 Editor's Note: While the tragedy of the massive earthquake and subsequent tsunami in Japan earlier this month remains fresh on everyone's minds, the devastation born of last year's earthquake in Haiti continues to present immense challenges for our Caribbean neighbors. UC reader, Beth Santos, is one of countless volunteers, educators and aid workers from around the world who continue to lend their talents and energies toward building a better Haiti for the future. Here, she shares an account from a recent visit to the country.
It's 8am and I'm riding in the cab of an old white pickup truck, bumping over the sandy streets of Port-au-Prince. To say these roads have potholes is an understatement. It's more like driving through potholes with a little bit of road in them.
I open the window and suck in the morning air. It's February so it's still the dry season, and the air is thick with dust. It settles on your teeth when your mouth is open. Too many times I have slipped my tongue over my teeth only to feel a powdery layer settled there. Like many things in Haiti, however, I've learned that the only thing to do is  get used to it.
As patches of sunlight break through the trees, we pass a woman carrying homemade bread in a basket on her head; the Seventh Day Adventist church that has been cheering over a powerful sound system since six in the morning, slowly waking up the neighborhood. We pass a crowd of motorcycle taxis, up early in hopes to give rides to working people and school-bound children. In the morning, the city is bustling.
It's only my second time in Haiti but it will be the second of many. Last year, just two months after the earthquake, I made my first visit. I was a new hire for a non-profit called Waveplace Foundation that has been providing educational assistance to underprivileged kids in Haiti and other needy communities in the Caribbean since 2008. Waveplace works to build critical thinking and problem-solving skills among children. To do it, they train teachers how to use the durable, energy-efficient laptop developed by One Laptop per Child. By incorporating hands-on use of this laptop in the classroom, students learn to think creatively and to work through abstract concepts. The idea is to help kids develop advanced problem-solving skills from a young age so that they will be better equipped to diagnose issues in their communities and implement creative solutions to address them later on in life.
We arrive at the Amsai School in Delmas, a gorgeous school with a big mural lining its front gate. Colorful paint depicts sparking blue water and lush green trees and bushes, a slightly surreal scene in comparison to the dusty, deforested area around it; but a reminder of what Haiti used to be, and perhaps what Haiti can still one day become. Inside the schoolyard, the Haitian flag waves in the wind. Despite everything that these people have been through over the past year (and over countless years before that), they are still proud of their home – a historically passionate, strong and eminently resilient nation.
In class, I watch a young girl use her bright green laptop to craft a digital storybook, complete with text and pictures. A year ago, the same exercise provoked a number of stories about the recent earthquake. Children drew heartbreaking images of their siblings as they fell from rooftops; houses knocked to the ground. They couldn't seem to get it out of their mind.
A year later, the kids are still writing about the earthquake. Not all of them, but a few. Maybe they'd never been asked before how they felt about it. Maybe a creative outlet, a way to look forward, a project to actually focus their energies on, is what they most needed.
A few days later I'm singing songs about the importance of washing hands and saying "I'm sorry" with a room full of children in a tent camp north of Port-au-Prince. Two little girls sit in my lap – one with wide eyes and wrists so thin I am afraid the slightest touch might break them, the other, pudgy with a vibrant face and sporting a bright blue tank top. When croissants and orange juice are brought out, the roomful of children erupts in joy. They are getting possibly the only meal they will eat this weekend.
The girl in the blue tank top breaks out into a bright grin, exposing a mouth full of stained, rotted teeth. She looks at me, her eyes glowing. She is forever beautiful.
It's easy to see the roughness – the vast hunger, the dirty water, the dusty roads, the crowded camps. But in the children, there is a glimmer of hope. They may not be old enough to have seen a better life yet, but they know it's coming. And if we listen to them, they have stories to tell.
Beth Santos is the founder of Go Girl Magazine, an online travel magazine about independent women. Read her stories and those of other Go Girls at http://www.travelgogirl.com.
For more information on Waveplace, including ways in which you can help the Foundation provide assistance for less fortunate kids in Haiti and other parts of the Caribbean, visit them online at http://www.waveplace.org.

Related Posts