Uncommon Photo-Op: Echoes of Barbados in Southern Haiti
When one thinks of Haiti, sweetly scenic seaside images like the one above don't generally come to mind. In fact, most people would probably think that the pic shows the Bathsheba area of southeastern Barbados, where the iconic Bathsheba Rock is but one of a series of similarly curious offshore rock formations.
Check that: most people definitely think this is Bathsheba. At least most people who were kind enough to chime in when we asked about it on Facebook earlier today. Before finding myself in Cayes-Jacmel last week, I would've thought the same thing.
Cayes-Jacmel is a small fishing community located just east of the town of Jacmel on Haiti's breezy-beachy south coast. Its offshore rocks struck me as odd the minute I saw them. In all my travels around the Caribbean – a lifelong odyssey that has seen me visit 40 destinations thus far – I'd never seen anything like them anywhere else but Barbados.
Here they were, though, standing out amid some modest, yet persistently churning surf just like the rocks in the vicinity of Barbados' famed surfing Mecca, Soup Bowl. "Could there be surfing here as well," I thought? A few minutes further east down the road, I had my answer…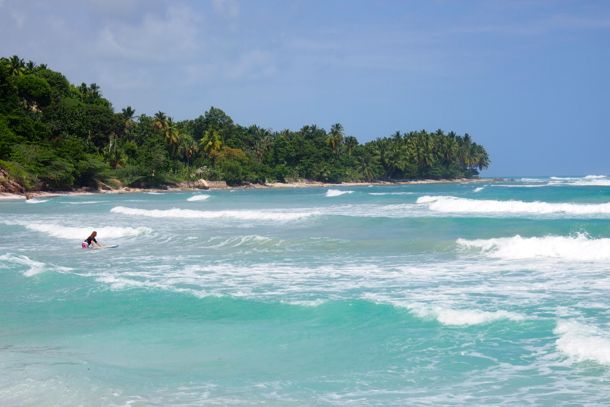 Soup Bowl, it was not, but the steady stream of small-to-mid-sized waves here seemed plenty perfect enough for this young, novice French surfer on a weekend break from her NGO duties in Port-au-Prince along with a couple friends. The three of them rode a handful of waves during my short time on the beach, enjoying all the surf the bay had to offer all to themselves.
Everyone else, meanwhile, was enjoying the beach…
…or the pool at Villa Nicole, a swank and petite new boutique hotel I'll have much more to say about later that is THE PLACE TO STAY in the area…
No, Cayes-Jacmel is not Bathsheba. It's more remote, French and Creole are the tongues, the rum is actually rhum, and some parts could use a clean-up. To me, though, this corner of southern Haiti has a lot of the same feel as Barbados' southeast coast.
The best similarity of all: no crowds.
You'll want to get here soon to take advantage of that last one, though, as some major new tourism development planned for southern Haiti is sure to change the area in the next few years…
More on Cayes-Jacmel here.
Related Posts