Visiting The Uncommon Artists' Enclave of Noailles, Haiti
Ping! Ping! Ping! Ping!
Wind the window down a good mile away from the village of Noailles and you'll hear it – the unmistakeable sound of hammers and chisels striking metal. Repeatedly. Incessantly. Rhythmically. Day and night, no matter the hour, over and over and over again.
In most places the sound would rate a nuisance; the authorities soon dispatched to quiet the racket, restore the peace.
Noailles, however, is different.
In this small corner of Croix-des-Bouquets, a northern suburb of Port-au-Prince, Haiti, the pinging is welcome, beautiful even; music to the ears of all who live here or happen to visit.
It sounds of progress, of passion, of pride… and some of the most incredible works of art you're likely to find anywhere.
An ultimate expressions of Haitian ingenuity and supreme artistic craftsmanship, the entire village of Noailles operates as a veritable artists' commune, one in which seemingly everyone is involved in producing all manner of dramatic iron works of art from old and discarded oil drums. Sculptures, wall hangings, mirrors, furniture, light fixtures – all sizes, all colors, all infinitely amazing.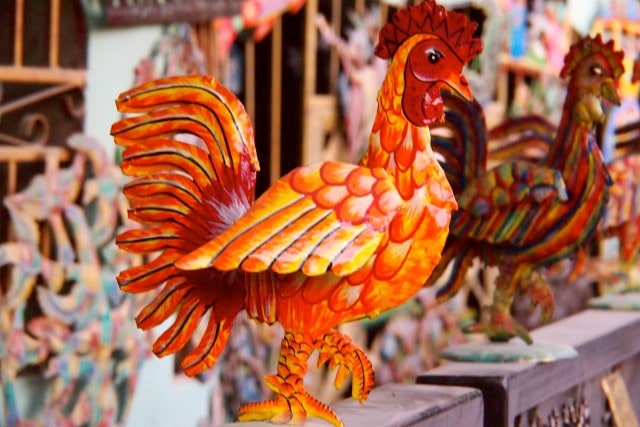 I've visited Noailles twice in the past year, both times starting my tour of its many artistic wonders at Serge Jolimeau's Workshop. Both times I've been surprised to meet Jolimeau there. I mean, it's not everyday that you get to meet an absolute legend in the art world at his home and workshop. Ever-so-humble, though, Jolimeau always says, "Where else would I be?"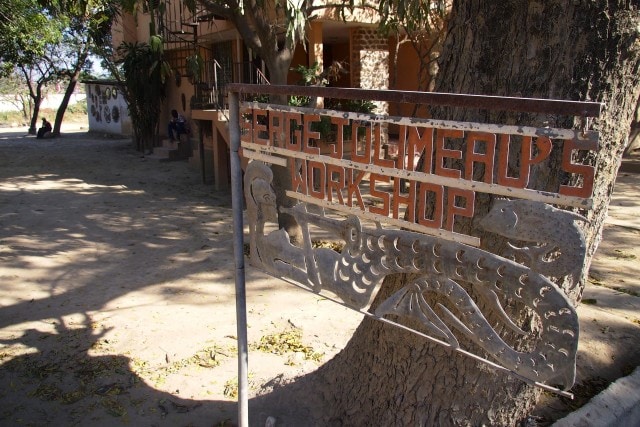 Jolimeau's masterful ironwork, most of it inspired by local folklore and vodou, is so marvelously intricate and complex that it's been likened to metal lace. You see it proudly displayed in all of the finest hotels, restuarants, government offices, and museums in Haiti. You also may have seen it for sale in Macy's recently, a product of the Clinton Global Initiative following the 2010 earthquake.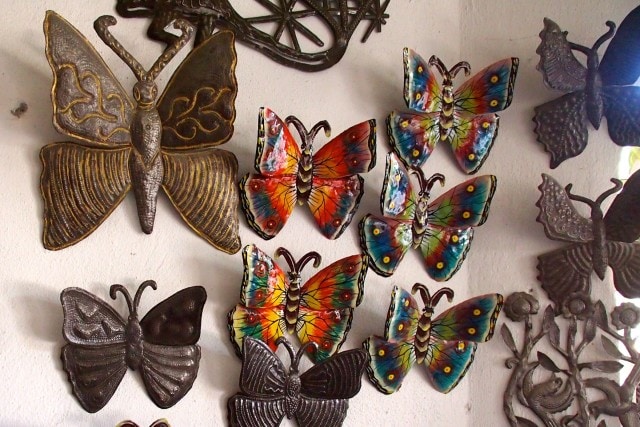 The best place to see Serge's work, and that of his many, many other very talented artist neighbors, though, is in Noailles itself. Only here can you get a full sense of just how dynamic, broad, and voluminous the metalworks produced in the village really are.
Roaming the area streets in and out of the myriad of shops, it was truly amazing to note the incredible variety of art pieces, each collection and its attendant craftsman sporting a slightly unique signature style.
At the same time, you really feel the art here.
Maybe it's the pinging, which never stops, or the personal one-to-one interaction with each of the artisans, the majority of whom speak English, but the whole place just feels alive with boundless energy, creativity, and heart.
Like the art pieces created here, the village of Noailles is truly one-of-a-kind.
Related Posts