Appleton 50 Independence Reserve – Simply The Best
The weekend of August 5–6, 2012 was huge for Jamaica. The country's vaunted Track Team was dominating the 2012 Olympics. At the same time, Sunday August 6th marked the 50th anniversary of Jamaica's independence from the UK. Indeed, this weekend didn't just call for celebrating. It called for a taste of Jamaica's very, very best – Appleton Estate 50 Year Old Jamaica Independence Reserve.
Easily among the most hyped and anticipated rums to debut in a long, long time (maybe ever!), Appleton 50 is nothing short of a triumph of the rum-maker's art. It's so singularly great, in fact, that some in the rum world will no doubt find Appleton 50 hard to believe. Reason…
The Angel's Share
While touring the Cruzan Rum Distillery on my home island of St Croix recently, I learned that each of the oak barrels they use to age its rums holds a maximum of 47 gallons. After the 12 years required for a portion of the rum that goes into making Cruzan Single Barrel Estate has passed, only five of the 47 gallons remain. The rest is lost to the Angel's Share.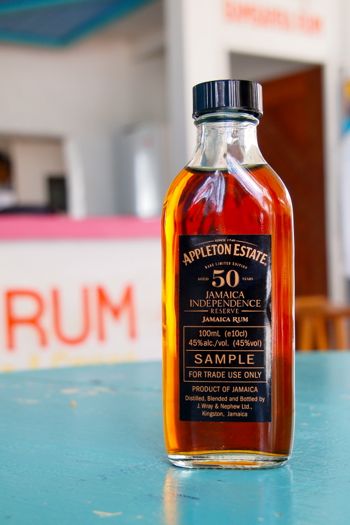 Now consider Appleton 50. True to its name, this miraculous rum is a blend of several different rums each aged for a minimum of 50 years! Even with the careful hand-selection of oak barrels that Appleton says it employed in the obviously meticulous aging process for its Independence Reserve, it is absolutely incredible to fathom how they pulled this off.
More easily understood is the fact that there exist very limited quantities of this exceptionally fine rum. Only 800 bottles to be exact. That, plus a few stray sample sizes like the one pictured above, which I was lucky enough to sample one fine weekend at Da' Conch Shack in Providenciales.
I've got to stop here and give very special thanks to my friend, Bob Davies. A true connoisseur who has forgotten more about great rum than I will ever know, Bob was kind enough to share his sample bottle with me. For this, of course, I am forever grateful.
Now, back to the Appleton…
Appleton 50 Tasting Notes
In the glass: This stuff is dark and damn sexy. In particular, tell-tale mahogany hue emblematic of Appleton's fine sipping rums is absolutely alluring. Despite being really anxious to get a taste, I was absolutely compelled by the rum's beauty to wait a couple extra minutes to admire her.
On the nose: Woodsy oak notes predominate affirming Appleton 50's pronounced age and maturity. At the same time, though, it doesn't come off as old, per se. Appleton 50 is more like a sexy cougar, defying her age in an alluring fashion impossible to resist.
In my mouth: Phenomenal. At 50 years old, I was expecting something a bit harsher with a flavor far afield from traditional Appleton sipping rums. Something akin to the difference you get comparing El Dorado 25 to its 15 and 12 year old blends.
Boy, was I wrong.
One of the big things I really like about Appleton 50 is the way it maintains elements of the signature Appleton flavor. The only difference is that the 50 is so much smoother than the 12 year old or the 21. (I've never tried the 30.) Another big surprise for a rum of such advanced age. I experienced just the slightest hint of a burn at the back or my throat with the first sip, the warmth and flavor rounding its way around the edges of my tongue before finally settling back at the tip urging me to try some more. I obliged, perhaps too enthusiastically, as before I knew it, the dream was all gone.
So, how much + Where can you even buy this stuff?
The full 750ml bottle of Appleton 50 will run you a cool $5,000. That means the two sips I had probably cost about a couple hundred bucks! The experience was priceless, though, as you can see on our very satisfied faces…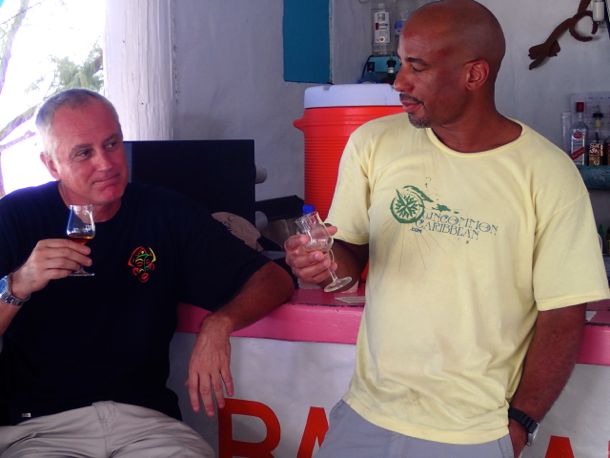 Appleton Estate 50 Year Old Jamaica Rum is being sold through select, specialist premium retailers. You might even find it at bespoke Duty Free stores around the world.
If you have the means and appreciate the very finest rums, you can't do better than this.
Cheers!
[map-it]
Related Posts