Every Little Thing, The New Children's Book by Cedella Marley
Raising my son is a fascinating opportunity to expose a new mind to all the facets of life that hold a special place in my heart. And initiating the uninitiated into the world of Bob Marley's lyrics is part of what makes Cedella Marley's latest children's book Every Little Thing so special.
We play a lot of reggae music around my house. And generally, my little boy soaks it all up.
I beam with pride when he starts belting out Johnny Be Good or yells "For the people!" during Dawn Penn's You Don't Love Me. Somewhere along the way, he's even acquired this strange fascination with several classic UB40 songs… Though I'm not really sure where that comes from.
In fact, of the biggest names in reggae, I'd say the one who gets the least play around my house is the incomparable Bob Marley.
How can that be?
Well, it's not because I don't like Nesta or his music.
I was transfixed by the latest documentary on Bob and have too many fond memories to count that owe him a debt of gratitude. The problem, for me at least, is that I've simply heard the majority of his music way, way too many times for them to be on heavy rotation in our household.
And that's where Cedella Marley's books Every Little Thing come in.
Little Trinidad (yes, that's my son's name) loves them!
And I get the added benefit of bringing the message of the most famous resident of St. Ann Parish, Jamaica to my contribution to the next generation.
Maybe it's in the way that you can't help but slightly sing the words lovingly lifted from Bob's lyrics. Or maybe it's in the breezy illustration style from Vanessa Brantley-Newton that bring the simple stories to life. Or maybe it's the stories themselves. I'm not sure what that special formula for the perfect toddler book is, but these tiny tomes have it in spades.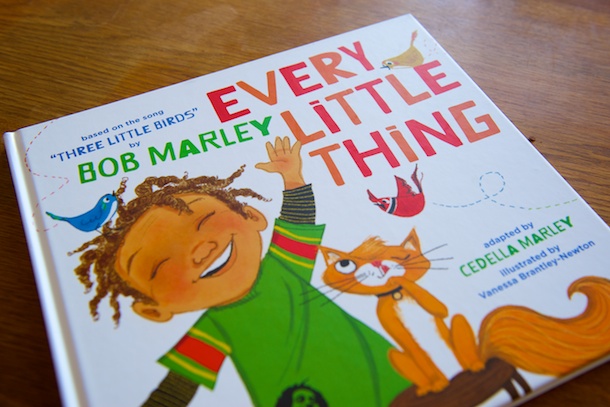 In the new book, Every Little Thing, the light narrative follows a youngster through minor trails and tribulations of life. Rainy days appear ruinous, mistakes are made, and parents are tested… But in the end the sun always comes out and every little thing, indeed, is alright.
Thanks to three little merrily colored birds, of course.
If Trinidad's not careful, he might even learn something about overcoming his developing feelings of worry when things aren't turning out the way he expected or fear when he knows he's done something he shouldn't have. There's inspiration on practically every page of Every Little Thing and judging by his insatiable appetite for these stories, they must be sinking in.
So, while some Bob Marley songs may not be on heavy rotation in our house, these endearing children's books actually are and they make the perfect gift for any little ones in your life. Save a few bucks and buy your copy today from Amazon to share a little Bob with a little someone you love.
Related Posts