Friday Happy Hour: Blackwell Fine Jamaican Rum Satisfies My Soul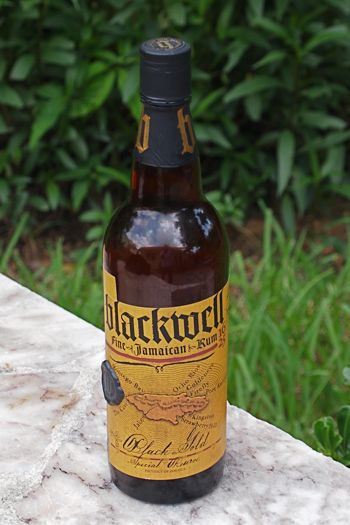 Today's Friday Happy Hour post has been nearly a year in the making, which may seem a bit odd since it only took me one or two sips to formulate a strong opinion on Blackwell Fine Jamaican Rum.
We first told you about this latest venture of legendary reggae producer Chris Blackwell back in September 2010. At the close of that Saturday Video post I mentioned that I was setting off to find a bottle so that we could review it some time soon. With slick videos, like the one we featured, and other fancy promotion, I thought for sure that I could find one of these unique bottles on a South Florida store shelf.
Wrong. I searched high and low in all my usual liquor stores, only to come up empty.
I took solace in the hope that I'd be able to get my first taste of Black Gold at the 2011 Miami Rum Renaissance Festival. Surely a swanky brand like this would have to be at the World's Sexiest Rum Party, right?
Wrong again. By the start of the summer, I was beginning to think that Blackwell Rum was a myth; the product of some slick, celebrity marketing stunt.
Then, last week, I went on a quick trip to my home away from home in Montego Bay. This was one of my typical business trips to the Caribbean – all boardroom and no beach. By the time I found myself back at the airport in MoBay, my brain was so frazzled from the meetings that I'd completely forgotten about Blackwell.
Then, while walking past one of the myriad of liquor stores in the departure terminal, I got a timely reminder… from the man himself!
Well, at least a video of the man himself. In fact, it was the same video we featured way back when that was playing on a small screen above a display of Blackwell bottles. Whereas all the other rum brands were lumped together on crowded store shelves, Blackwell had a tidy spot all to its own, complete with the amazing video that tells its story. It was the kind of display worthy of something, and someone, very special.
As we noted in that earlier post, Chris Blackwell ranks a few rungs above special. His is the kind of charmed life that most of us can scarcely begin to dream about. He's most famous, of course, for the key role he played in elevating reggae into one of the world's leading musical forms, primarily through his work producing Bob Marley and the Wailers throughout the 1970's. So profound was Blackwell's influence on Marley's sound that it can be argued that reggae would not have risen quite as high, quite as fast without him.
No doubt, the world was going to know the name Bob Marley no matter what. His talent and the power of his message were just too great. But, the mainstream rock and roll elements Blackwell added in post-production, starting with the seminal Catch A Fire album in 1973, are what made the music more accessible to the masses across the globe. In his own words, Blackwell's aim was to create…
more of a drifting, hypnotic-type feel than a reggae rhythm.
Obviously he, together with Marley and the rest of the Wailers, did just that and then some to the everlasting benefit of us all.
So, does Blackwell achieve similar heights with his rum? In my opinion, yes… though he doesn't seem to know it.
I say that because in its literature and promotional pieces, Blackwell (the rum) is often cited as ideal for mixing with cola, a typical assertion of lesser blends.
I disagree. Blackwell is much too nice to have its flavor masked in a Cuba Libre!
To me, Blackwell belongs on the top shelf. It's very smooth to the taste, with a healthy dose of caramel and deep, rich aromas of tropical fruits accompanying each sip. It has a nice, if not lasting, finish that makes me quick to return to the glass to my lips. I find Blackwell perfect just on its own, though a couple rocks don't take away from the experience too much either.
To enjoy a glass of Blackwell while listening to Slave Driver, Kinky Reggae, Midnight Ravers, All Day All Night, and other early Marley classics is to live a soothing and sophisticated Jamaican experience no matter where you are.
Drifting. Hypnotic. Irie.
The only sad part for me is that I only picked up one bottle last Saturday in MoBay and it's already almost gone. Thankfully, I have another trip to Jamaica slated for September, and in a bit of breaking news, Blackwell says its fine rum will be available in the U.S. as early as next month! (Become a fan of Blackwell Rum on Facebook to stay in the know on distribution plans).
Either way, there won't be any year-long wait for me this time. I will definitely be getting my hands on another bottle or two of Blackwell Fine Jamaican Rum ASAP!
If you want a rum that can satisfy your soul, I highly suggest you do the same.
Cheers!
Related Posts