LargeUp All Things Jamaica with Appleton Estate Extra
Jamaica's not happy with me. I came to know this during my little guest appearance last night on LargeUp Sessions, the weekly radio show broadcast by our friends at LargeUp.com from Miss Lily's Restaurant in NYC.
LargeUp leans decidedly toward all things Jamaica.
We love Jamaica too, of course, but our leaning is more to St. Croix and Trinidad for obvious family reasons.
So, when LargeUp asked me to put together Toppa Top 10 lists of the best rum creams and Caribbean beers, and I awarded top spots to Cruzan Rum Cream from St. Croix and Stag Beer from Trinidad… well… let's just say it rubbed a few LargeUp yardees the wrong way, a sentiment they happily expressed on the air during the show.
No apologies. I stand by my top choices, biased lo they may be. At the same time, I offer an olive branch of sorts to my Jamaica friends: Appleton Extra.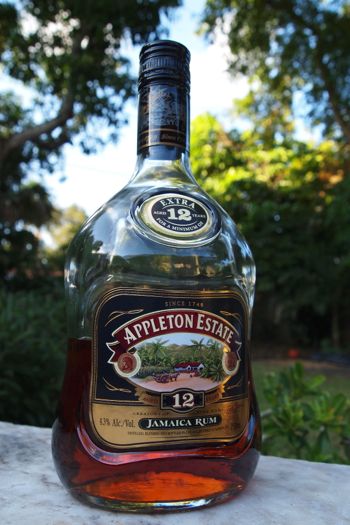 I'm not saying this Appleton is at the top of my list of fine sipping rums, but it is right up there with my all-time favorites.
A blend of rums aged between 12 and 30 years, Extra (also known as Appleton Estate 12 Year Old) embodies the finer points of the entire Appleton range at a nice price point (around US$35) that's as easy to swallow as this stuff is to drink.
The aroma draws you in with all the sultry allure of Jamaica herself. It's just a tad heavy on the alcohol side for me at first blush but allowed to breathe it really settles down nicely, casting an undeniably magical spell highlighted by fruity citrus peel.
On the tongue, the sensory pleasures are heightened even further. The slightest burn warms the back of the throat, lingering ever so faintly upon your lips as tropical fruit, nuts, and vanilla flavors ebb and flow throughout the taste experience. At the finish, all traces of the initial burn are gone, the rum satisfying you with a uniquely clean, light-bodied quality that only encourages you to try a little more.
Appleton Extra is special in a way that will make you want to drink up all the wonders that Jamaica has to offer. I'm sure our friends at LargeUp will agree…
Cheers!
Related Posts