Friday Happy Hour: Raise a Glass to Jamaica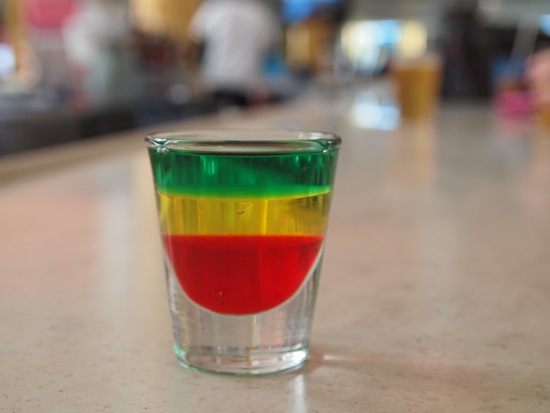 Anyone with any ties to Jamaica can surely use a drink right about now. Certainly things are not "irie" in Western Kingston where Jamaica's military and police have been engaged in a highly-publicized struggle this week against thugs bent on preventing the extradition of alleged crime boss Christopher "Dudus" Coke to the U.S. As many of our Jamaican friends have noted, though, this type of corrective action has been a long time coming, and will no doubt result in a better Jamaica.
In the meantime, it's business as usual in Jamaica's resort areas – Montego Bay, Ocho Rios, Negril, and Port Antonio. In the U.S., our country's notorious deficiencies in the study of geography have combined with the mainstream media's predisposition toward sensationalism to create a false impression that all of Jamaica is burning.
Fact is, Jamaica is a large island – 4,400 square miles to be exact, or roughly the size of Connecticut. Jamaica's resort areas are located hundreds of miles from the unrest in Western Kingston, a point underscored in assurances issued by Jamaican tourism officials over the past few days, which we've been able to confirm with our friends at the Holiday Inn SunSpree Resort Montego Bay.
Bottom line: the situation in Western Kingston is bad, but if you're planning on heading to Jamaica's resort areas anytime soon, there is no need to change your plans.
It was in 1 of Jamaica's resort areas, Montego Bay, where I was introduced to the sweet libation pictured above just last month. It's called a Bob Marley, in obvious deference to the Tuff Gong himself with its vibrant ites (red), gold and green coloring. It's a bit sweeter of a drink than I normally like and there's a significant degree of difficulty involved in getting the levels just right, but under the circumstances I could really go for 1 today.
Ingredients
Jamaican overproof rum
Strawberry syrup
Creme-de-banana
Creme-de-mint
Directions:
First, fill your shot glass 1/3 with strawberry syrup. Next, carefully add another 1/3 of creme-de-banana. For the top layer, mix some white overproof Jamaican rum with green creme-de-mint and fill the glass the rest of the way. The secret to the layers is simple: progressively lighter fluids poured slowly will float nicely on top of each other. Mixing the overproof white rum with the creme-de-mint makes the green top layer the lightest and strongest part of the shot.
Enjoy, and keep Jamaica in your prayers.
Related Posts