Friday Happy Hour: Rum Fire Overproof from Jamaica
Red Stripe is nice. Appleton is too. But, in the rum shops of Jamaica, overproof rum is unquestionably king.
I had long known this, of course. I'd also known the #1 overproof brand, Wray & Nephew, for quite some time as well. But, it wasn't until I started hanging out in a few choice rum shops on a recent trip to Jamaica that I realized just crowded the overproof throne actually is.
In the tiny shack of a bar I stumbled across while trekking up to Mt. Zion a few years back, I encountered such little-known local faves as Charley's J.B., D&G, Rum Bar, and JBW – four different brands, plus the ubiquitous big dog, all packing the same extra potent potable! More recently, though, I've come to discover and love yet another Jamaican overproof called Rum Fire.
A product of the Hampden Estate in Trelawny, one of the oldest sugar estates in Jamaica dating back to 1753, Rum Fire is true to its name in the obvious overproof way. With an ABV of 63%, it definitely packs a punch.
(Take a virtual journey to the Hampden Estate here.)
This overproof isn't all about torching and destroying you, though. Check out these tasting notes from our buddy and noted rum expert, Nicholas Feris from TheRumCollective.com…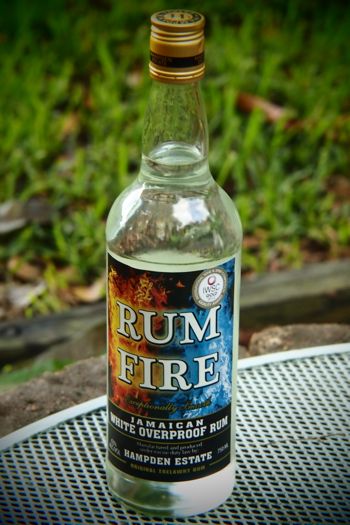 Eyes: In the snifter (yes, yes you should) it's clearly transparent but it isn't crystal clear. For the liquid tempts you to keep looking at what lies within it refracting the light in a way as to remind you of a fun circus mirror. As I swirl it around, the legs are thick, slowly descending with purpose down to the lower levels of Dante's inferno below. Folks, this is a holy water of a different kind.
Nose: It is a spirit so aromatic, that it isn't a stretch to say you can not only identify it, but appreciate it's fragrant qualities from eight inches away (in a closed room). But, as with fire, we always like to get just close enough to experience its raw power to the point of burning, right? Let's get closer! As I SLOWLY raise the glass to my nose, ripe tropical fruits like pineapples, papayas and overripe bananas are noted just before a musky, dank pot-still funkiness erupts to trigger every action potential in my olfactory cells. Further evaluation offers nuances of well-greased gears and oiled leather in a machine shop, with hints of fresh ground pepper, sweet molasses and tangy mango barbecue sauce. Getting excited yet? Surprisingly, at 63%, the expected alcohol irritation is diminished, almost missing. Instead, I detect thick, very full aromas balanced with the proof. For those who like their rums funky, it's a turn on for sure.
Palate: It enters the mouth BIG and BOLD. Taken in the context of overproof, it's medium bodied character explodes mid-palate revealing its potency and fire-like qualities. Flavors of marinating tropical fruits unearth under sweet molasses overtones noted earlier present as the rum moves toward the back of the palate. The spirit has a mild oily texture as it covers the mouth. The finish is moderately drying with some latent heat upon exhalation, however its flavors have staying power long after swallowing.
Pretty heady stuff, eh? Not sure that I'll be reaching for a snifter to enjoy this stuff neat too often, but it sure promises to be fun playing with Rum Fire in my mixology lab. I'll check back in with a resulting cocktail recipe or two in the near future.
In the meantime, look for Rum Fire at your local liquor store.
Cheers!
Related Posts