Jamaica Pegasus New Pool Brings Resort Chic to Kingston
Resort chic is nothing new in Jamaica. Tony properties that line legendary beaches in the island's resort areas – Montego Bay, Negril, Ocho Rios – practically invented the concept. In Jamaica's capital city of Kingston, though, resort chic has never really been a thing…until now and the advent of the Jamaica Pegasus new pool and lounge.
Before we get into all that makes this new city oasis so incredible, let me state that The Courtleigh Hospitality Group, which includes The Jamaica Pegasus, is a PR client of mine. To be sure, though, the hotel's long-standing relationship with my PR agency does not bias the opinions I express here. I've toured the pool facilities at many other notable Kingston hotels in recent years and can honestly state that there's nothing like this that I've seen in Jamaica's capital.
Okay, let's dive into some details on the Jamaica Pegasus new pool project…
Upgrades and Added Accessibility
Renovations covered the swanky lounge (pictured above), pool bar, pool, and surrounding gardens. Total cost of the project exceeded US$1 million. Upping the style/elegance quotient was obviously of paramount importance in executing the project.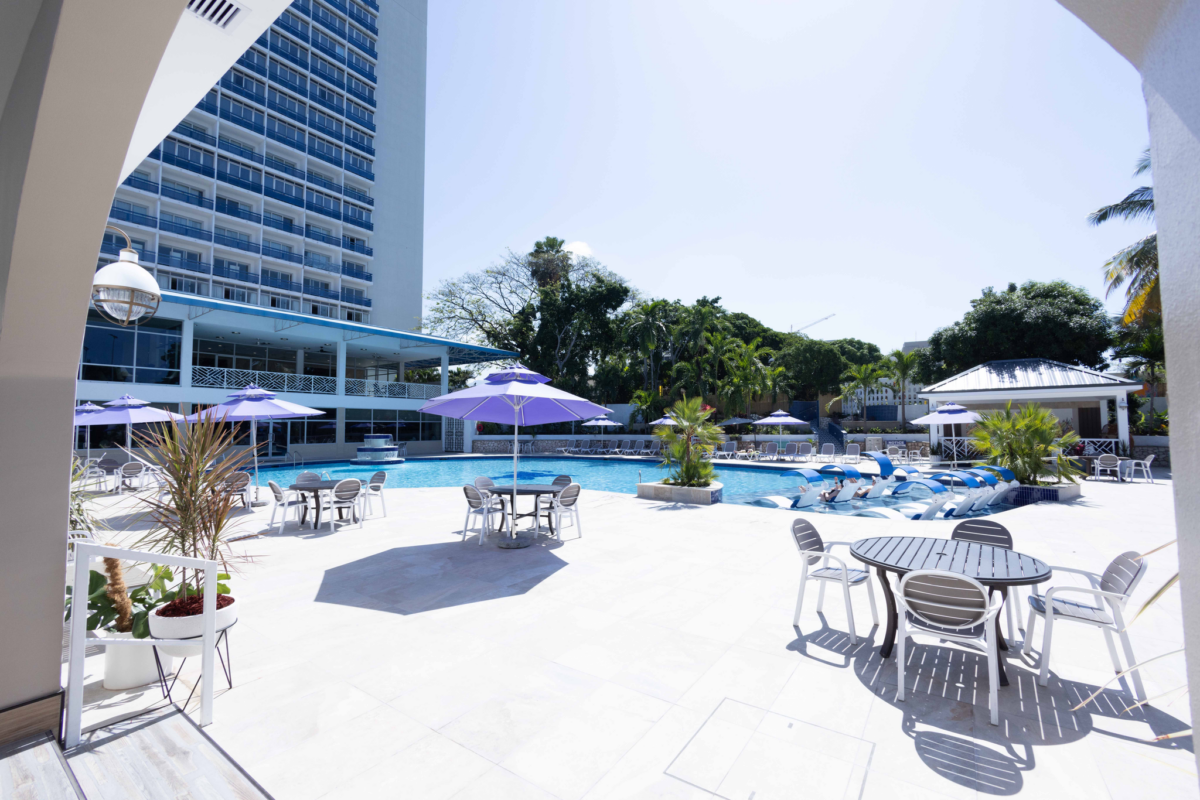 At the same time, though, the new facilities feature a number of thoughtful touches not-so-easily perceptible to the naked eye. Among them are a few amenities designed to enhance accessibility. New ramps, for instance, facilitate wheelchair access to the pool bar, surrounding gardens, and even the pool itself.
Shallow areas in the pool were also expanded to better accommodate families with novice swimmers.
Away From The Pool
Out in the gardens, new spaces for meditation, reflection, and yoga were added. JPH's jogging trail, a rarity among Caribbean city hotels, was also upgraded.
New swings and benches also now dot the gardens for guests to enjoy the ultimate "me time" peace and tranquility.
Dining at The Jamaica Pegasus new pool and lounge also promises to satisfy. The menu features gourmet bites and light dishes – salads, sandwiches, jerk/grill specialties, and more. Drink options include a broad selection of premium spirits, beers, wines, and inventive craft cocktails.
Could there be a more stylish space in Kingston to enjoy an ice-cold Red Stripe? I think not.
Jamaica Pegasus New Pool and Lounge Operating Hours
The new Pool Bar and Lounge at The Jamaica Pegasus is open daily from 10:00AM to 11:00PM. Both The Gardens at The Pegasus and the Pool Bar & Lounge are available for private events and functions.
For more details, be sure to visit The Jamaica Pegasus online and be sure to tell them that their PR guy sent you!
[map-it]
Related Posts