Jamaican Patty Challenge: Tastee vs Juici
Ask most anyone with most any ties to Jamaica and they'll tell you: When it comes to the Jamaican Patty, there can be only one best of the best. On my most recent trip to Kingston just a few weeks ago, nearly all of the Jamaican anyone's I asked cited one of two brands as the top – Tastee or Juici.
Me being me, of course, I decided to put the two to a test.
Now, unlike my previous culinary contests – Chefette vs. Roti Den in Barbados and Tortuga vs Pusser's Rum Cake Challenge – I truly had zero inkling as to whether my taste buds would lean more Tastee or Juici. I had enjoyed both within hours after checking into The Courtleigh Hotel & Suites, the savory patty goodness combining with the warm, authentically-Jamaican Courtleigh hospitality to instantly make me feel at home in the heart of New Kingston.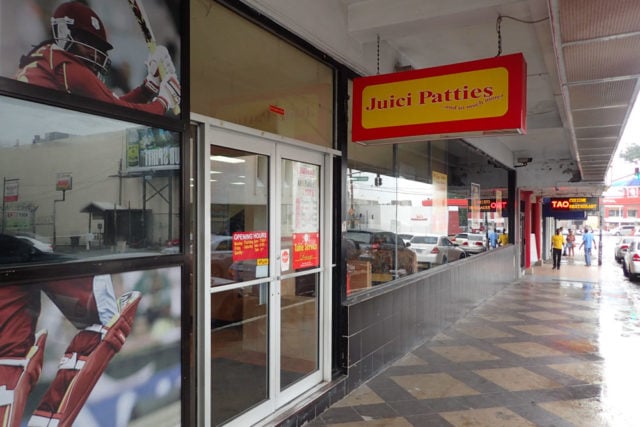 While roaming around the city the next day, though, I met so many people who felt so strongly that one was far, far superior than the other that I just had to swing by both shops to get another taste!
Note: I love Jamaican Patties so much I likely would've stopped for one or both brands again anyway, though I was thankful to have the excuse.
So, what's the verdict?
Juici, it turns out, was actually true to its name, the meat inside a bit more mushy than I prefer. This, of course, took away some of the signature flakiness from the crust, another minus for me. I probably hadn't noticed the juiciness of Juici Patties the night before when I inhaled one for late-night snack.
Upon this much closer comparative inspection, though, Tastee truly won out for me.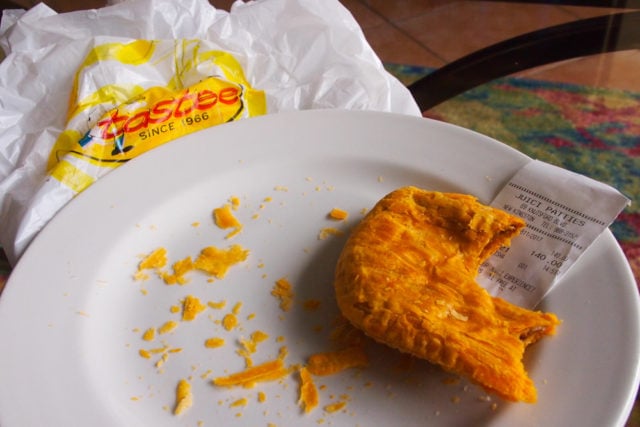 The Tastee crust, flaky perfection. The seasoning, nicely spiced all the way throughout, each bite carrying the same level of piquant peppery goodness.
Some bites of the Juici Patty may have been hotter, but the consistency of the Tastee Patty spice really did it for me.
Seriously, this was no contest for me, though I could see how someone who likes their eats a little more on the saucy side could have the exact opposite opinion.
Either way, I'm not about to turn either one down next time I'm in JA, and since my trip I've heard that I haven't tried anything til I've had the patties from Bruce's or Hammond's Bakery. Then there are the fantastic patty options at Devon House! (More on their curry goat patty another day!)
Still, given the choice between Jamaica's two most popular patty producers, it's Tastee for me all the way!
Related Posts