Kingston City Run: Run Di City With all the Sweat and None of the Stress
Editor's note: Another grueling race in the Caribbean, another chance for us to con reward one of our friends with the opportunity to suffer enjoy the experience in our place. As a published author and experienced marathon runner, our latest victim contributor, Ken Wheaton, was well-qualified for all the struggle fun that is the Kingston City Run. Here's his story…
Kingston, it turns out, is a beautiful city to run. But I'd bet that not many tourists have run it. It's not a resort town. It's a working city and its people have things to do and places to go. That means some serious – and chaotic – traffic. Add in the British legacy of left-side-of-the-road driving and stepping out for a jog can be intimidating. I'd planned to run a little of the city myself before the race, but chickened out and stuck to two miles in Emancipation Park.
Thankfully, the Kingston City Run provides a great way to run through closed streets and see a fair amount of New Kingston and take in some spectacular views from the hillside neighborhoods perched above the city.
Those views come with a price, though.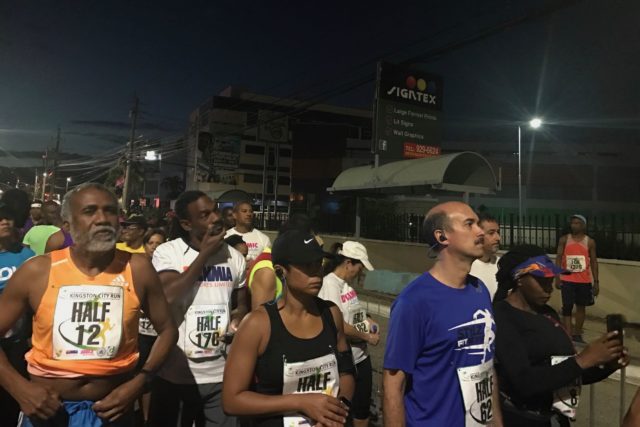 A fellow journalist who'd run the race the previous year had mentioned the "inclines" were a bit rough. "Incline" seems like such a harmless word. And I had extensive experience with Kingston, having taken in the half square mile around the Jamaica Pegasus Hotel and Emancipation Park, all of which was flat.
The course wasn't. Far from it.
The race started – on time, at 5:45 a.m. – not too far from Emancipation Park. Both start and finish were within short walking distance of the Pegasus as well as The Courtleigh Hotel and Suites, The Knutsford Court Hotel and a handful of others. So out-of-town travelers don't have to worry about cabbing it to and fro.
In the pre-dawn hours, we took to the streets and ran through the grounds of historic Devon House. By the time we'd hit the Bob Marley Museum, the full moon was setting, the sun was rising and the road was starting to climb for what would turn out to be about 400 feet in elevation gain.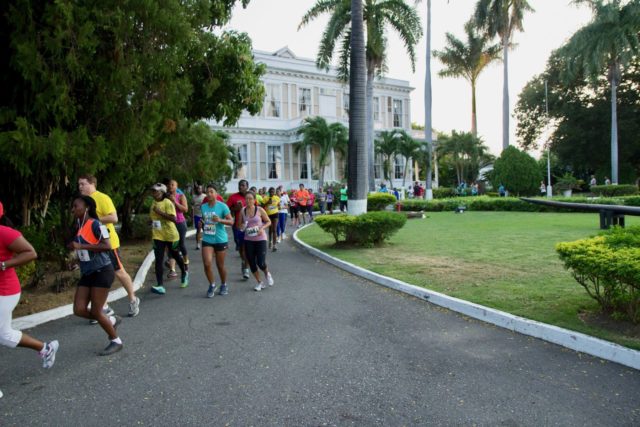 This was the point at which I started questioning my decision to go to the Bacchanal Party at Mas Camp (outside Jamaica National Stadium) and another party at Puls8 (right next to the Peter Tosh Museum) on Friday Night.
I took my time, took in the sights and steered clear of cardiac arrest. The sweeping views of the city and surrounding area were complemented by gated homes, their walls covered in bougainvillea and their dogs – everything from horse-sized Rottweilers to shih tzus – giving us fair warning. (There were no loose dogs on the course, but we did come across a few goats.)
If there's a silver lining to an out-and-back with a serious climb, it's that the second half is all downhill. There's something freeing about knowing that you have five miles of downhill run ahead of you. By this point, the sun was up and I was positively drenched in sweat. It was also at this point that someone shouted out "Brooklyn sweaty!" as I ran by. I'd like to claim that as my Jamaican nickname from here on out.
As we drew closer to the finish line, we started to join the folks who'd run the 10K and 5K runs – which isn't always good for the go as one of them blazes by you.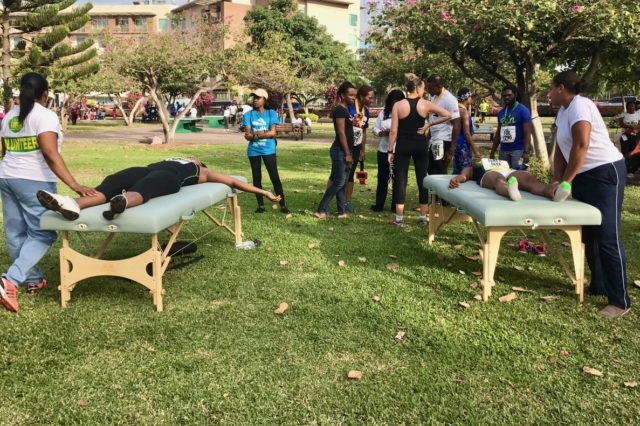 The course wound up at Emancipation Park, where we were greeted with medals, water, massages, food, music, and an awards ceremony.
Not surprisingly, I didn't win. In fact, according to the official race results, I placed 129 out of 165 runners. That might have been my worse race performance ever.
And I didn't care.
As another runner from New York pointed out, this was the polar opposite of the races we've grown accustomed to in the states. Especially if you've dealt with the 25,000+ fields of something like the Brooklyn Half or New York City Half, a field of 165 runners can be just what the doctor ordered. Sure, there are bibs and tracking chips, welcome events, and an expo (a really small one) and after-party. But there are no cattle corrals at the start. And you don't have to worry about getting elbowed by the guy looking for a personal best or trampled by the running team looking to earn points.
The course error didn't even generate an outraged hashtag campaign.
If you like to run, if you like a challenge (that incline), if you like to travel, but you'd rather avoid a lot of the nonsense that comes with modern races, the Kingston City Run would be a good one to add to the list.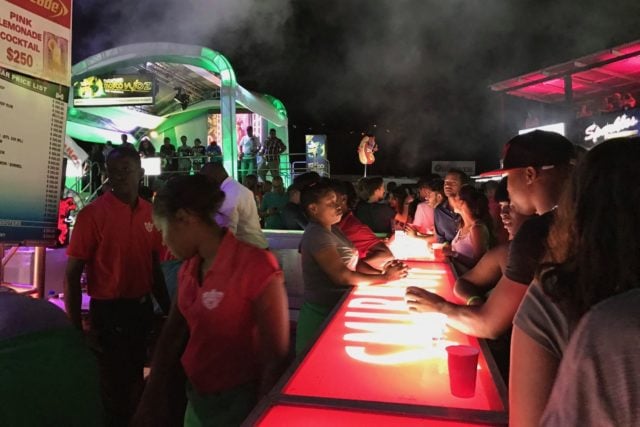 And don't sweat the small stuff like finish times and pre-race conditioning. You're in Jamaica. Go to the Friday night parties. Saturday will give you plenty of time to recover from hanging out with Uncle Wray and his nephew. And carb load on rice and peas.
Besides, you'll sweat plenty on the course. And smile while doing it.
Congrats, Ken, on a great race and an even better story! The Kingston City Run is held each spring, attracting participants from Jamaica, the UK, South Africa, Trinidad, the Cayman Islands, Barbados, Canada, and the United States. Our man Ken competed in the fifth edition of the event March 10–12, 2017, surviving the Friday Night Carnival Party, the Lifestyle and Fitness Expo on Saturday, and the race itself on Sunday.
If you, like Ken, participate but don't win, you can still take solace in the fact that race proceeds benefit a number of very worthy local charities, including the Marie Atkins Night Shelter, Open Arms Drop In Centre, Food for the Poor, Missionaries of the Poor, and our friends at the Alpha Institute (formerly Alpha Boys Home).
For scheduling and more information on next year's race, please visit the Kingston City Run website, or link with them on Facebook.
Also, be sure to check out more of Ken's award-winning writing here.
Save
Save
Related Posts