National Heroes Park Changing The Guard, Jamaica
Despite the euphoria that has come with independence across much of the Caribbean over the past 50+ years, colonial bonds to Europe remain strong in many of our islands. Some of these ties are so commonplace, so indelibly woven into the very fabric of the region that they've come to help define the idiosyncrasies of our islands.
Dutch architecture in Curacao. French place names in Dominica. Boxing Day across all formerly British islands. What was once uniquely theirs, in many cases, has also become ours.
(It's even said that the quintessential British tradition of afternoon tea is today more rigorously observed in Barbados than it is back in the UK!)
This brings me to the two gentlemen pictured here…
This is the Honour Guard at the National Heroes Park in Kingston, Jamaica.
History of Jamaica's National Heroes Park
The 50-acre park (the largest open space in Kingston) was founded in 1783. Known as Kingston Race Course, the broad expanse was a Mecca for horse racing in the Caribbean for more than 120 years.
Derby days here, though, ended in 1905. That's when Kingston's horse racing industry moved to Knutsford Park. As for the future National Heroes Park, it was converted into a memorial garden commemorating King George VI.
Once Jamaica won its independence from the UK in 1962, though, things changed. Instead of honoring British royalty, the park now immortalizes Jamaica's most notable citizens.
National Heroes Park is filled with monuments honoring local cultural icons, political leaders, and other historical legends who helped to build Jamaica into the proud country it is today. In this way, the space was expressly re-dedicated with an eye toward casting off colonial vestiges.
Well, most colonial vestiges anyway…
Echoes of England
The Honour Guard at National Heroes Park carry forth a bit of British Crown tradition. Members of the Jamaica Defense Force provide security for the Park. They stand guard here all day, everyday. Fully-armed, deadpan serious, stalwart, and unflinching, they very much echo the Royal Body Guards who have safeguarded British Royalty for more than 350 years.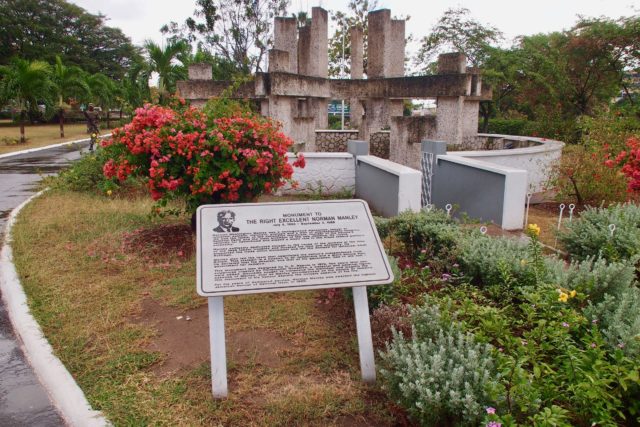 Further mimicking their British counterparts, these Jamaican Honour Guards change in a formal ceremony. It's not nearly as elaborate as the pageantry of Buckingham Palace. At the same time, though, the guards here do change every hour. This gives you more opportunities to experience the tradition than the once-a-day show in England.
If You Go…
The National Heroes Park is open daily from 6am to 6pm. You can't miss it when traveling from New Kingston, Emancipation Park and its surrounding hotels – The Courtleigh Hotel & Suites, Jamaica Pegasus, etc, – toward the downtown Kingston business district and the waterfront.
Related Posts