New Garden-to-Table Dining at Tryall Club, Jamaica
At a place as posh as Tryall, you'd expect to eat exceptionally well. I mean, just look at it…Magnificent, right?
Green Globe certified since 2010, a multi-time winner of AAA's Four Diamond Award and one of the Caribbean's premier luxury villa destinations since the 1940's, Tryall has long set the standard for upscale accommodations in the Caribbean.
Now, Tryall's raising its game by bringing its cuisine back down to earth. Specifically, the earth in the property's new organic garden!
From edible hibiscus flowers to Thai basil, Tryall's new garden culinary program bursts with organic produce tended by internationally acclaimed executive chef Kai Bechinger.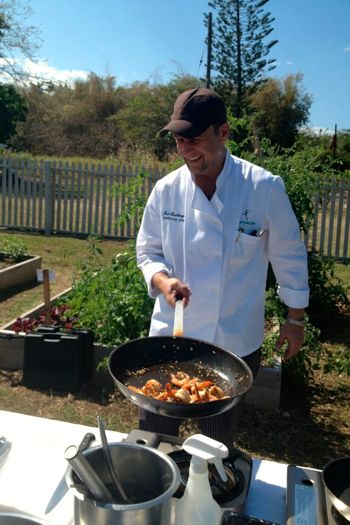 As you can see in the photo at left, Chef Kai has quite a nice setting for pursuing his organic culinary dreams. This uncommon chef's station is surrounded by 11 beds of flourishing crops with a tremendous view of Tryall's historic Georgian Great House and the 11th link on the resort's 18-hole championship golf course all adding to the flavor.
Here, visiting foodies who book in advance can revel in an exclusive culinary experience. Meals are prepared upon arrival from freshly plucked ingredients like rosemary, chives, dill, heirloom tomatoes, Tokyo turnips, and mesclun mix greens.
Imagine savoring an arugula salad with edible tarragon and spicy grilled shrimp, and homemade lemongrass coconut ice cream for dessert amidst all the marvelous greenery – delicious in so many ways…
Tryall's ocean-side Beach Café and Great House restaurant also feature items from the new garden, and private chefs can purchase ingredients for their villa meals.
Rates at The Tryall Club start at $3,300/week for a Superior two-bedroom private estate villa (includes government taxes). Book by calling Tryall Club toll free at 1-800-238-5290 or visit the resort website, TryallClub.com.
Related Posts