Rally Jamaica, My Latest Excuse to Race 'Back a Yard'
As Patrick alluded to while waxing poetic about his favorite Ting, I love traveling to Jamaica. Lucky for me, my day job takes me there a few times a year. Still, I'm always on the lookout for new excuses to head back more often. The latest – Rally Jamaica.
Growing up in St. Croix, I had always been aware of the Caribbean's unique "car culture" and its extension into drag racing (we'll get to that another day). However, I never knew that organized rally racing existed in the region 'til my last visit to Montego Bay earlier this year.
I was relaxing in my hotel room after a full-day photoshoot at the Holiday Inn SunSpree Resort If you know the property, then you'll understand why I needed to relax. It's a large, sprawling beachfront complex with 500+ rooms, multiple bars, pools, its own mini private island, spa, kids club, etc., etc. Photographing it all under the warm Jamaican sun took a lot out of me, so I was in need of some mellow time in front of the TV – a Red Stripe in one hand, the remote in the other.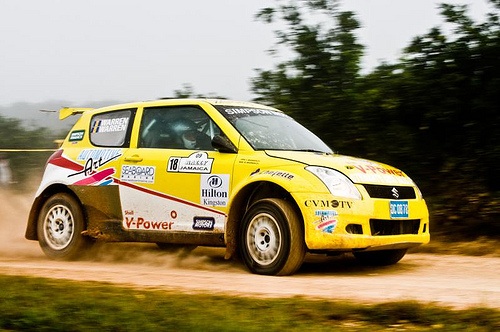 Anyway, I learned of the Rally Jamaica race while watching the local TV-J news that night.
Incidentally, it's always a good idea to watch a little local news when traveling in the Caribbean (or anywhere for that matter) to get a true sense of what's going on.
The race features some 30 or so entrants racing over a wide variety of terrain across the Jamaican countryside, wrapping up in Kingston. Racers come from as far away as Europe to compete in the event, with all the custom cars displayed, often alongside sexy models, for all the gearheads to drool over ahead of the race.
To get a better idea of the race, click here for a video from the 2008 race. Make sure you stay tuned for the last few seconds to see a crazy Bajan driver burning donuts all over the streets of Kingston.
Rally Jamaica 2010 will be held December 3-5 and promises the usual showcase of hot cars, hot racing, hot women, and ice-cold Red Stripe.
Yeah, I'm there.
Related Posts