Red Stripe –The Caribbean's Ultimate Good Times Beer
The idyllic picture of good times in the Caribbean that most people hold in their mind's eye often includes Red Stripe.
Carib may be more widely consumed in our islands. Stag tastes better (at least according to this guy). On a global level, though, Red Stripe wins most any best Caribbean beers contest.
Warm and Hazy Memories
As the beer of Jamaica, of course, Red Stripe's popularity is always assured. Brand Jamaica outpaces the Q rating of all other Caribbean countries. This, of course, gives the national beer a boost.
So too, though, do memories of past Spring Break shenanigans among the millions of young overseas visitors drawn to Jamaica each year. These squat little dark bottles fuel a lot of the fun of those formative forays into adult travel, leaving a fond and indelible impression that keeps RS sales high well beyond Jamaica's shores.
Red Stripe wasn't always all that popular in America's United States, though.
A Dud of an American Debut
First introduced in 1938, Red Stripe is another one of your typical pale, light Caribbean lagers. It carries an easy-drinking 4.7% alcohol by volume and crisp flavor tailor-made to mitigate warm weather. Naturally, it was an instant hit in Jamaica. In short order, Jamaica's #1 beer grew to the point where overseas export, particularly to the U.S., became inevitable.
The year was 1985. Millions of Jamaicans were living in the USA. Millions more U.S. citizens were regularly traveling to Jamaica. Surely sales would achieve immediate success in the States, right?
Nope.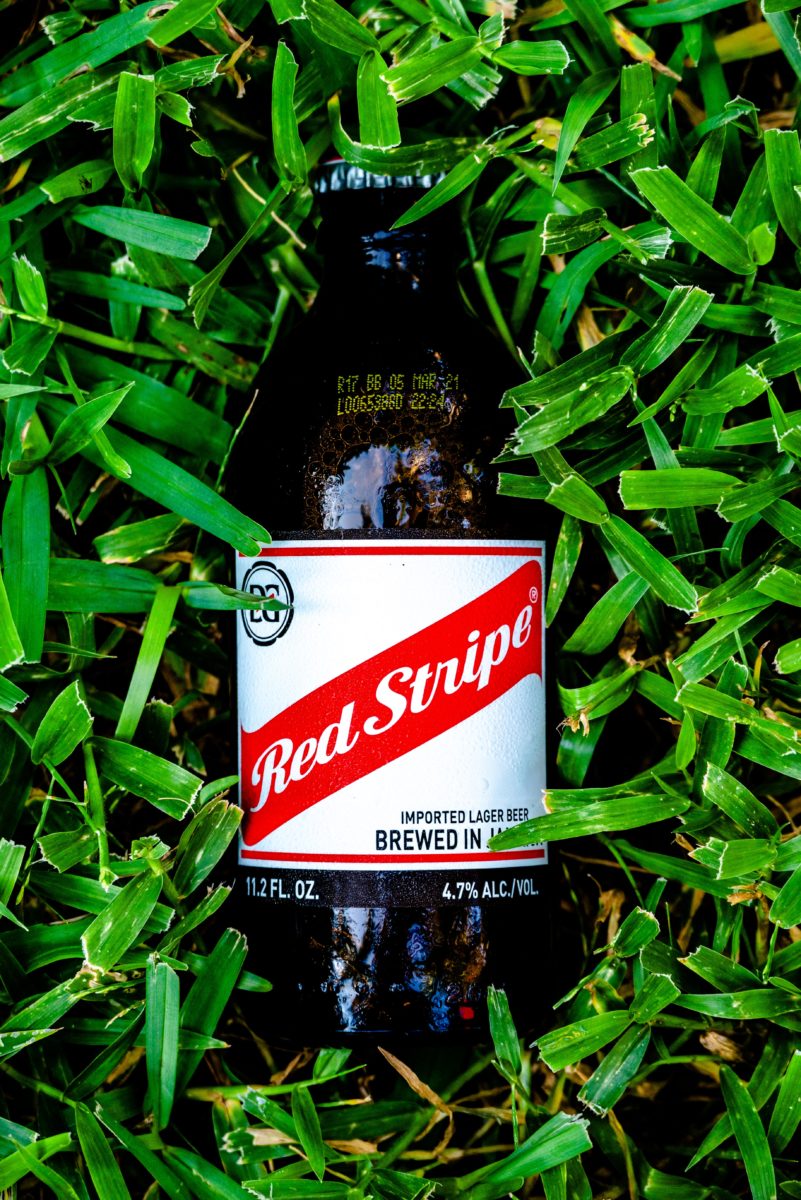 In a corporate consumer products branding snafu to rival the introduction of New Coke, Red Stripe was initially launched in the U.S. in a lean, green bottle. This, of course, was the veritable antithesis of its iconic squat dark packaging.
Why?
Well, it seems the decision was driven by a desire to steal market share from Heineken.
It failed.
Jamaicans living in the States and Americans who had traveled to Jamaica didn't believe that the green bottle contained the same beer they'd grown to love in JA.
Red Stripe Gets It Right in America… Mostly
The problem, though, was soon fixed in the early 1990's. The solution: Make the very same iconic brown bottles from Jamaica available in the USA. This enabled those of us in the States to keep the good times enjoyed in Jamaica going back home… Sort of…
Fast forward to 2012. Global spirits giant, Diageo, now owns Red Stripe. Up until that time, all Red Stripe beer had been produced in Jamaica. Since then, well, the Red Stripe found on USA store shelves actually comes from Wisconsin or Pennsylvania.
American Red Stripe is still pretty good, but as anyone who has ever limed in Jamaica with an ice cold Red Stripe in hand can attest, there's really nothing like the real thing.
Needing to go back to Jamaica to get it, while enjoying more ultimate good times along the way, seems perfectly fine with me…
Cheers!
Related Posts