The Roxborough Bar & Restaurant in St. Ann's Bay: Reveling in the Real Jamaica
Editor's note: Despite numerous work-related trips to Jamaica over the years, there's still quite a lot left for me to discover about the uncommon side of this popular corner of the Caribbean. Thankfully, UC contributor Laura Albritton is being kind enough to share some of her favorite finds from recent travels there with her Jamaican-born husband, Zickie. Favorite finds like The Roxborough Bar & Restaurant near Ocho Rios…
Considering the number of travelers from all over the world who flock to Jamaica's north coast year after year for the "Positive Vibration," you'd think authentically Jamaican oceanfront bars and restaurants would be two-a-penny. Not so, unfortunately.
Yes, Negril has cool cliff-side drinking outposts, and MoBay's got a few sympathetic spots, but the area around Ocho Rios (or Ochee, as Jamaicans call it) can be a veritable desert for such beachy bastions of the real Jamaica. In their place, you'll mostly find international chain eateries and touristy cafés within private estates.
Mostly.
On a recent trip to Jamaica, my Kingston-born husband, Zickie, and I found that in Ocho Rios one must head west for the type of seaside vibes more conducive to uncommon travel tastes.
We had eschewed the hurly-burly of downtown Ochee and the seclusion of an all-inclusive resort for one of Annabella and Peter Proudlock's bohemian cottages on their idyllic compound, Te Moana, about a mile outside town. So far, so good, though the paradisiacal, laid-back, reggae-saturated, sea-view establishment that you dream about and naturally expect was nowhere to be found.
Believe me, we looked.
So one afternoon I badgered Zickie to drive further west in our search. Then a little further. And after that, further still, much to his increasing chagrin.
Traffic on the north coast road can grow a tad irritating even under normal circumstances. Hunger and thirst made our circumstances even worse, causing my normally more than patient spouse to get more than a little cranky. Our quest was proving futile.
Then, just on the edge of sleepy St. Ann's Bay, in front of the Traffic Authority Examination Depot, I shrieked, "Stop!"
Zickie slammed on the brakes. "What? What's wrong?"
"Look at that!"
Swiveling his head to the east, he spotted it – The Roxborough Bar and Restaurant. "Sweet Jesus," he exhaled. The universe had obviously taken pity on us and plunked down the Platonic ideal of an ocean-front slice of authentic Jamaica.
Open air? Check. Fish sculptures attached to the walls? Check. Chill reggae tunes? Yep. Sweet sea-life murals that make you burst into a smile? Check again.
We walked in cautiously, afraid the Roxborough might be closed after lunchtime, or maybe totally out of drink, but no. Our luck held. The bar looked impressively stocked with a host of fabulous liquor, including, of course, Appleton V/X, which Zickie promptly ordered with tonic and a Ting soda on the side. Of course, I went for the Red Stripe. (I'm a sucker for those cute, chubby bottles.) Meanwhile, our waitress and the bartender were both…friendly. Helpful. Pleasant.
Could it get any better? Indeed!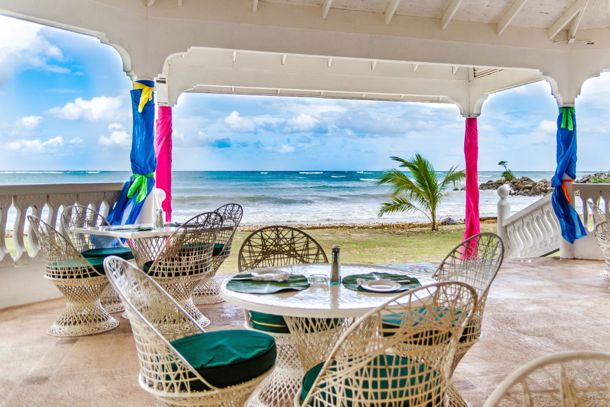 The view that I'd so stubbornly sought couldn't have been more picturesque. Streaks of turquoise shot through the cerulean blue sea. Palm trees brandished their fronds in a refreshing breeze, which kept the temperature perfect.
No overwrought tourist developments interfered with the scenery. Next door two ancient, wood-frame buildings, including the Traffic Depot, reeked historic atmosphere. It was about as unspoiled as Jamaica can get.
It would have been greedy to expect anything more, but then we got the menu, with its selection of dishes curated by the Roxborough's proprietor, Jasper Rose. Pepper shrimp, coconut fish run-down, jerk fish, steam fish, rice and peas…my mouth literally watered as I read the words. Impossible to make a choice!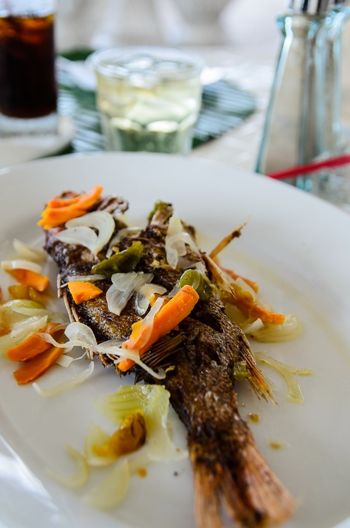 Finally, I ordered the escovitch fish – a whole snapper flash-fried with a spicy pickle sauce of scotch bonnet pepper, onions, and sliced carrots.
Now, let me digress: good escovitch fish is a Jamaican dish that I've had plenty of times. A seriously devoted home cook, Zickie's got more or less a Ph.D. in escovitch sauce. So we're pretty hard to impress.
When the charming waitress set down our plates, though, we inhaled a gorgeous aroma of sea and spice. Jimmy Cliff crooned over the speakers about the "wonderful world" as the wind ruffled my hair. Between mouthfuls, I paused just long enough to murmur, "One of the best meals I've ever eaten."
To find your way to The Roxborough Bar & Restaurant, just head west out of Ocho Rios on the AGR Byfield Highway for about 20 minutes. The bar will be on your left, along the shore, just inside the St. Ann's Bay area. For more info, check in with The Roxborough on Facebook, or call them at Tel: 876-562-6725.
Thanks for the great insights, Laura! I can't wait to see what additional secrets of Jamaica you'll have to share with us in the near future.
Related Posts