Jamaica Ginger Biscuits, Piquant Pride in Every Bite: Taste of the Caribbean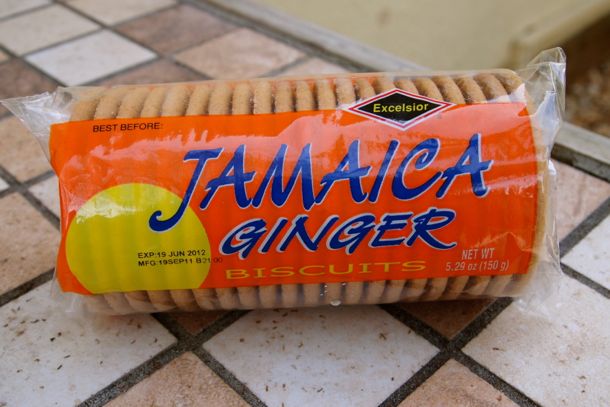 Crackers? Two weeks in a row?
Yes, it's true that we've  lowered our variety quotient over the past two Taste of the Caribbean posts, but this is The Month of Rum, after all. If you're the big winner of the two VIP Passes to the 2012 Miami Rum Renaissance Festival (and $500) up for grabs in our VIP RumFest Escape sweepstakes (ENTER HERE), you'll want to have a healthy supply of the right kind of crackers around when you cash-in your prize.
For those who love the taste of ginger – I mean REALLY LOVE the taste of ginger – these are very much the right crackers.
Actually, they're biscuits… Jamaica Ginger Biscuits. Not only are these crisp and flavorful treats super delicious, but they also embody one of Jamaica's proudest traditions.
Ginger was first introduced into Jamaica by the Spanish in the 1520's in the Parish of St. Ann, located on the island's north coast. It wasn't long before the variety grown here became known as the world's best. By 1547, 20-something years after ginger was first planted in Jamaica, exports were already topping one million kilograms!
As the years wore on, Jamaica's reputation for producing the world's best ginger only continued to rise. Most of the ginger farming moved in the mid-1740's to the more centrally-located Christiana region. A concentrated 10 square-mile radius of the area was found to produce the world's best ginger, owing to the region's incredibly rich soil and perfect growing climate. Production soared to the point that between the 1930's and 1960's, Jamaica ranked in the top-three of worldwide ginger producers, alongside India and Sierra Leone.
These days, Jamaica's ginger farms don't produce nearly as much, though the quality remains unmatched. You can definitely taste it in Jamaica Ginger Biscuits.
A product of the Jamaica Biscuit Company, better known as Jambisco, the oldest and largest biscuit company in Jamaica (est. 1911), Jamaica Ginger Biscuits are the full baked embodiment of real Ginger Beer.
(You know, the homemade kind that burns your mouth ever-so-wonderfully like we talk about here.)
The bold, spicy flavor of these biscuits hits you the moment you bite into one, and lasts on your palate long after the chewing stops. It's truly amazing how much ginger flavor is packed into each and every biscuit, a product, no doubt, of Jamaica's unparalleled ginger crops.
So, if you like your rum with some ginger (I'm looking at you, Robert Burr!), then definitely have some Jamaica Ginger Biscuits on-hand next time you're imbibing. Cases or packs of six can be purchased online here, though you can also find them at your favorite local West Indian grocery store.
Related Posts