When in MoBay, Don't Pass on the Pork Pit: Taste of the Caribbean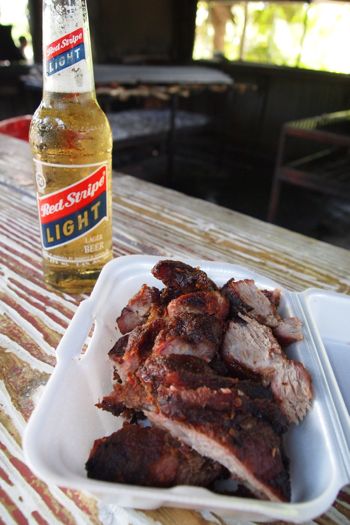 Popular perception holds that the best jerk in Montego Bay can only be found at Scotchie's. A recent poll by Island Stylee proves it, as does this. I even wrote as much last year.
On my most recent trip to Jamaica, though, I discovered a very worthy contender…
In the heart of Montego Bay on Glouchester Avenue, right across from Walter Fletcher Beach, you'll find the Pork Pit Bar & Grill. From the road, the place almost looks closed down. Weeds growing up the building, fading paint, rickety wooden stairs and a plywood-covered door might make you want to keep driving.
Don't.
Stop, roll down the window and take a whiff. If the smell of that jerk BBQ doesn't get you out your rental car, then I suggest you have your nose checked.
When I stepped inside the Pork Pit for the first time I felt right at home. It reminded me of the many local roadside BBQ spots I used to love back home in St. Croix. To the uninitiated, though, the Pork Pit's interior may give as much pause as its exterior.
Informal and unassuming are nice ways of saying it's gritty, grimy and not for the white-glove crowd. Picnic tables encircle the actual pit where you can see and smell the succulent meats being prepared. Everything's shaded by an enormous 300 year-old cotton tree, ensuring that the only heat comes off the spicy food.
Step into the indoor dining area and order your food and drink at the bar. (You order and pay for everything at the bar, but to get your jerk you have to take your meat order out to the pit.) You'll find that the Pork Pit has quite a bit more than pork on the menu. Jerk chicken, pork and sausage are joined on the menu by fish and shrimp, festivals, soup, corn, sweet potato, salad, and more. Drink options are what you'd expect: beer, light beer, rum, Ting soda and other soft drinks.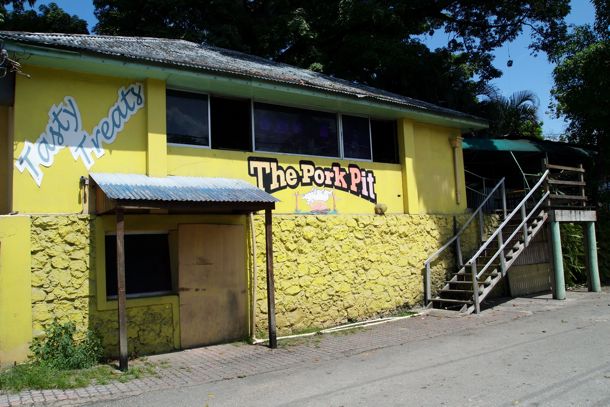 Like Scotchie's, everything on the menu is easy on the wallet. A half-pound of jerk meat (US$6.70 for chicken, US$7.10 for pork), plus a couple festivals (45 cents each) and a beer is a very filling meal on its own. Three of us ate and drank our fill for only $41 during my visit, though there may have been a couple extra beers thrown into that total.
So, the Pork Pit doesn't really stack up to Scotchie's when it comes to ambiance and decor, but the prices are similar, as is the local vibe. Pork Pit's location within walking distance of The Hip Strip is also better for those taking in a little local flavor in downtown MoBay. Even venturing there directly from our resort, located within walking distance of Scotchie's, the trip was only about 10-15 minutes, so both are plenty convenient no matter where you are in MoBay.
The big question remains: which one tastes better?
For me, Pork Pit outshines Scotchie's in one key thing: jerk pork. It's just more succulent, more flavorful than the pork at Scotchie's. This might seem obvious judging by Pork Pit's name, but the jerk chicken is damn good here too. Scotchie's festivals are way better, though, as is their special pepper sauce.
I guess my perfect plate of jerk would have to combine Scotchie's chicken, festivals and pepper sauce with pork from the Pork Pit.
As for the jerk sausage, that taste test will have to wait til my next visit to Montego Bay…
Related Posts