Toasting Obama's Trip to Jamaica, But Not With Talawah Lager
Greetings Massive! Wha gwaan, Jamaica?
Like anyone who pays even the slightest attention to going's on in the Caribbean, we've been intrigued and entertained by President Obama's visit to Jamaica this week, particularly his nice attempt at Jamaican patois to kick off yesterday's address to students at the University of the West Indies (UWI).
No matter your politics, if you love the Caribbean and the inspiring symbol the first black President of the United States no doubt represented to the assembled students from all over the region, then you have to love the effort.
Like a true uncommon traveler, the President has also worked a bit of fun into his business trip, stopping in at 56 Hope Road in Kingston, Bob Marley's former home, which now serves as a museum, on his first night in the country. I did the same thing on my last business trip to Kingston nearly 10 years ago dressed in a dark coat and tie better suited for Secret Service duty than adventuring.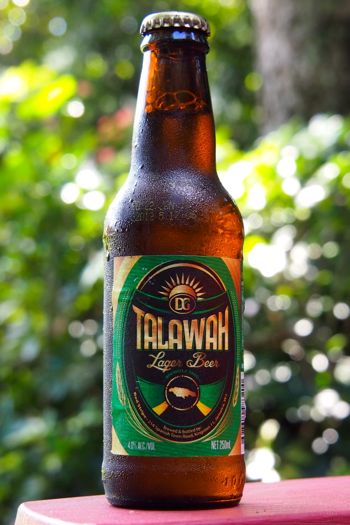 In an attempt to look less conspicuous, I remember stopping in at the small bar at the entrance to the museum on the way out to chat up a few locals over a beer. The Red Stripe I enjoyed here, in the same yard where Marley used to play soccer and lime with friends, is one I'll never forget.
Here's hoping that the Prez registers a similarly sweet Jamaican memory over a local brew during his time in Kingston. For his sake, though, I'm hoping he sticks to Red Stripe instead of the beer pictured above.
That's Talawah, a very light (4% ABV) lager beer that you've probably never heard of in the first place, and will likely want to forget if you ever try it. It's not that Talawah is bad, mind you, it's just that there not a whole lot to it.
There's a reason for this, of course.
Talawah, much like the ultra-exclusive Appleton 50, was introduced in 2012 to commemorate Jamaica's 50th Anniversary as an independent nation. With Talawah, though, there was a twist…
Our main aim with this brand is to satisfy our consumer needs. We realize that these are tough economic times for everyone and we want persons celebrating Independence this year with Talawah – a product that offers great value and embodies the Jamaican spirit.
These are the words of Jomo Cato, the top marketing guy at Red Stripe.
That's right, Red Stripe makes this stuff, so no, it's not all bad. That is to say, I won't turn Talawah down if it's offered. Really, the beer is just more bland than anything else; like carbonated water barely flavored with hops and barley. A veritable six for a nine compared to Red Stripe or even Red Stripe Light.
If budget is a concern, though, this is definitely the beer for you. At launch, a bottle of Talawah was priced at less than US1.00. Think of all the 50th Anniversary celebrating you could do at that price?!
Still, if taste and satisfaction are of bigger concerns, as I'm sure they are for the POTUS, I'd splurge a little for the real taste of Jamaica.
'ray beer?
Related Posts