Living It Up on Lime Cay, Jamaica: Uncommon Envy
Most people wouldn't associate a secluded, private-island beach escape with a trip to Kingston. The capital of Jamaica is as prominent a city as we have in the Caribbean, complete with high rise office buildings, bustling streets, a major university, the historic stadium cited here, etc. Kingston is, in fact, the largest predominantly English-speaking city in the Americas south of the Continental United States, so yeah, it's every bit the "Concrete Jungle" Bob Marley sang about so long ago.
Just to the south of the city, though, only a 15-minute boat ride from the historic town of Port Royal, lies Lime Cay, the literal yang to Kingston's yin, assuming you prefer sunny beaches to city streets, of course.
One of a collection of tiny islets sitting off Jamaica's southeastern shores, Lime Cay is uninhabited… and for good reason. At high tide, the sandy ground disappears, making it impossible for anyone to make a permanent home here.
Visiting on a temporary basis, though, is definitely recommended. As my new friends at The Courtleigh Hotel told me on my last visit to Kingston a few months ago, Lime Cay is THE hot spot for Sunday Funday action in the Kingston area. An armada of boats streaks to the Cay every Sunday, bringing with them all the wet and wild bashment you can handle.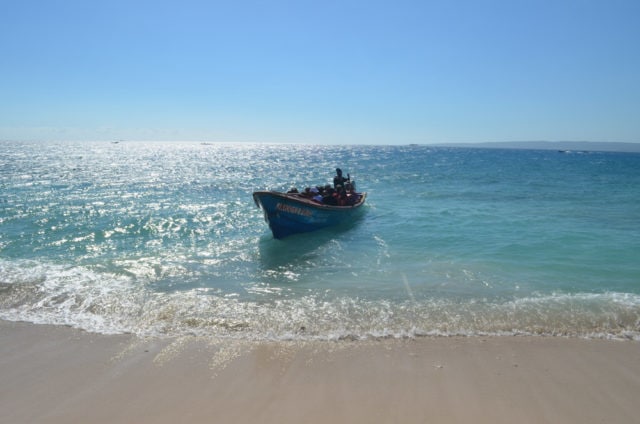 No boat? No problem. Anyone keen on heading over to Lime Cay can apparently work a deal with a local fisherman at Morgan's Harbour in Port Royal for round-trip ferry service. Boat rentals are also available at the Harbour for those who wish to go it alone, which to me is much preferred if you're planning a weekday trip to Lime Cay with someone special.
Remember, this Cay is uninhabited AND you're only liable to encounter any other anybody's here on Sundays. Can you say "clothing-optional?" Yeah, I hear it's part of the *ahem* attraction for midweek visitors…
Also worth checking out, according to my Courtleigh friends: the snorkeling. Lime Cay is said to harbor some of the best snorkeling grounds in southeast Jamaica.
It all sounds great to me! Next time I have meetings in Kingston, you can be sure I'll save a little extra time for a quick trek over to Lime Cay… whether I remember to pack a swimsuit or not!
*Lead photo credit: Photo credit: Flickr user Kent MacElwee.
Related Posts