Le Bradjack: Beloved Automotive Scourge of Martinique Carnival
An undercurrent of mischief runs through every Caribbean carnival. It's usually represented in the form of playfully scary characters. Characters pulled from the proud history of Afro-Caribbean resistance to slavery and oppression. (Neg Gwo Siwo, Jab Molassie, etc.) These characters are usually played by people, of course. They revel in adopting loud, menacing, and quite often raunchy behaviors to delight (and fright) spectators. During our Martinique Carnival experience in 2019, though, we also found that these mischievous characters can also be cars. Their name: Le Bradjack.
What is a Bradjack?
Beat up, bombastic, and barely street legal (maybe?), Bradjack (also Bwadjack) cars are purpose-built to amp-up chaos at Martinique Carnival. You see them everywhere during Carnival festivities in downtown Fort-de-France. In, out, around, and through – they eschew boundaries that regulate normal traffic, not even stopping for the throngs of masqueraders filling the streets!
At the same time, though, no one ever gets hurt. Well, no one but my brother Patrick, that is.
(I'll let him tell that "painfully" funny story another time…)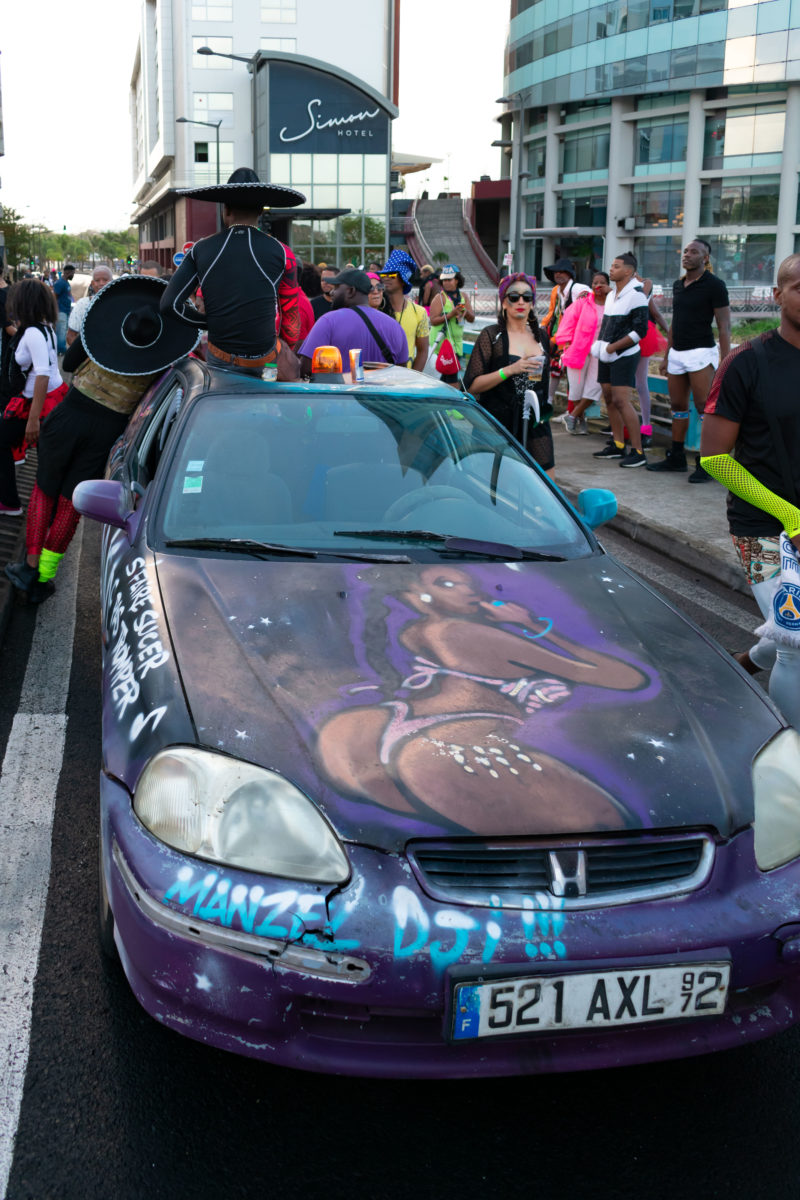 With all the crazy noise that they make, it's easy to know when a Bradjack is coming. People just move out of the way, le Bwadjack melding seamlessly into the crowd like another masquerader.
Booming Bwadjack Backfire
Oh, and speaking of tell-tale Bradjack sounds, they go beyond bangin' sound systems.
Each Bwadjack is modified so that its engine backfires. Constantly.
LOUDLY!!!
(Some even shoot flames out of their exhaust pipes.)
The noise is scary-loud. Combined with the rugged overall condition of each car, it's easy to think that any Bwadjack might explode with the next backfire!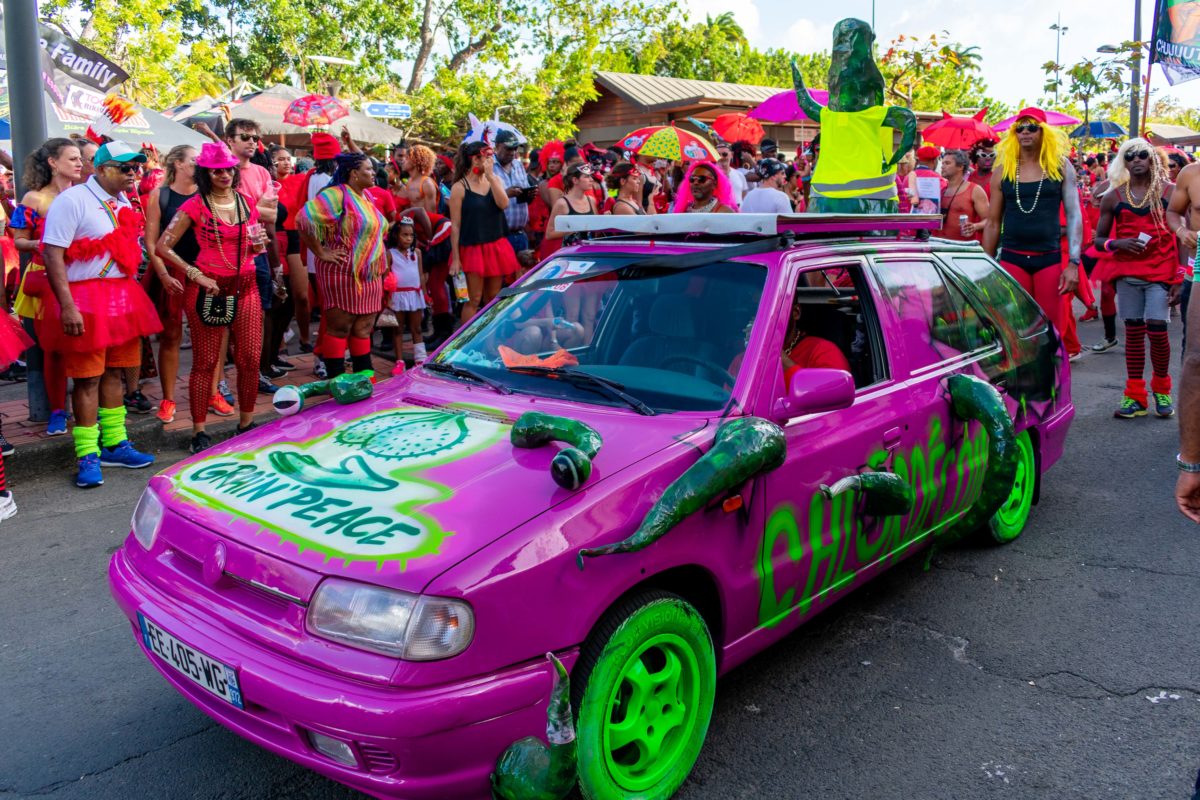 In the end, though, Bwadjack backfiring blasts are only mildly harmful to your ears…and maybe your nerves.
Expressive Wheels
In terms of appearance, Bradjack styles run a wide gamut. Some are made to look like police or fire department vehicles, complete with sirens. Others ratchet up the raunch factor with provocative imagery and text.
Political satire, local gossip, sex, and prevailing news are all reflected on the Bradjack canvas.
Indeed, you can learn a lot about what's going on in Martinique just by looking at a Bwadjack.
Next Level Riding Dirty
As you may have gleaned from the photos in this post, seatbelts are optional on Bradjack rides. In fact, so are seats!
It's quite common to see Carnival revelers riding, or even surfing(!!) atop these crazy cars. Whether on Bwadjack hoods or roofs, riders get creative, though always, seemingly, with an eye toward safety.
Somewhat.
Most of the time?
Anyway, just because you see some people riding on Bwadjacks definitely does not mean that you should hop on too. Without giving too much away from Patrick's Bradjack mishap, let's just say that rides are by invitation only.
(Note: I will neither confirm nor deny whether or not the man gyrating on the Bwadjack above is my brother. LOL!)
So yeah, definitely look out for (but don't climb onto) Bradjack cars on your next Martinique Carnival adventure. (Bradjack cars are also part of the fun of Carnival in Guadeloupe.)
You know, for your safety and peak Carnival enjoyment.
Related Posts