Chez Maimaine, Martinique: Airport Food On a Whole 'Nother Level
Airport food.
Few two words cause a frequent traveler's skin to crawl more than these. Even in the Caribbean, where just about every island can (and does) lay claim to the title of Culinary Capital of the region, you're often hard-pressed to find anything truly edible and enjoyable while waiting for your flight.
Unsurprisingly, this is not so in Martinique. To me, this French Caribbean enclave of modern European style and Creole savoir-faire really and truly is The Culinary Capital of the Caribbean. So, it should only follow that I enjoyed the very best airport meal of my life here, right?
Saveur Créole
The place to experience such a refined airport feast is Chez Maimaine. I found it a bit by accident after arriving at FDF way too early to meet a group of fellow travel writers a couple years ago. Roads in and around Martinique's capital are positively jammed during much of the workday hours. I overcompensated for this, leaving myself with nearly two hours to kill.
It was lunchtime. I was hungry. The shiny new Burger King just outside the arrivals terminal, however, was not going to cut it.
Just to the west of the main terminal, right next to the General Aviation Terminal, I noticed a throng of cars parked outside a humble-looking open-air building. Dozens of airport workers filed in and out, many of them laughing and smiling along their way. The lady in the sign atop the entrance bore a proud and welcoming smile, a far cry from the cartoonish faces common to fast (read: bad) food joints.
It was just before 2pm and there was hardly an empty table inside. Ramp agents, baggage handlers, pilots, mechanics, car rental reps, taxi drivers – it seemed like all of FDF was here.
Once I got my food, it was easy to see why…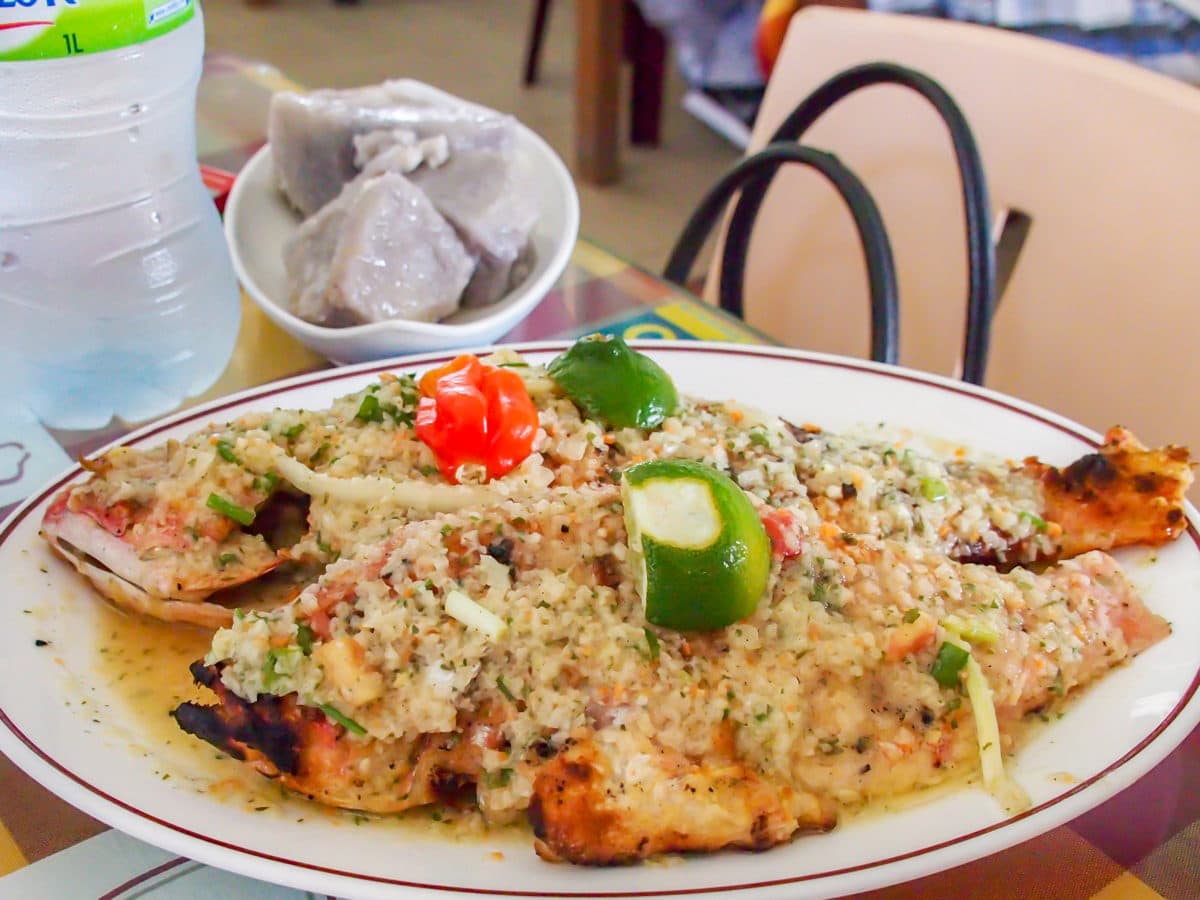 Très bon Poisson
I've enjoyed red snapper just about everywhere I've traveled all across the Caribbean. The heaping helping I enjoyed here, though, was easily the best, most savory, most supremely spiced and succulent I've ever tasted anywhere!
A side of rice and beans, plus some nice provisions made Chez Maimaine's airport food absolutely unforgettable… In a good way!
The menu here is fairly extensive with fresh fish, veggie, and fruit options changing by the season. You simply cannot go wrong with the snapper, of course. The lambi creole and chicken colombo I noticed on the plates of fellow diners certainly looked plenty appealing as well.
When next I'm in Martinique, hopefully in January, you can be sure I'll be arriving at FDF well in advance of my departure time for another taste of heaven at Chez Maimaine.
Chez Maimaine is open on weekdays. The restaurant is closed on weekends for special events. For more details, be sure to check them out on Facebook.
Related Posts