Daiquiri Of The Dead Blood-Red Halloween Cocktail Recipe
We've had a lot of fun sharing and inventing tasty tipples themed to the Witching Season over the 10+ years that Uncommon Caribbean has been around. Haunted Graveyard. Voodoo Hurricane. Devil's Tail. Demon Possession. Our Halloween Cocktail this year, though, is definitely my favorite so far. It's name: Daiquiri Of The Dead.
Rhum Agricole Halloween Cocktail
We came by the recipe courtesy of our amazing mixologist friend, Kiowa Bryan. If you love Martinican rhum agricole, read our recent post about the Jungle Oiseau cocktail, and/or happened to catch this Friday Happy Hour livestream on Instagram, then you already know Ms. Bryan as the Queen of Rhum Agricole.
When she shared her decadent daiquiri recipe with us, it didn't have a name. Its blood-red color, though, pegged it as a Halloween cocktail for us.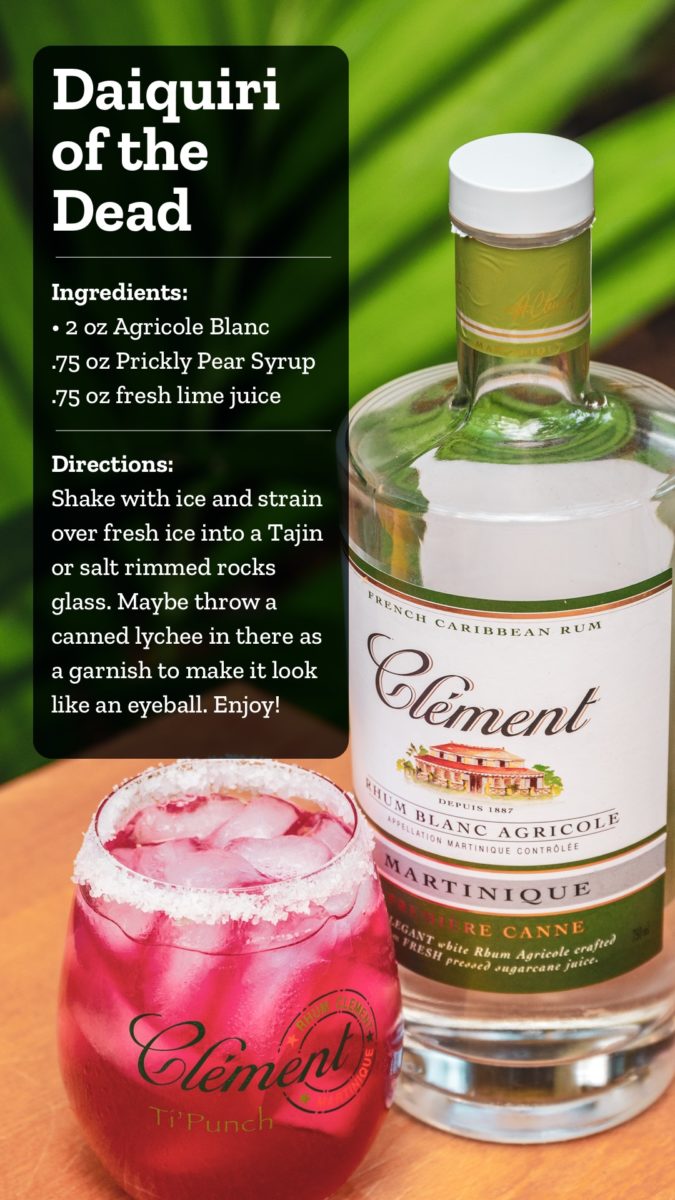 Blood From Prickly Pears
The red comes courtesy of prickly pear syrup. Prickly pears, also known as cactus pears, are easy to find in Southern California, where Kiowa is based. So too is prickly pear syrup.
For those of us on the East Coast, though… not so much.
You can order the syrup online, or if you're pressed for time, as I was yesterday, try running out to your local farmer's market and picking up a few prickly pears to make your own syrup. I followed this easy prickly pear syrup recipe, achieving the blood-red hue necessary for a legendary Halloween cocktail in no time.
Rhum Clément Agricole Blanc Makes All The Difference
As with Kiowa's Jungle Oiseau, the straw that really stirs this drink is the fantastic Rhum Clément Agricole Blanc from Martinique. The dry, grassy notes so emblematic of the finest rhum agricoles add an amazing new dimension to the traditional daiquiri that I find fabulously intoxicating.
Editor's note: Save 10% off your next bottle of Rhum Clément Agricole Blanc when you order online at Spiribam.com and enter code UCRHUM at checkout.
Requiring just three ingredients, the Daiquiri Of The Dead is as simple as simple gets when it comes to mixing up a great Halloween cocktail… even if the one thing that really makes it perfect for a night of frights is a little hard to find.
Cheers + Happy Halloween!
Related Posts