Deal of the Week: Total Immersion French Lessons in Martinique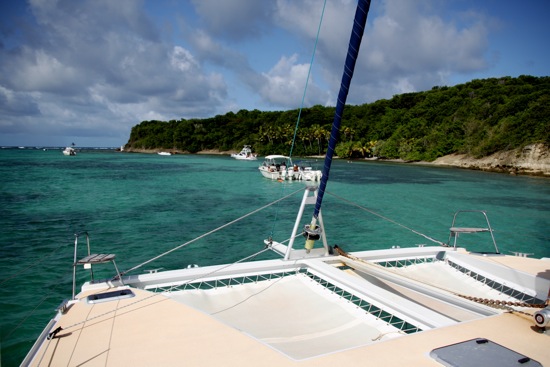 Enjoying more travel and learning something new are always among the most popular New Year's resolutions. At least it says so here and here. If your 2011 travel resolution is to visit a truly uncommon destination in the Caribbean, and your educational aspirations involve polishing your French language skills, then today's Deal of the Week is perfect for you.
The deal is a six-day full-immersion French language learning adventure to the island of Martinique. Slated for March 15-20, this package is much more than a series of lectures in some fancy hotel meeting room. Not that there's anything wrong with that, especially since the hotel in this case is the MGallery Bakoua, one of the swankiest hotels in the resort town of Trois-Ilets.
Most of the days start with a session at the hotel. Afterward the classroom shifts to settings like the one pictured above. The photo was captured by freelance photojournalist Craig Guillot while enjoying a full-day sailing excursion around Martinique with Les Ballades du Delphis last year. I was there with him and can tell you, the sailing trip alone is worth the price of admission.
Each day of the package features guided excursions to cultural and historic points of interest throughout Martinique. Excursions are planned in line with each day's classroom session, reinforcing lectures by showcasing the best of Martinique's museums, culture, rhum, sailing, beaches and more.
The package is being offered by the Martinique Promotion Bureau, in conjunction with the French Institute Alliance Française (FIAF), New York's premier destination for French education and culture. The rate is just $899 per-person based on double occupancy, assuming they get a minimum of 10 participants (bring your friends!), and includes all of the following:
Five nights at the exquisite MGallery Bakoua hotel in Trois-Ilets
12 hours of French conversation classes led by a bilingual instructor/tour guide
Five complimentary meals
Full day catamaran excursion with Les Ballades du Delphis
Guided excursions to La Pagerie Museum (birthplace of Empress Joséphine), Fort-de- France, and the Depaz rhum distillery
For reservations and more information, click here or call Tel: 646 388 6609.
* The information in this story was accurate at the time of publishing. All rates and specials are subject to change at the travel provider's discretion.
Related Posts