Discovering Asian/Creole Cuisine at The All-New Cocoa Beach Cafe, Martinique
Much of the personal joy that I derive from producing Uncommon Caribbean centers on discovering "new-to-me" places all over the Caribbean and sharing news of them with you. When these places also happen to be "new-to-the-whole-world," though, the excitement is that much GREATER!
So, imagine my utter giddiness at stumbling upon Cocoa Beach Cafe on the sands of Anse l'Etang in Tartane in northern Martinique on just its fourth day of operation!
Exactly how I got here is a long story I'm not quite allowed to fully tell just yet (don't worry, I'll get to it soon), so let's focus on Cocoa Beach for now.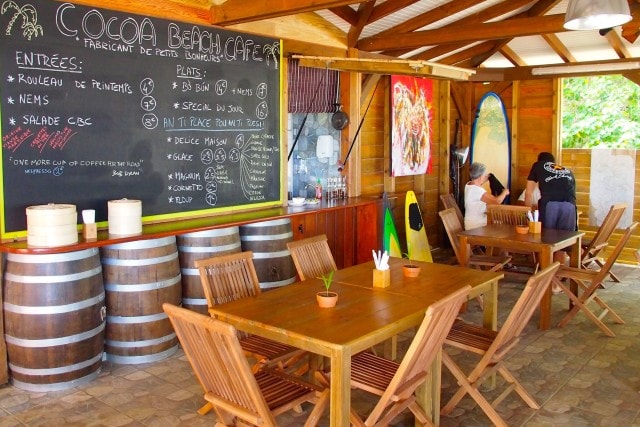 We've covered the seriously high standards adhered to by everyone serving anything consumable in Martinique before. Cocoa Beach is no exception in this regard, though it is very distinctive in quite a number of other ways…
Hmmm… I guess you could say we serve Asian/Creole fusion dishes…all-organic with an exotic menu that change according to what's available.
This was how Cocoa Beach owner, Jeremie Bodin, described his culinary creations to me when we met at his place back in December, his slight stammering underscoring the utter newness of the place; the innocence of its earliest steps.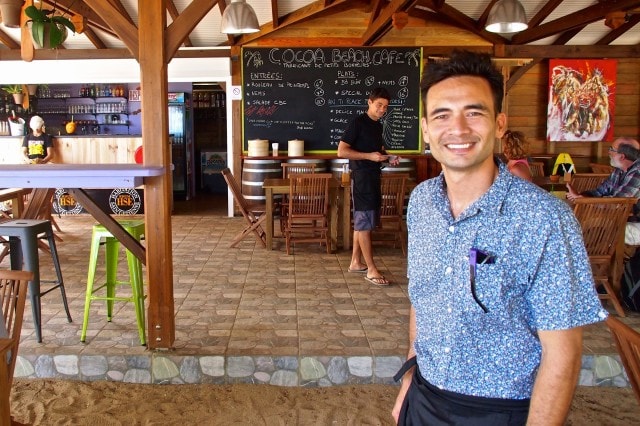 Multi-lingual (Jeremie's English, like that of the other waitstaff I met at Cocoa Beach, is quite good), fit, handsome, and bearing the countenance of a young surf instructor 10 years his junior, Jeremie (35) boasts a background that's every bit as uncommon as his restaurant.
Born in France and raised in Tartane, he set off to travel the world at the age of 18 working chiefly as a scuba diving and kite surfing instructor in Mexico, Tahiti, the Maldives, South America, the Marquesas, and Fiji. Most of his five years immediately prior to returning to Martinique were spent re-connecting with paternal roots in Vietnam. It was there that he feel in love with cooking.
Training under celebrity chef Tony Tan, Jeremie honed his unique style, combining his Far East, French, and West Indian sensibilities into what would ultimately become Cocoa Beach.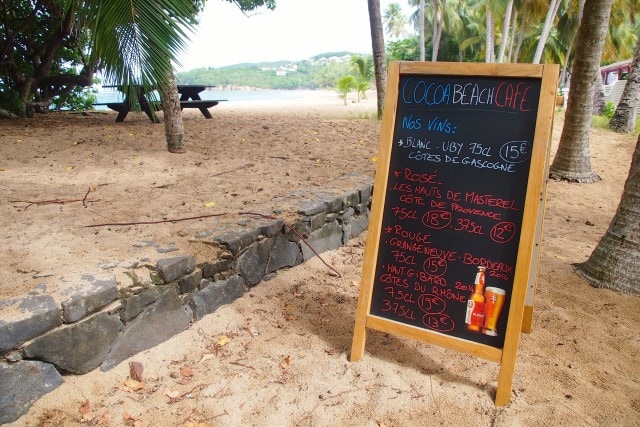 Location and decor here also match Jeremie's inventive cuisine. Nestled within a mostly residential beachfront enclave, Cocoa Beach features open-air seating facing the sea, mature coconut palms and other shade trees joining with a steady offshore breeze to keep things cool.
Also cool, the fun line of swings along the fence that lines the entrance to Cocoa Beach, a couple of exhausted rhum barrels serving as tables behind them.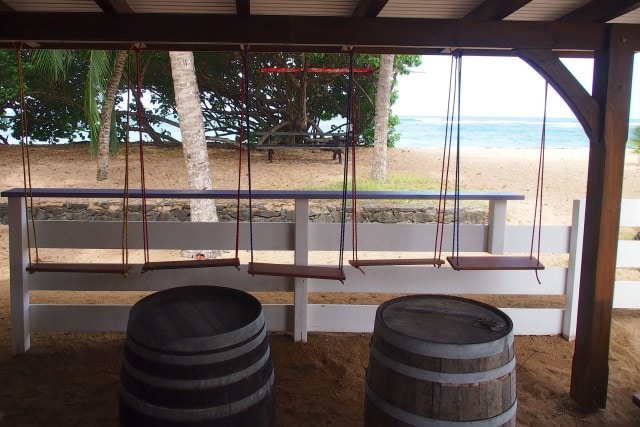 It all seems to work here. A healthy menu featuring Nems (spring rolls) available all the time, fresh salad options that change daily, Bò (beef) Bún (white noodles), wonton soup, and more, all of it seasoned with a Creole twist and served in a quintessentially Caribbean beach setting…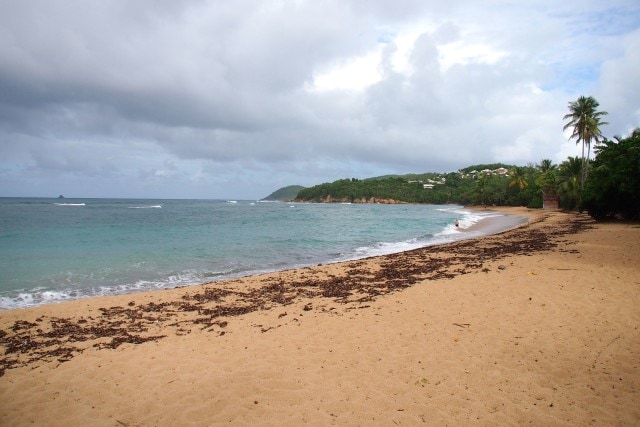 Yeah, I'd say that Cocoa Beach has a bright future.
Cocoa Beach Cafe is open Tuesday–Saturday from noon to 10pm. Sunday hours are 10am to 5:30pm. Lunch is served between noon and 2:30pm, dinner between 7pm and 9:30pm. Sunday brunch kicks off at 11am.
The bar stays open between the lunch/brunch and dinner hours, of course, so definitely grab a swing and a Ti'Punch next time you're adventuring around northern Martinique.
For more on Cocoa Beach Cafe, be sure to check them out on Facebook.
Related Posts