Friday Happy Hour: Habitation Saint-Étienne Rhum Agricole XO Single Malt Finish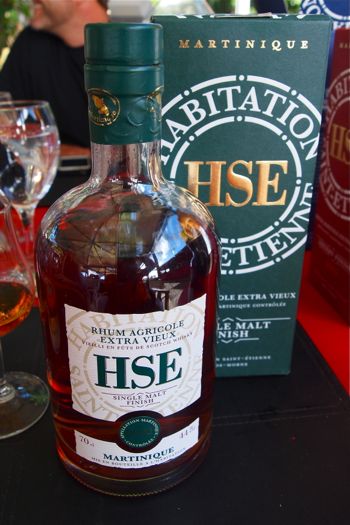 Continuing our look at the three "Beautiful Rums" I got to enjoy courtesy of Chef Hot Pants (Guy Ferdinand) during my last visit to Martinique, today we shine our spotlight on Habitation Saint-Étienne XO Single Malt Finish.
If you love Scotch, then this is the rum for you!
Like the HSE Sherry Finish profiled earlier, this HSE blend is a masterpiece, combining the storied traditions of two legendary spirits companies separated by thousands of miles of ocean, and even more figurative miles of culture and style.
Martinique: sultry, spicy, exotic and alluring.
Scotland: the veritable opposite of all that.
As they say, though, opposites attract, right? In this case, that attraction has spawned something truly special, which for the discerning rum connoisseur, is well worth the price of hopping a flight down to Martinique to discover at its fullest. Only here, amid a sensuous scene like the one that plays out daily at Le Petibonum, can this fine union of rhum agricole and Scotch be fully appreciated, especially if Guy is around to share his passion for it.
As Guy will likely tell you if you meet him, the very best of Martinique's celebrated and distinctive rhum agricole production method is reflected by HSE, its fanciful rhums derived directly from fresh sugarcane and aged six years in oak casks according to a company tradition dating back hundreds of years.
A final maturing in barrels formerly used to age Smokehead Single Malt Scotch from Scotland's Ian Macleod Distillers sets HSE XO Single Malt apart, delivering a biting, smokey flavor that hits you hard at first, but finishes nice, long and warm on the throat. This is one I prefer to let breathe for a minute or two before delving in, but I'm not really a Scotch guy, so you may feel differently if you're used to the stuff.
Even with a breath or two, HSE XO Single Malt retains its smoky character all the way through. On the packaging, HSE says I should've picked up on some "roasted and fruity notes as in a regular aged rum," at least on the nose. I definitely missed that, though, as I found my interest consumed by the rich, earthy flavor.
HSE XO Single Malt Finish struck me as a blend far more mature than its actual age. It seemed a bit like a vintage Rhum J.M. – maybe a 1993 or 1994 – but with added smoke, the Scotch providing a whole new and wondrous dimension than I'd ever sampled before.
A beautiful rhum indeed… just as Guy had promised.
À Votre Santé!
Related Posts